Allysa Reyes with Her Ecoboost Mustang
Written by James Tuesday, 06 February 2018 17:53
Allysa Reyes is a 22 year Bartender and GoGo Dancer with an infatuation for Mustangs.  When she began driving she was given a 1998 SN95 Mustang, and when it was unfortunately wrecked Allysa picked up her 2016 Ecoboost S550 Mustang that she has nicknamed Rosey.  She has already added a Roush Cold Air Intake, a Magnaflow Exhaust and a Tune but has much bigger plans for it.  Some of her plans include lowering it on bags, wheels, a body kit, and racing seats... but if ShockerRacing was offering to buy her any one mod for the car, Allysa tells us she would want a bigger Turbo... hit the link to learn more about our latest ShockerRacing Girl!

Allysa was originally born in Atlanta but moved to Charlotte when she was 8 years old.  You may notice the "ECOFRDLY" North Carolina license plate but Ms. Reyes tells us, "I just recently moved to Arizona looking to start over, rebuild, and possibly travel."  She went on to say, "I'm a country girl, raised in the city.  I like to go out and get dressed up but do not mind cracking open a six pack and going to shoot guns and four wheeling to get muddy all day."
For her shoot, Allysa rocked a pair of our famous ShockerRacing Bootyshorts and she also took the opportunity to show off her Autobadges Tank Top since she recently picked up some custom Autobadges.  We asked Allysa what sparked her interest in ShockerRacing and she responded, "I would love nothing more than to be posted on a page with a bunch of beautiful women!"  She grew up with a mom that took her to Drag Races and Nascar Races so the car scene grew on her from a young age, so it's not surprising that she has chosen the Mustang life now as an adult.
Besides this photoshoot, Miss Reyes has dabbled with some occasional automotive photoshoots now that she is in Arizona and expects to be doing more shoots soon.  She went on to tell us, "I'm on a few billboards for a pull-a-part company, and I've also been in a few calendars."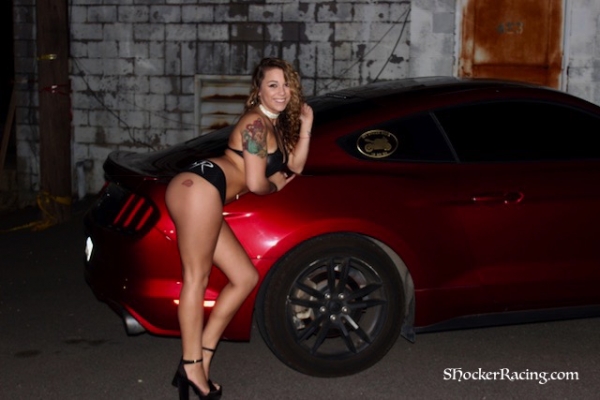 Keep reading for the rest of Allysa's interview:
SR: What is your dream car?
Allysa: Lord, I can never decide!  A 1967 Mustang is always on my list but I would take a new GTR, 1969 GTO, or an older right hand drive Skyline.
SR: If you could take one of your dream cars and travel anywhere in the world, where would you go?
Allysa: I would go to Phuket, Thailand.
SR: Which of the Fast and Furious Films is your favorite.
Allysa: Of course, the first one.
SR: Are you a Paul Walker or a Vin Diesel kind of girl?
Allysa: God I can't choose, I like both of their taste in cars.
SR: What is your favorite automotive event of the year?
Allysa: SEMA!
SR: What is your favorite food?
Allysa: Pizza!!!!
SR: What is your favorite pizza topping?
Allysa: Pepperoni! Yes, I put pineapple on it!
Follow the crew on social media:
Allysa Reyes - Model
Kaylah Hill - Photographer
Follow ShockerRacing on our Social Media: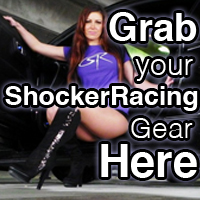 Instagram: @ShockerRacing
Twitter: @ShockerRacing1
Facebook: Facebook.com/ShockerRacing
YouTube: YouTube.com/ShockerRacing
Snapchat: @ShockerRacing
View the full photo gallery here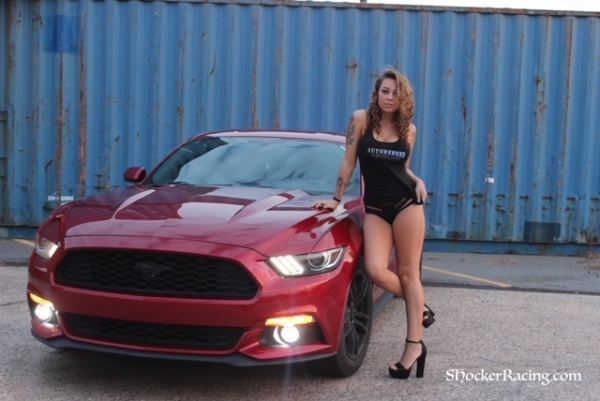 View the full photo gallery here
View the full photo gallery here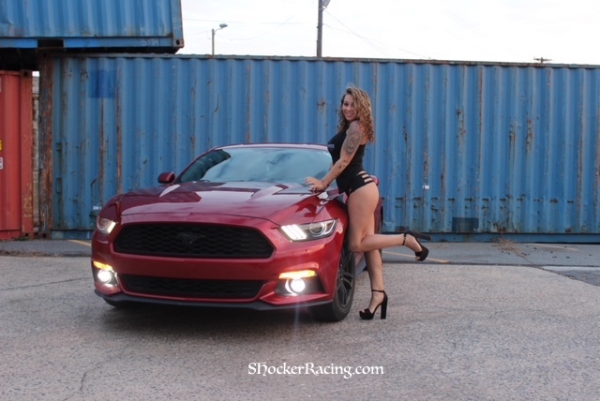 View the full photo gallery here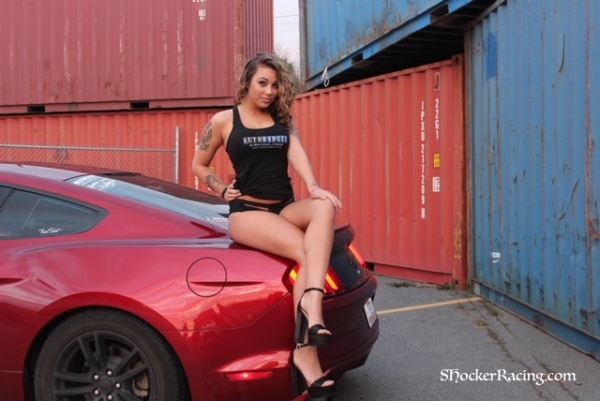 DON'T MISS - Kimmye with a C7Z06 and a Mustang - Click the photo below: