Megan Clark Builds Confidence and Breaks Modeling Barriers
Written by Tyler Sorget Monday, 19 February 2018 14:23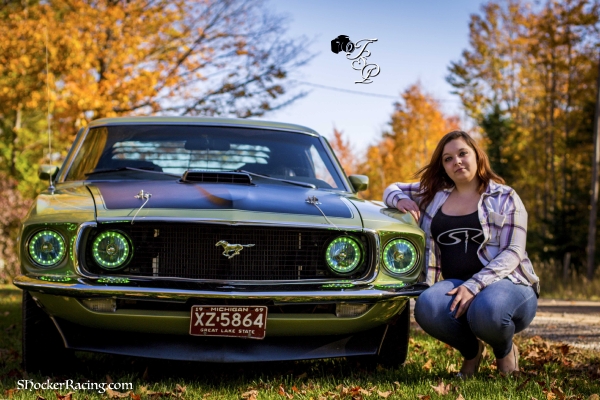 In today's society, cars are being built from the factory with outrageous horsepower numbers. It is only a matter of time before we start seeing vehicles produced with four figure horsepower numbers...that's crazy! It's safe to say that by today's standards, even the "biggest and baddest" cars from 1969 would fall short. Our expectations have become so distorted, that we often forget about what makes a vehicle great...simply enjoying and sharing the vehicle with others!
As a society, our perception of beauty is no different. Models are expected to be thin, toned, and have "the right" curves in "the right" places; the quintessential hourglass figure. Women are expected to spend as much time in the gym working on their bodies, as some of us spend on social media each day. It's ridiculous and completely unfair...

Thankfully, commercial and fashion photography have started focusing on what truly makes a woman beautiful...her confidence! Models such as Ashley Graham and Hunter McGrady are shattering barriers and proving that fuller women belong in the modeling industry. Sadly, it seems that automotive photography hasn't received the memo. However, that is what our newest ShockerRacing girl is here to prove...let's give a warm welcome to Megan Clark!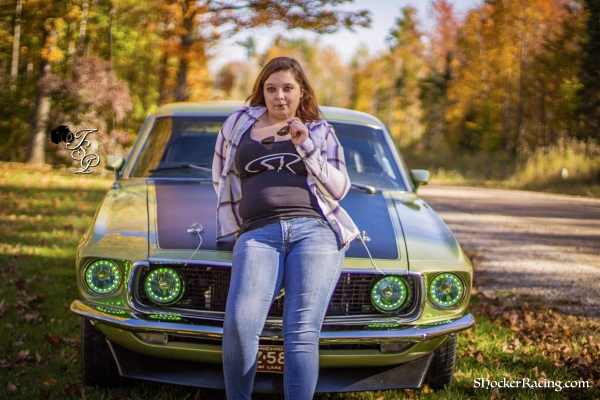 Megan is a 20 year old barista, from Onaway Michigan. She noticed previous work that Tyler Sorget had done with other ShockerRacing girls, and decided to reach out to him to work on her own shoot. Although this was her first time modeling, Megan shares that this isn't the first time that she has been around cars. She has helped her father and her brother work on their cars, and it's something that she enjoys. In addition, her favorite event each year is the Truck Show in St. Ignace Michigan.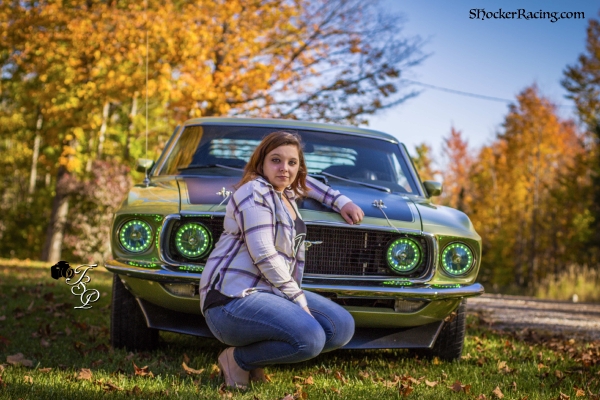 When asked who her favorite previous ShockerRacing girl is and why, Megan explained, "Nicole because she makes modeling look so fun, and her photos are amazing!"
With the trees almost at peak color, Megan and Tyler decided upon an Autumn theme for the shoot. They were greeted with a gorgeous day, which made it easier for Tyler to decide to get his Mach 1 out of the garage! Megan coordinated different ShockerRacing apparel with heels, jeans, and various flannel shirts. Appropriate outfits for the time of year in Northern Michigan. When asked about the shoot Megan shared, "I love how confident it made me feel! My favorite part was coming up with different pose ideas. Tyler was very professional and made sure that I felt comfortable throughout the entire photo shoot."
We're happy to see Megan build her confidence, and to be able to offer a way for women of all sizes to start modeling.
Be sure to follow Megan on social media!
FB: Megan Elizabeth Clark
SC: Clark.megan3
Be sure to follow Tyler on social media!
Facebook: Tyler Sorget Photography
Web: tylersorgetphotogr.wixsite.com/tsphotos
DON'T MISS - Lam and Courtney Lynn W/ Snowmobiles - Click Below: