Deep In The Heart of Texas with Angie Moltzan
Written by James Wednesday, 28 February 2018 12:03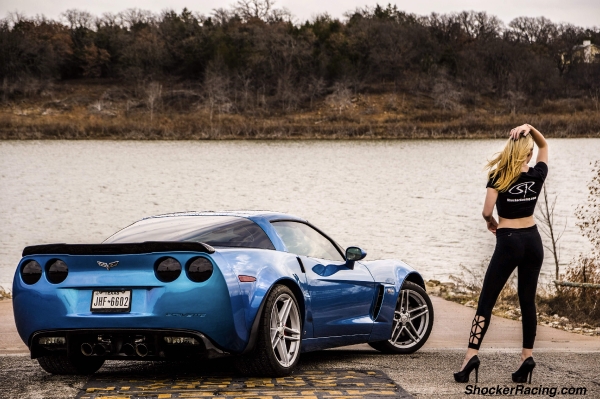 ShockerRacing has a new girl on our team from the big state of Texas. Introducing Angie Moltzan from Allen, TX. Angie braved the rain to show off a 2008 Z06 Corvette in her first feature as well as one of our most popular items, ShockerRacing's You Can't Park With Us Crop Top. Our gear gets many fans attention and Angie's shoot is no exception.  Angie tells us "I got into ShockerRacing because I model lots of cars and trucks and ShockerRacing is a brand just for that! I love the idea of a line of apparel for car models."

Our newest model is actually a truck lover. She was introduced to the car scene by her significant other. The two would attend car meets like a local Cars and Coffee and show off their trucks. Thats right, Angie drives a 2015 F150. She tells us, "It has a 2.7L Ecoboost. His name is Big Snout and he is a show truck. I got him July of 2016. He was purchased fully stock with Tuxedo Black paint and since then I have leveled it, put 33 inch All Terrain Nitto G2 tires on it, put a new stereo system in him with a single 10 inch subwoofer. It also has pink Raptor wheels, a bull bar, pink under glow and pink interior seats in it. He won Best Domestic Truck at Import Face Off 2017 in Ennis, TX and I plan to do quite a bit more to him." We hope to see Angie pose again for us with this beast.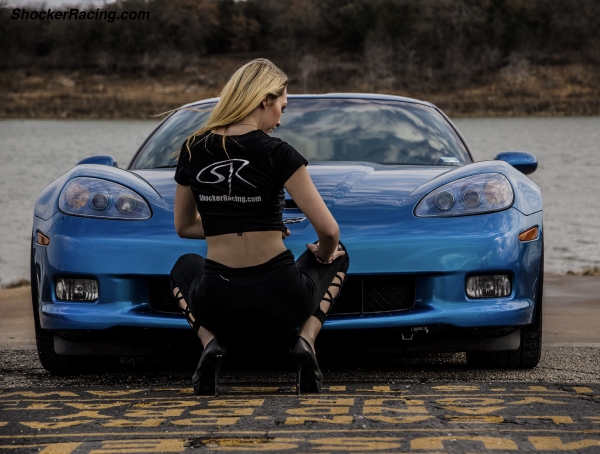 Angie tells us, because she loves trucks so much, during the summer of 2017 she started a truck club called Texas Offsets (Instagram @texasoffsets). She also occasionally works with the Headturners family at the Fort Worth branch. You can find Angie at Friday Night Drags at Texas Motor Speedway. Angie tells us "Its a big event every Friday night during the summer. There's drag racing for anyone who wants to race, there's a Show N' Shine for the competitors and you can also take a couple laps around the track. I went last summer every weekend and did the laps around the track and then the last week I raced my friend who also has a truck. I got my ass whooped. Best show to go to because you can park in the lot inside the track and hundreds of people go." We hope Angie represents us well at this event. We could use more truck loving ladies!
Get to know Angie more! Read the rest of her interview here:

SR: If ShockerRacing was going to pay for any mod to your car no matter what the cost, what mod would you choose?
Angie: I would definitely want an exhaust system. Right now my truck sounds like a Prius so it would be fun to hear the turbos in my truck.

SR: What was your first car?
Angie: My first car was a 2010 Honda CR-V. It was dark blue and I named him Huey the Honda. He was only a 4 cylinder with like 170HP but I drove it like it had 400 horsepower. I put in pink zebra interior to spice it up with pink fuzzy dice.

SR: What is your dream car?
Angie: This is a tough one. I am a truck girl among muscle cars so I have like two favorites at the moment. For a truck, I would definitely get a Raptor. They are mean looking and fast for a truck. I love the build and the 6.2L V8 engine and of course it's a Ford so its going to be my top pick. I would get a black one and accent it with pink like my truck now. For a car, I really love the 5.7L Hemi Challengers. My dad owns a special edition Shaker Challenger and I love driving it around. I was online a couple months ago and there was a metallic Pink Hemi Challenger and I was very close to test driving it. When I contacted them, they had sold it that morning. It had white and pink leather seats, premium stereo system and even under the hood was coated in pink. It was beautiful!
SR: If you could travel and have your vehicle anywhere in the world, where would you go? "
Angie: Definitely Germany! I want to drive as fast as I can without consequences so I would drive on the Autobahn.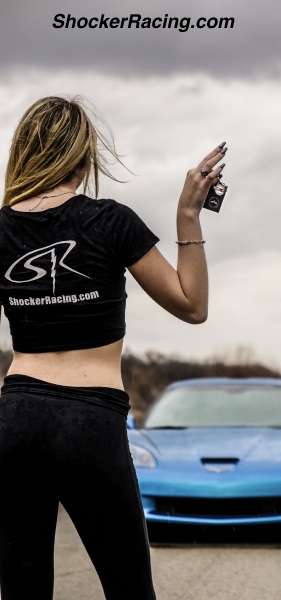 SR: Who is your favorite previous ShockerRacing Girl, and why?
Angie: Angie Reed. I saw Angie's feature and me and her had a lot of similarities, besides the name! She is in insurance and I am too.  So I messaged her and since then we have become great friends! She actually came to Texas for a shoot with me and that's when we did the SR Valentine's shoot!
SR: What would an ex say is your best asset?
Angie: I always get told I'm a hard worker.
SR: What is your biggest pet peeve?
Angie: Slow drivers who drive in the fast lane!

SR: What nicknames do you have?
Angie: Well, my real name is Angela so technically Angie is a nickname but people call me Ang. My boyfriend thinks its funny to misspell my name so he calls me Angula.
SR: What's your favorite food?
Angie: Definitely pasta. I love anything from Lasagna to Chicken Alfredo.
SR: What's your favorite Pizza topping?
Angie: I always go for the meatiest pizza so like a Meatlovers at Dominos... Yum!

SR: What are two fun facts about you that people don't already know?
Angie: I am not a natural blonde, even though some people may think my personality says otherwise and I have a pet snake named Lucifer. He is a Ball Python who is 4 feet in length.

SR: Do you have a favorite quote?
Angie: "We're here for a good time, not a long time."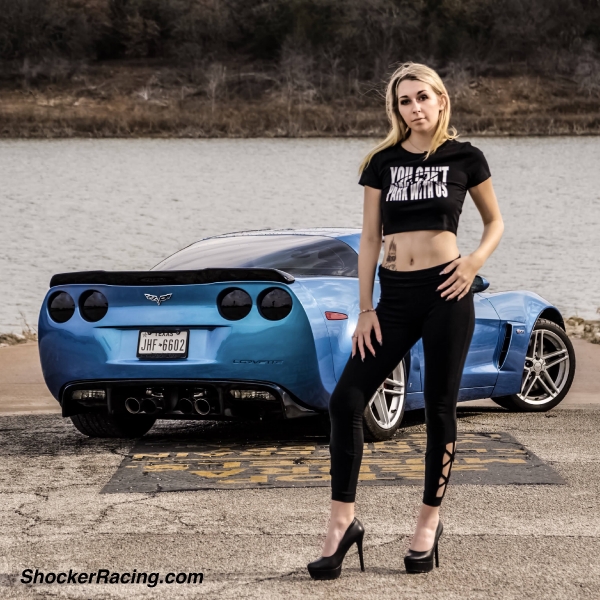 We hope you enjoyed getting to know our newest model. If you would like to work with Shocker Racing in the future to help build your brand, advertise on our website, or become a model for Shocker Racing please email James at shockerracinggirls@gmail.com
Follow the team here:

Angie:
Photographer:
Car Owner: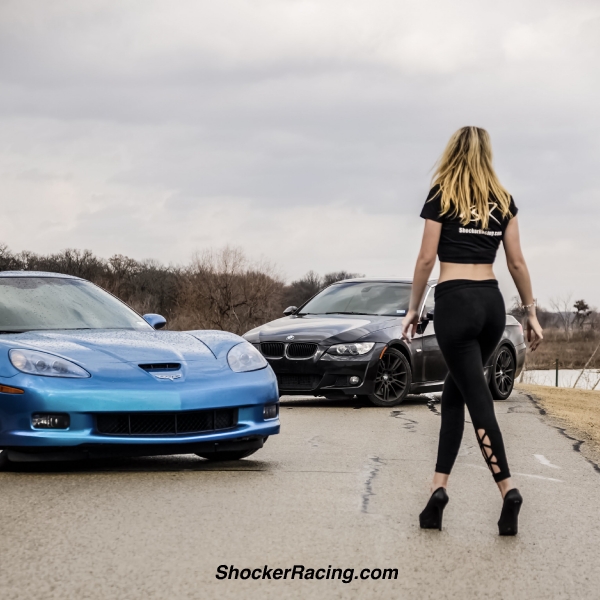 Follow ShockerRacing on our Social Media: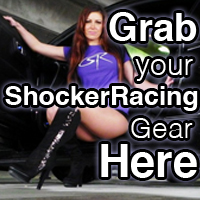 Instagram: @ShockerRacing
Twitter: @ShockerRacing1
Facebook: Facebook.com/ShockerRacing
YouTube: YouTube.com/ShockerRacing
Snapchat: @ShockerRacing
View the full photo gallery here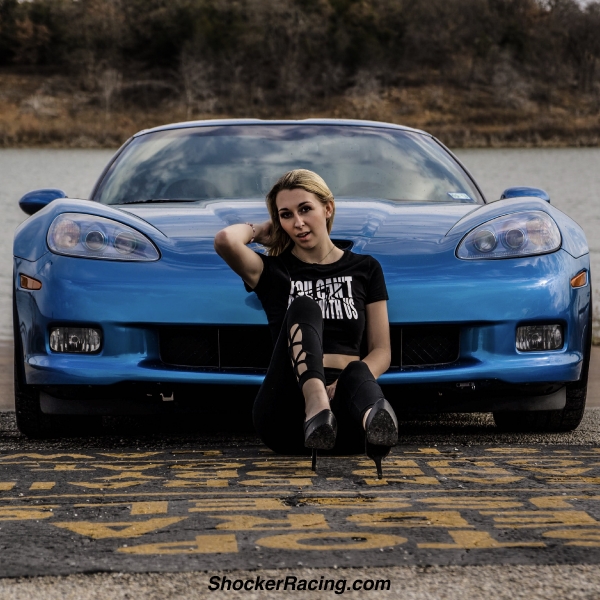 View the full photo gallery here
View the full photo gallery here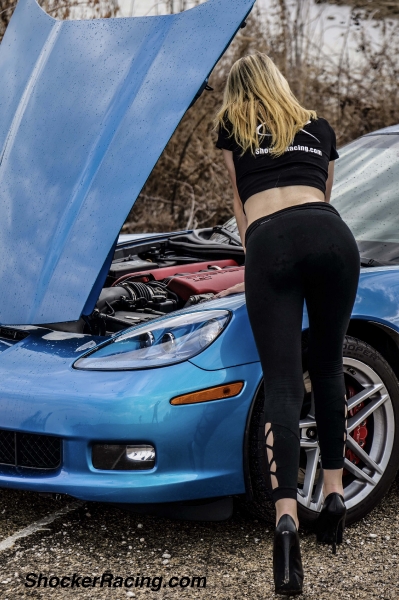 View the full photo gallery here
View the full photo gallery here
View the full photo gallery here
View the full photo gallery here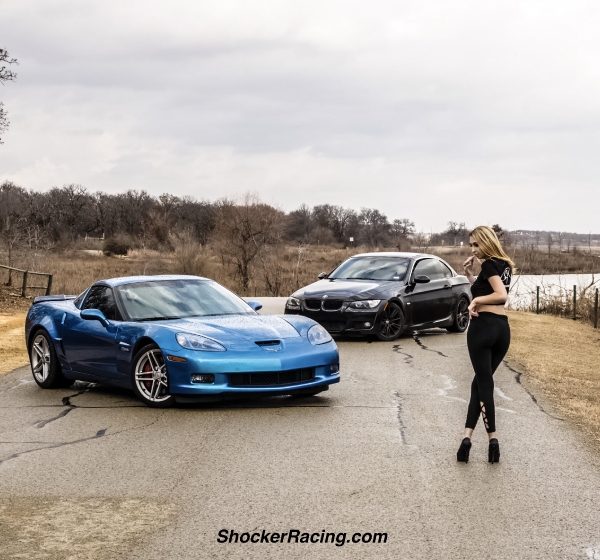 DON'T MISS - Natasha Sanders with a Hot Rod - Click below: