Saturday Shortie Featuring Samantha Lewis
Written by James Thursday, 08 March 2018 11:11
Here at ShockerRacing, we encourage our models to maintain their official model status by doing multiple shoots or events a year. We ask the models to represent our team by featuring their favorite ShockerRacing gear. You may remember Samantha's first feature from back in August of 2017: Samantha Lewis Loves Chicken Nuggets.
Hit the link to see Samantha's new photoshoot with her "Honey" Scion FR-S:

For Samantha's second ShockerRacing feature she brought out her baby again but this time she met up with Speed Frame Photography in New Braunfels, Texas.  "To get to the photo shoot spot, you have to drive 15 minutes following a river.  There are trees and cliffs surrounding the road, and it's the most beautiful road in the city."  Samantha exclaimed.  She tells us she drives this River Road any time she has the opportunity because it is her favorite road to drive.
"The whole photo shoot only took about 45 minutes, that's how quick an professional Speed Frame Photography was. This has been my absolute favorite shoot, and so many incredible pictures were captured," Samantha tells us, "I am so thankful for this opportunity."  To match her car, Samantha brought along her custom black and yellow ShockerRacing Crop Top for her shoot.
Ms. Lewis' favorite new feature on her numbered Release Series 1.0 Scion FR-S is her new Tire Stickers that say "Honey" which is her nickname for the car.  Besides the new stickers, Samantha's Scion feature a ton of custom appearance mods that she takes pride in working on and installing herself.  For more performance, the Scion has a full exhaust from the header back and a Stage 2 Tune for 93 Octane.
If you loved this shoot as much as us be sure to follow the item for more of their work…
Model/Car Owner - Samantha Lewis:
Photographer - Speed Frame Photography:
Want to become an official Shocker Racing model? Email James at shoclerracinggirls@gmail.com why you want to be a part of the team and you will receive more information about how to become model.
Follow ShockerRacing on our Social Media: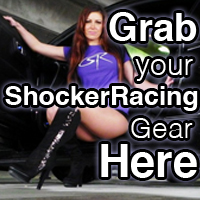 Instagram: @ShockerRacing
Twitter: @ShockerRacing1
Facebook: Facebook.com/ShockerRacing
YouTube: YouTube.com/ShockerRacing
Snapchat: @ShockerRacing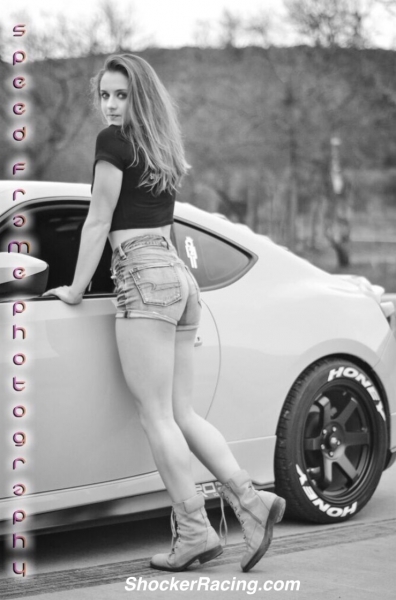 View Samantha's full photo gallery here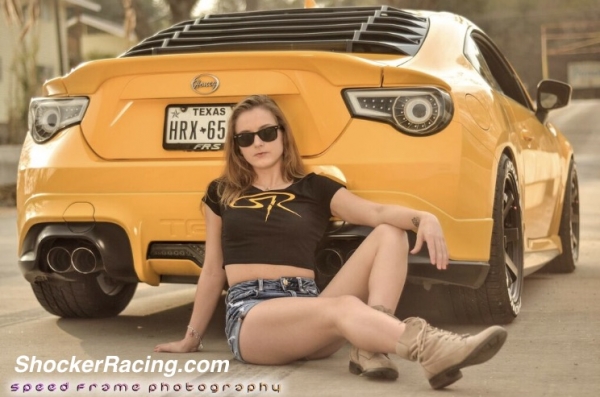 View Samantha's full photo gallery here
And of course, Samantha always have to have at least one shot with her food or beverages at the shoot:
DON'T MISS - #ShockerRacingSquadGoals Challenge - Click Below for details: