Welcome Meagan Michelle Thomas to the ShockerRacing Family
Written by James Thursday, 08 March 2018 18:07
Itís a fact that ShockerRacing is well known for the many beautiful ladies. It is also known for the many of these amazing ladies own Mustangs. Our newest SR Girl, Meagan Michelle Thomas, is a part of this Mustang club. Ms. Meagan Thomas owns a Red 2007 Mustang GT. She tells us she plans on camming it this summer but so far her Mustang only has visual mods.† We canít wait to hear her cams and see what other modifications she adds to her beast.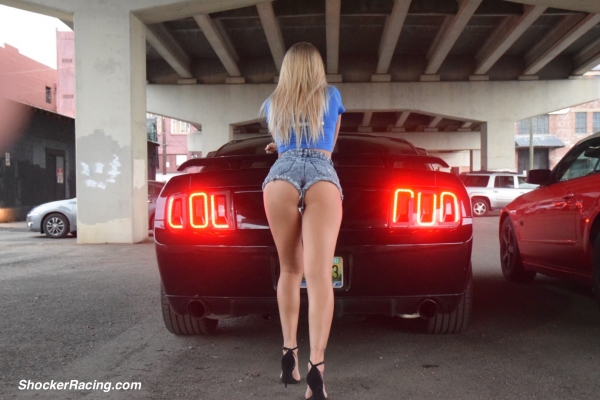 †
Fans may recognize Meagan as our winner for the 2018 #ShockerRacingSweetheart contest.† She was recruited for ShockerRacing by her good friend and recent ShockerRacing Girl, Angie Reed.† Angie had actually used Meagan's Stang for her first shoot for ShockerRacing. Meagan tells us she had not really posed for anyone but her personal portfolio and Angie gave her the confidence to take the leap and join our family.† We love when our SR girls encourage and support each other. Because with that support system we prove we are stronger than any other club out there.† "Joining a group of beautiful, inspiring ladies is a privilege." Meagan exclaimed, "My favorite ShockerRacing Girl is Sarah Senecal because she is always so positive and her posts are always the best.† She is very active in responses and has answered my questions I have had in the past.† Sarah is definitely someone to look up to!" Nothing makes us happier than hearing that one of our ShockerRacing Girls has taken the time to help out other women in the automotive community.
†
†
†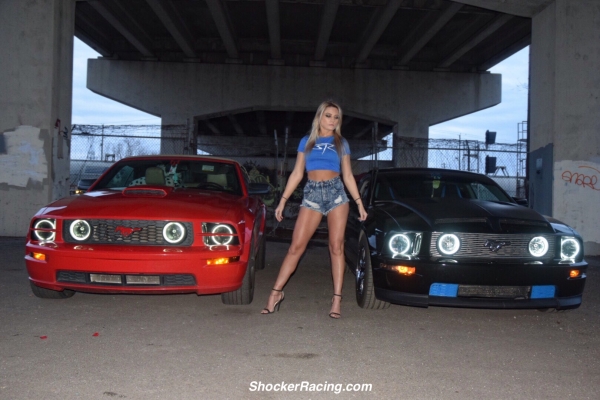 †
Meagan's shoot was in Birmingham, Alabama. She shot with car owner Darrell Dobbsís black 2008 Mustang GT/CS. Meagan told us she met Darrell through popular Alabama car club, Headturners. She mentioned, ďBefore he replaced his hood we referred to our cars as ďtwinsĒ.† We both have S197's with Halo lighting and the same taillights. We just became great friends!Ē.† These pics were shot at the same location as her Valentine's Day shoot and we love how these images turned out so we are excited to share them with our fans.
†
†
Get to know Meagan more and read the rest of her interview hereÖ
SR: If ShockerRacing was going to pay for any mod to your car no matter what the cost, what mod would you choose?
Meagan: Probably a supercharger!
SR: What was your first car?
Meagan: I had a 2003 Mitsubishi Eclipse.
SR: What is your dream car?
Meagan: I would love a Shelby GT500.
SR: If you could travel and have your dream Shelby anywhere in the world, where would you go?
Meagan: I wanna travel the world, but Iíll start with Cali!
SR: Which of the Fast and Furious movies is your Fave?
Meagan: Tokyo Drift. Even though the song gets stuck in my head every time I think about it.
SR: Are you a Paul Walker or a Vin Diesel kind of girl?
Meagan: Definitely Paul walker!
SR: How did you get involved in the car scene?
Meagan: I got involved in the car scene about 5 years ago. A father figure, Jason Beal, taught me everything I know about cars. In the beginning, he would have me call locations like Autozone and ask for "blinker fluid" and embarrassing myself.† Then he taught me the proper way to change oil and replace brake pads and, now I can install aftermarket lights and my favoriteÖ do a burnout!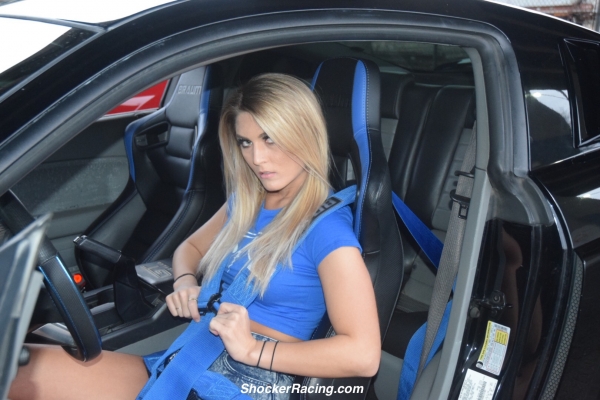 SR: What would an ex say is your best asset?
Meagan: Probably my sense of humor and that Iím a girl thatís into cars.
SR: What is your biggest pet peeve?
Meagan: People who havenít discovered the blinker.
SR: What nicknames do you have?
Meagan: Meggs, Mae, Sexy Nug, Megggster, and MaeMae.
SR: Ok, we have to know about the Sexy Nug nickname...
Meagan: Lol, my friends at work call me that because all I eat are chicken nuggets and I am obsessed with them... I don't know where the "Sexy" part came from.
SR: What is your favorite thing besides your car?
Meagan: My three year old Pitbull, Gizmo.
SR: What's your favorite food?
Meagan: I love Mexican food and chicken nuggets of course!
SR: What's your favorite Pizza topping?
Meagan: Pepperoni, basic.
SR: What are two fun facts about you that people don't already know?
Meagan: Most people know, but I also grew up dancing. I cheered and danced my whole life.† Iím also actually terrified of balloons, because when I was little I drew on one and it popped in my face and I was left with marks.
SR: Do you have a favorite quote?
Meagan: "You are never too lost to be saved.Ē

We hope you enjoyed getting to know our newest model. If you would like to work with Shocker Racing in the future to help build your brand, advertise on our website, or become a model for Shocker Racing please email James at†shockerracinggirls@gmail.com
†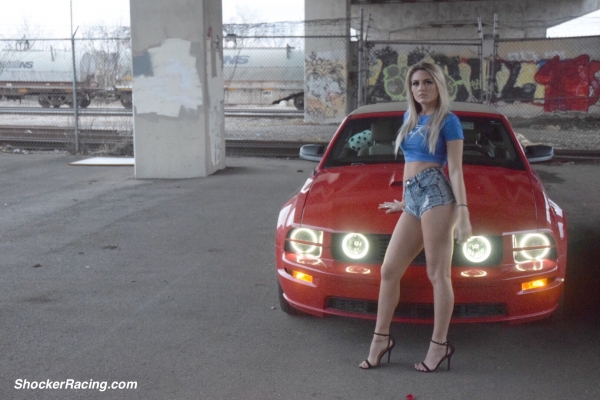 †
Follow the team here:
†
Model & Red Mustang Owner- Meagan Michelle Thomas:
Photographer & Black Mustang Owner- Darrell Dobbs:
Follow ShockerRacing on our Social Media: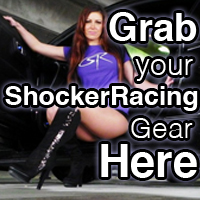 Instagram: @ShockerRacing
Twitter: @ShockerRacing1
Facebook: Facebook.com/ShockerRacing
YouTube: YouTube.com/ShockerRacing
Snapchat: @ShockerRacing
View Meagan's full photo gallery here
DON'T MISS - #ShockerRacingSquadGoals Challenge - Click Below for details: