Race-Sen-Cityy
Written by James Friday, 27 April 2018 10:00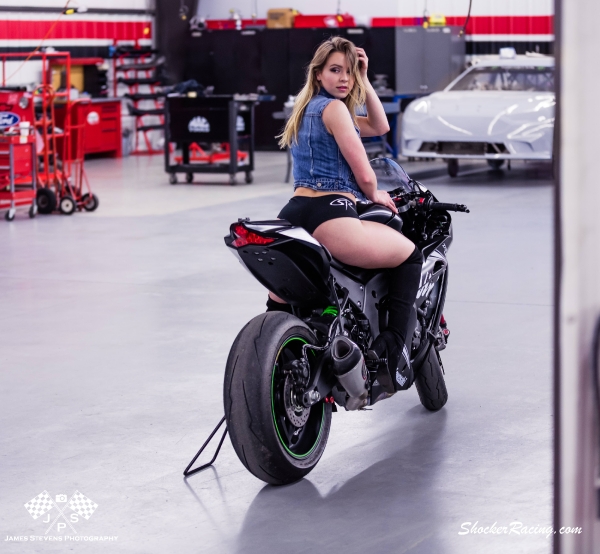 Spring is one of Shocker Racing's favorite times of the year. We get tons of new photo submissions from our Shocker Racing models, as well as new faces. It's also when our motorcycle fans come out to play! This short feature is with one of Shocker Racing's fan favorites... Ms. Sarah aka Sen.Cityy! She shows off SR's classic Boyshorts and You Can't Park With Us Crop with Cody Ware's Zx10rr race bike. Cody's current mods are; Yoshimura Alpha T exhaust with Titanium headers & pipe, Power Commander ECU race flash & tune for VP race fuel, electronic quickshifter, launch control, Ohlins electronic steering dampener, and Air injection system delete with blockoff plates. He has future plans to add Carbon Fiber Superbike Race Fairings, titanium pistons, and a camshaft and valves.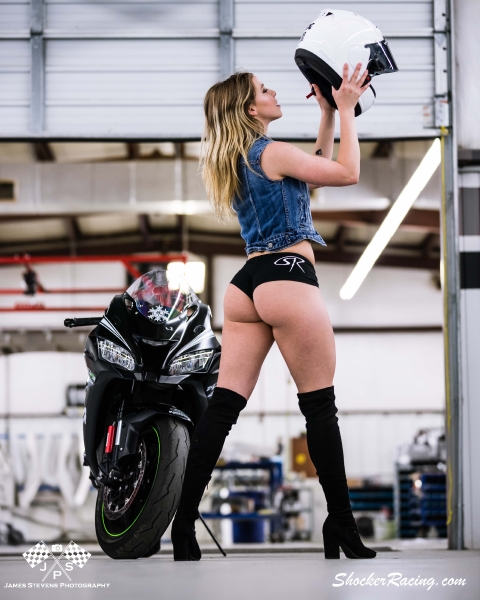 Sarah worked with her favorite photographer James Stevens Photography! These two have been pumping out AMAZING quality work since Sarah got started in the modeling industry. The pair met Cody at Rick Ware Racing's shop, 'The Biggest Little Team in Motorsports.' A racing team led by owner Rick Ware, that has been a staple in Thomasville since 1994 when he founded the organization. The shop has over 25 years in the racing business and they are still going strong. "This shop was top of the line. It was such an honor shooting for this racing team. I really enjoyed this experience." Sarah tells us. We can definitely tell Sarah did, these pictures are outstanding!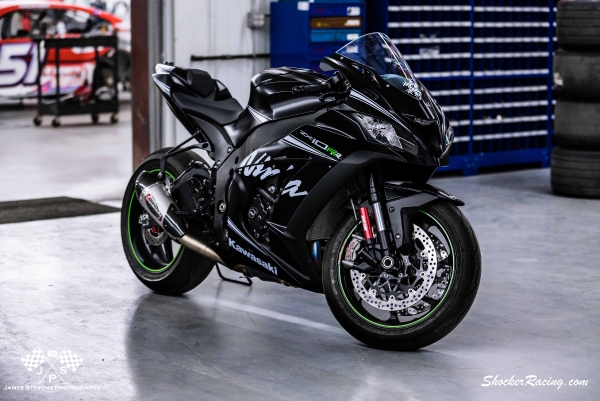 Get to know the bike owner: Cody Ware is a third generation race car driver from Greensboro, NC. Both his Grandfather and Dad have raced professionally. Coming from a family of racing he has been around cars and motorcycles his whole life. Learning how to race from his dad, an Ex NASCAR driver & Supercross rider, he made his way through the ranks starting at 16 years old. Racing everything from open wheel modifieds to Le Mans Prototypes. Cody has won multiple races in series such as the Lamborghini Super Trofeo, GT3 Porsche Cup Trophy, SCCA, and Vintage racing. In 2014, he won Rookie of the year racing for Lamborghini Long Island in the #38 Gallardo which skyrocketed him into a position as a Lamborghini Test & development driver. He has worked with other manufacturers such as BMW & Dodge as well. Although he has raced at the top levels of NASCAR for over 4 years now, accumulating over 25 starts between Cup, Xfinity, and trucks, his sights have shifted to yet another form of racing. In 2018 Cody will be apart of Team Green racing under the Kawasaki banner with a ZX10RR, & ZX6R in WERA & CCS. The goal is to get approved and attempt a season of Moto America Superbikes as soon as the licensing is complete.
You can find Sarah at her next show with Bex Russ and Speed Trend Society. They will be the main models at Hyperfest May 19th, as well as many many other events this summer. Be sure to follow her and the crew to keep up with their schedule. If you would like to work with Shocker Racing in the future to help build your brand, advertise on our website, or become a model for Shocker Racing please email James at shockerracinggirls@gmail.com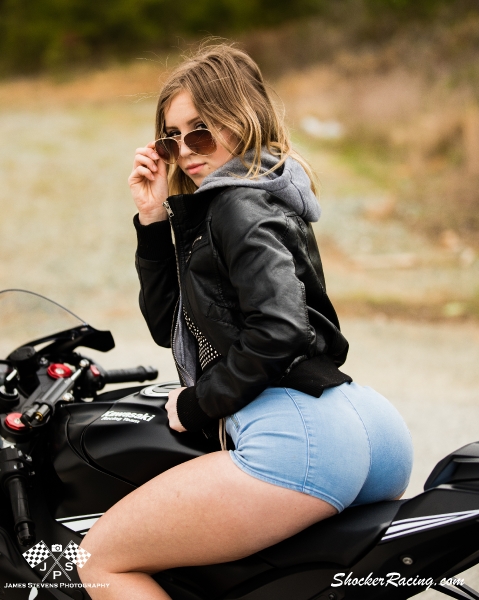 Follow the team:

Model - Sarah: @sen.cityy

Bike Owner - Cody Ware: @codyshaneware

Location: @rickwareracing

Photographer: @jsp_auto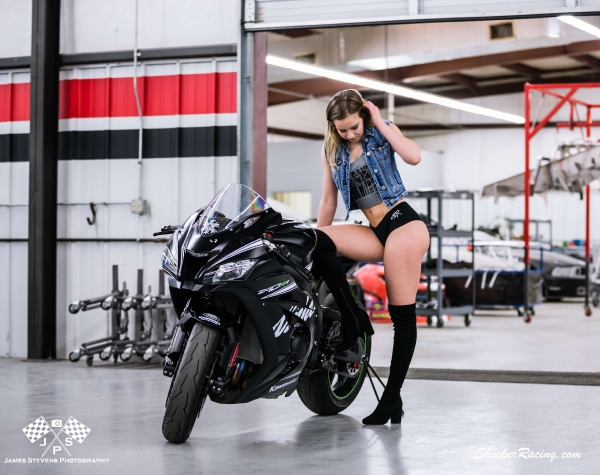 Follow ShockerRacing on our Social Media: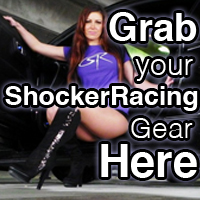 Instagram: @ShockerRacing
Twitter: @ShockerRacing1
Facebook: Facebook.com/ShockerRacing
YouTube: YouTube.com/ShockerRacing
Snapchat: @ShockerRacing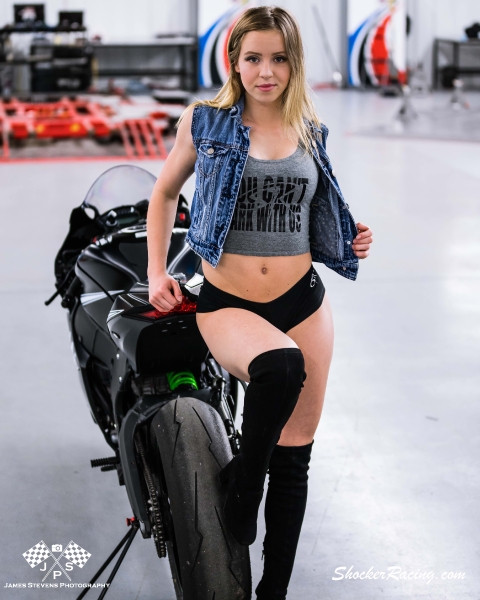 Click here for Sarah's Full Photo Gallery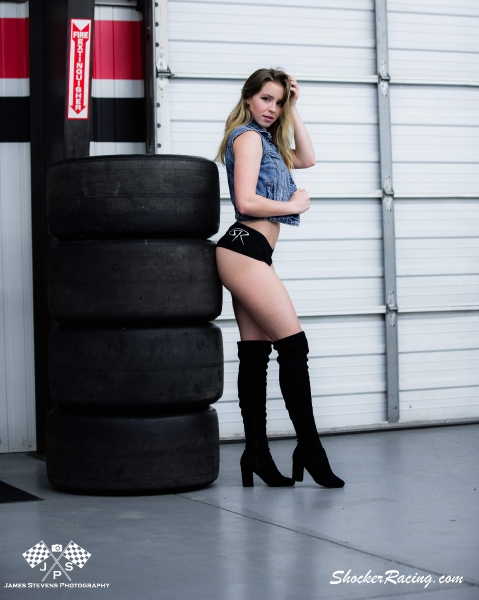 Click here for Sarah's Full Photo Gallery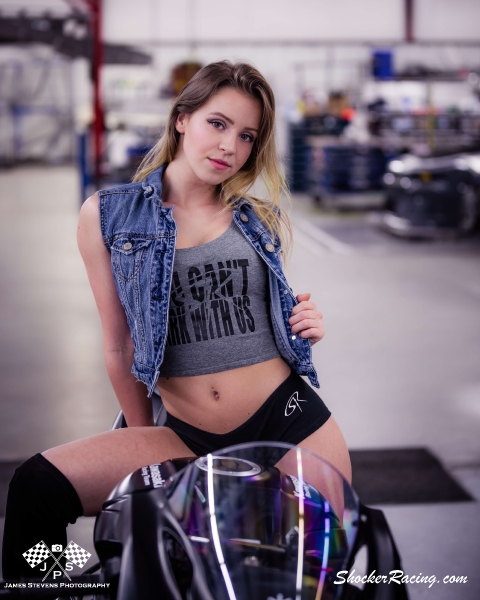 Click here for Sarah's Full Photo Gallery
Click here for Sarah's Full Photo Gallery
Click here for Sarah's Full Photo Gallery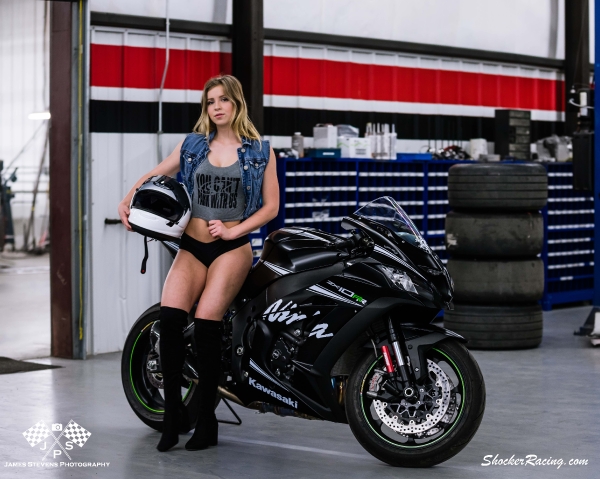 Click here for Sarah's Full Photo Gallery
Click here for Sarah's Full Photo Gallery
DON'T MISS - Kimmye's Second ShockerRacing Photoshoot - Click Below: