Cars Need Models Too
Written by James Tuesday, 15 May 2018 09:51
Some might say that "Cars Need Models Too" is one of our motto's around here.  Our newest model, Emily Morales, uses this motto as her Instagram username - @Cars_Need_Models_Too.  The 5 foot 4 inch tall, brunette has spent most of her life in Redwood City, California where her love for the car scene began.  At just 21 years old, Emily already owns two Mustangs... her first car was a 2011 V6 Premium and she has owned it for about 5 years now.  More recently Emily scooped up a manual 2015 Mustang GT and she has some big plans for it.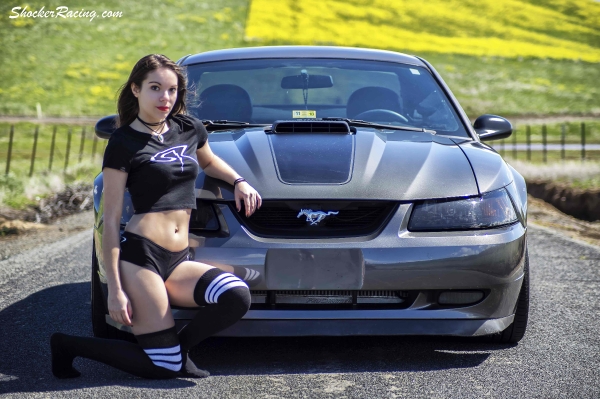 I am not quite sure how this happens so often, but I sat down to write Emily's article on Tuesday, May 15th when I realized her 21st birthday was in May.  I wasn't sure of the date so I messaged her to find out, and no joke she tells me her birthday is May 16th!  So we will be making sure that this feature launches in celebration of her 21st birthday!  Everyone reading this needs to go to her Instagram and wish her a huge Happy Birthday!
Surprisingly, Emily chose to shoot with two of her friends Mustangs for her first ShockerRacing Girls feature.  The first one is a Gray 2003 Mach 1 Mustang owned by Joseph Anzalone, and the Blue Mustang is a 2015 GT owned by Tony Hsieh.
Emily's two Mustangs are lovingly named Beast and Beastmode.  Beast being the name of her V6 Stang and she has already added some go fast mods including; Bama Tune, Upgraded 73mm Throttle Body, Airaid Cold Air Intake, Exhaust Delete, and a Strut Tower Bar.  To make this Mustang unique looking she added; Raxiom Headlights, Retro Polished Black Billet Grille, RTR finished decklid, Taillight Tints, and a Carbon Fiber Dash Overlay.
The 2015 Mustang GT she just got recently and hasn't had much time to mod Beastmode yet.  Emily has added Roush Style Hood Vents, some decals, and a set of Hood Struts.  We asked Emily what mod she would choose for her Stangs if ShockerRacing was offering to buy any one mod, and she exclaimed, "I would pick a Procharger for my V6 and I have plans for (Beastmode) to get a Whipple Supercharger."
Check out the rest of our interview with Emily:
SR: What is your dream car?
Emily: If money wasn't an issue, my dream car would have to be the Koenigsegg 1:1.  It was one of the best supercars ever built.  However, since that's an impossible car to get I would certainly settle for more of a realistic car like the Ford GT.
SR: If you could travel and have your dream car anywhere in the world, where would you go?
Emily: If I could take my dream car, I would no doubt take it to the Nürburgring because so many inspirational cars have had memorable times there.  A dream of mine has always been to drive a supercar there.
SR: How did you get involved in the car scene?
Emily: I have always been a car person at heart, but what got me immediately into the car scene was buying my first Mustang, working on it myself, and being able to go out and race her for fun.  I've been able to meet a lot of great people and have an amazing time.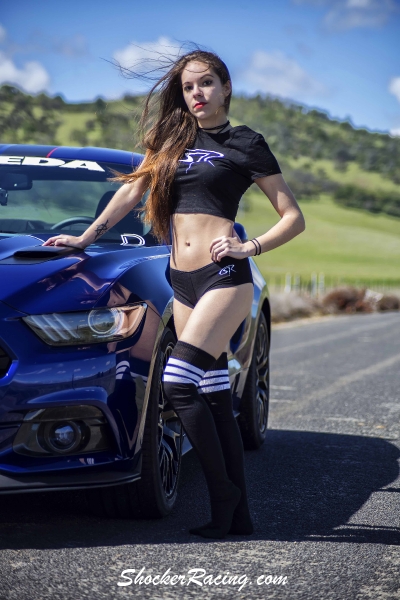 SR: What got you interested in ShockerRacing?
Emily: Initially, a few friends of mine wanted to help build my current model page, so I looked up ShockerRacing.  It seemed very organized and has very good quality photos so I wanted to be a part of it.
SR: Who is your favorite ShockerRacing Girl, and why?
Emily: My favorite ShockerRacing Girl is Bex (@Bjam1934) because I love the style of her individual pictures as well as her group pictures she does with the other ShockerRacing Girls.
SR: What is your favorite automotive event of the year?
Emily: So far I would have to say the Long Beach Races that happened in April.  I was in Los Angeles for Fabulous Fords Forever but the day before I was out exploring Long Beach and accidentally found race cars!  All the streets were closed down and I could hear them from a mile away, so I bought a ticket and watched the races!  It was an amazing time with so many beautiful cars.
SR: What modeling experience do you have?
Emily: I created my own car modeling business while I was living in Texas for a few years, and I have carried it back over to California.
SR: What would an ex say is your best asset?
Emily: My ex would say my best asset is honesty.  I've always believed honest to be the best quality to have in a person because no matter the situation you can always rely on them.
SR: What is your biggest pet peeve?
Emily: One of my biggest pet peeves is improper grammar in text messages or emails that are unintentional.
SR: What is your favorite food?
Emily: My favorite food will probably never change! I'll forever love hamburgers no matter where I go.
SR: What is your favorite Pizza topping?
Emily: Pepperoni, plain and simple.
SR: Which of the Fast and Furious films is your fave?
Emily: The Fast and The Furious has to be my favorite out of the series because it's a classic. I've seen it so many times with many different friends and of course had a great selection of cars.
SR: Are you a Paul Walker or a Vin Diesel kind of girl?
Emily: I would have to pick Paul Walker because he inspired so many people.  He had a really great heart and an amazing passion for cars.  His garage will always be my favorite collection.
SR: Leave us with your favorite quote.
Emily: "If one day speed kills me, don't cry because I'll be smiling." - Paul Walker.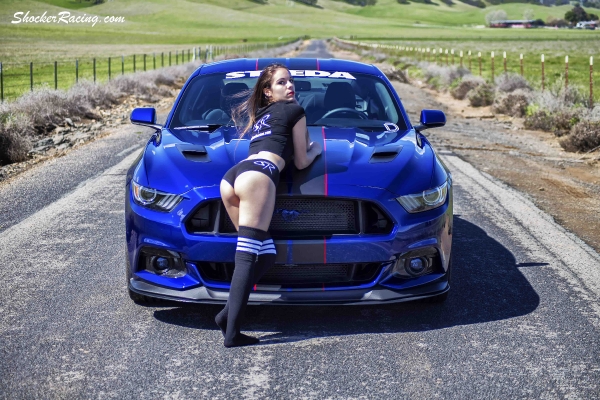 Check out the crew on their social media:
Model - Emily Morales
Photographer & Blue 2015 Mustang GT Owner - Tony Hsieh
2003 Grey Mustang Mach 1 Owner - Joseph Anzalone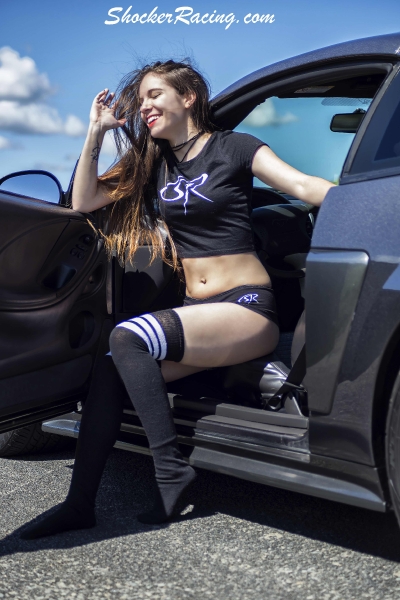 Follow ShockerRacing on our Social Media: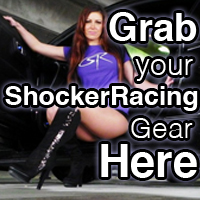 Instagram: @ShockerRacing
Twitter: @ShockerRacing1
Facebook: Facebook.com/ShockerRacing
YouTube: YouTube.com/ShockerRacing
Snapchat: @ShockerRacing
View the full photo gallery here
View the full photo gallery here
View the full photo gallery here
View the full photo gallery here
DON'T MISS - Skylar Baggett with a Shelby GT350 - Click the photo below: