TSP Slam with Angie Moltzan
Written by James Monday, 18 June 2018 09:37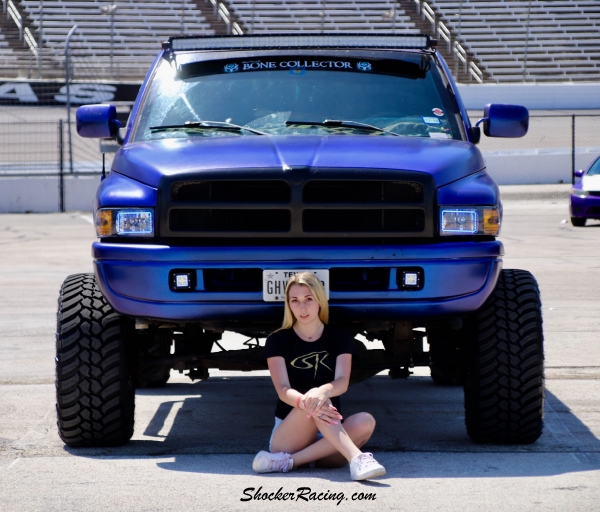 A few weekends ago, ShockerRacing model Angie Moltzan represented SR at the TSP SLAM event at the Texas Motor Speedway. We constantly encourage our models to show off our gear at local events and Angie took full advantage of that during this event. Ms. Moltzan thought it was the perfect opportunity to show off her custom Black and Gold T-Shirt we made her. We know not every event is appropriate for our bootyshorts, so we loved how Angie paired her tops with jean shorts for these pic. "I really wanted to just get some photos from this event that I was at since I was promoting SR. I hadn't shot in a while and wanted some new fun shoots especially with trucks." Angie tells us.

TSP SLAM claims to be the single largest automotive meet in Texas. With activities like 1/8 Mile Racing, Mobile Dyno, Burnout Box, Drift Car Buckle Up Challenge, R/C Car Racing, Race Simulators, Gaming Truck, Swinging for Veterans (Car Bashing), Live DJ, plenty of vendors, Food trucks, cash prizes, Giveaways and more. Angie found herself posing with many cars/truck during the event properly supporting Shocker Racing and making us proud!
Angie gave us some info on some of her favorite rides she posed with. The purple/blue truck is a 1997 Dodge 1500 5.9L V8 on a 5" suspension lift and a 3" body. The owner wrapped his truck himself in Blue Martian Pearl. The white Ford is 2014 F150 3.5L V6 Ecoboost on a 12" Bulletproof lift with 40" Fuel Grippers and 24x14 Fuel Maverick wheels.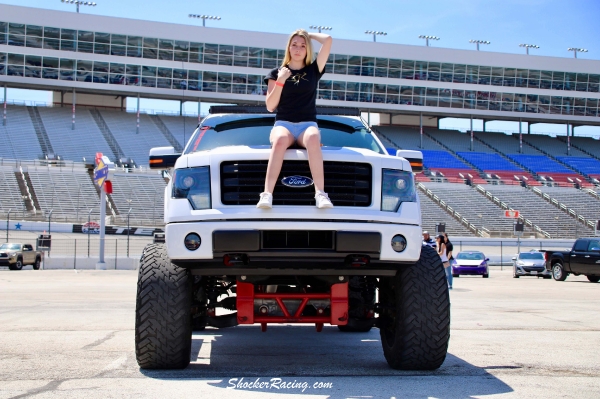 Angie will be attending some meets in the upcoming months in her area. Be sure to follow her social media pages to keep up with her next event date. If you would like to join the Shocker Racing Team please email us at shockerracinggirls@gmail.com and tell us why you could be an asset to the team.
Follow the crew from this shoot here:
Model - Angie Moltzan:
Photographer
F150 Owners Information:
Dodge Owners Info:
Event info:
Location info: