Jenny Walter Returns
Written by James Tuesday, 25 September 2018 15:20
The past year has been a little rough for Jenny Walter and her 2007 Scion Tc.  You may not recognize Jenny's car from her last shoot with her Scion since it has undergone some major work.  A lot of the work was not by choice as she was involved in a bad accident that damaged quite a bit of the front end of her baby.  Knowing she loved the car so much she did not want to give up on it, and her supportive boyfriend began to help her piece the whole car back together.  "I am lucky enough to have a boyfriend that is really into cars, so he did a lot of the work and helped add a lot of little touches for me... including light up Scion emblems!" Jenny explained.
The couple spent a lot of time picking out parts and replacing the damaged parts to make this Scion better than ever.  She told ShockerRacing, "Once all of the repair work was done, I decided to have it wrapped in a beautiful blue to purple colorshift vinyl!"  The vinyl choice was a perfect compliment to the set of wheels that Jenny already had on the car. Then after all of this work to get her looking pretty, Jenny began having clutch issues.  They kept trying different things to repair the clutch but it took about two months to finally get it right! "This shoot means a lot to me, because I finally have my car back looking great and running right!" Jenny exclaimed.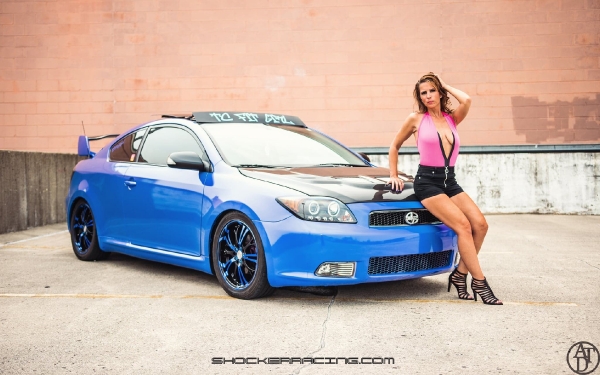 The shoot was done on top of a parking structure in Waukesha, WI.  Jenny tells us it was a hot sunny day which made it challenging with the sun in her eyes.  The photographer she worked with is Tyler Shroeder from AboutTheDrive Productions.  Tyler is a Milwaukee based photographer that specializes in automotive and portrait photography.
In the past year, since Jenny's last feature with Shocker Racing she has kept extremely busy!  She tells us that she loves working out almost everyday to keep looking and feeling young.  Her car show schedule has been insane, she has been attending quite a few as a model, car owner, and a spectator!
Some of the car shows that Jenny has been to this year include;
New Motorama in Green Bay - Model
WCEC Season opener
Sickfest by Stay ILL  - Model
Tic car show- Model
Parking Garage party by Stay ILL - Model for ShockerRacing
Rockford Battle - Model for Team Shockwave and PasMag
Hot Import Nights - HIN Model
DUB Car show - model for Team Shockwave
COMING UP: Stance-A-Palooza November 18th - Model
If you missed Jenny's original ShockerRacing Girls feature make sure you check it out here: Jenny Walter Joins the ShockerRacing Girls
Follow Jenny on Social Media:
Make sure to stop by and see Jenny at the
STANCEAPALOOZA
Meet & Greet on November 18th at the Kane County Fairgrounds!  Use her Promo Code: JENNY when buying tickets!
Check out Tyler Shroeder on Social Media:
Follow ShockerRacing on our Social Media: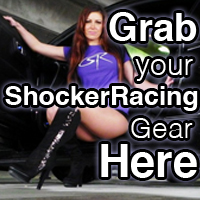 Instagram: @ShockerRacing
Twitter: @ShockerRacing1
Facebook: Facebook.com/ShockerRacing
YouTube: YouTube.com/ShockerRacing
Snapchat: @ShockerRacing
Check out Jenny's full photo gallery here
DON'T MISS - Savannah's First Feature - Click Below: