Cassidee Alderman Joins The ShockerRacing Girls
Written by James Saturday, 15 December 2018 10:00
ShockerRacing has had many models from all over the globe join our family. We love learning the fascinating backgrounds of each girl as we interview them. Cassidee Alderman is next up to join the Shocker Racing team... She tells us she is originally from Germany, now living in Washington State Cassidee has become quite the Subaru lover.

Keep reading to learn more about Cassidee and see her full photoshoot with her Subie.


That's right ShockerRacing fans, Cassidee is a true Subaru fanatic... She drives a blue 2011 Subaru WRX that features mods like an STI Rear Wing, TSW Wheels, and a set of Toyo Tires.  She tells us, "This summer, I'll be getting my Rotiforms, I recently rebuilt the main shaft, and got a new clutch." We asked Cassidee if ShockerRacing was going to pay for any mod to your car no matter what the cost, what mod would you choose? Without hesitation, she told us, "Bags! So my fitment would look nice all the time, but I wouldn't scrape." We are excited to see what Cassidee does next! We are sure to get more amazing pictures too.

Cassidee wanted to show off her ride for her first feature with ShockerRacing. She shot with Deserae Barth from Backwood Photos and got some amazing pictures for us to share. She chose to show off her custom 'You Can't Park With Us' Hoodie that so many fans and models love. We are sure it kept her cozy in this brisk winter air while also repping our famous Boyshorts!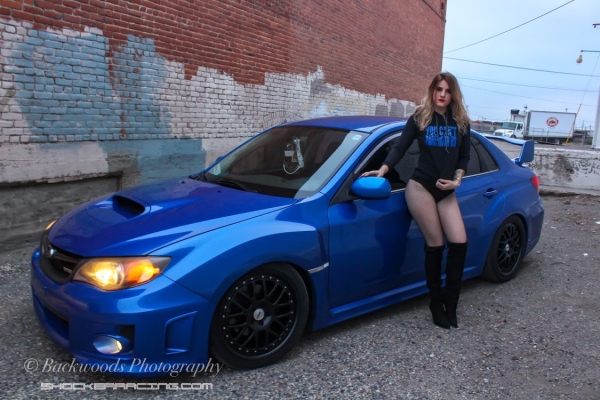 Learn more about Cassidee and read the rest of her interview here:
SR: What got you interested in ShockerRacing?
Cassidee: Very supportive page for woman in the car community.
SR: What modeling experience do you have?
Cassidee: I've done shoots with a couple different photographers with my own car since I've owned it.  But didn't wanna shoot with someone else's until I found something badass. I finally did my first shoot with a Hot Wheels legend 1973 Datsun 240z. Which was life changing!
SR: How did you get involved in the car scene?
Cassidee: My dad and grandpa were always into cars while I was growing up and I just started to grow a love for every different build.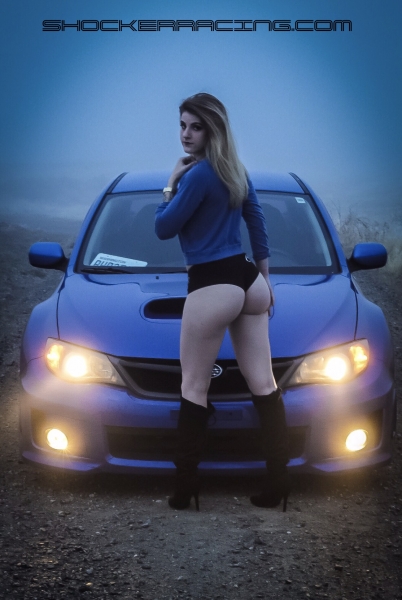 SR: What was your first car?
Cassidee: 1995 Honda Civic ex coupe.
SR: Which of the Fast and Furious movies is your Fave?
Cassidee: All Of THEM!
SR: Are you a Paul Walker or a Vin Diesel kind of girl?
Cassidee: Paul Walker!
SR: If you could travel and have your dream car anywhere in the world, where would you go?
Cassidee: Back to Germany to see where I was born and hit the Autobahn!
SR: Are you single?
Cassidee: Dating my car right now.
SR: What nicknames do you have?
Cassidee: Assicassi.
SR: What's your favorite food?
Cassidee: Noodles.
SR: What's your favorite Pizza topping?
Cassidee: BBQ chicken pizza.
SR: Do you have any tattoos? If so, how many? Tell us about them.
Cassidee: I have seven tattoos. One is my roses and dads dog tag for my dad, number two is a lighthouse for my grandma, carnation for my grandpa, compass/sun moon tattoo for my best friend she's the moon and I'm the sun and my Mandala and extra rose I just liked."
Catch Cassidee at her next car event, Cool Desert Nights. A small event hosted in her home town. If you would like more information on how to become a Shocker Racing model. Please email us why you should be apart of the team at shockerracinggirls@gmail.com.

Follow the team here:
Model/Car Owner: @Cassideeann_
Photographer: @backwoods.photos18
MUA: @francescametzger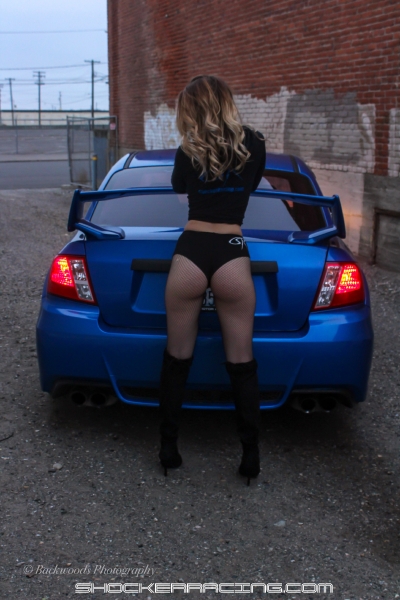 Follow ShockerRacing on our Social Media: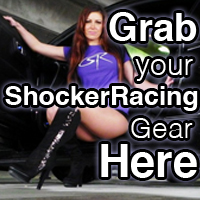 Instagram: @ShockerRacing
Twitter: @ShockerRacing1
Facebook: Facebook.com/ShockerRacing
YouTube: YouTube.com/ShockerRacing
Snapchat: @ShockerRacing
View Cassidee's full photo gallery here
View Cassidee's full photo gallery here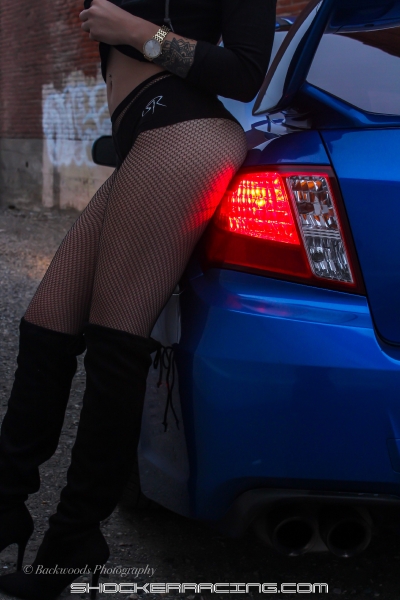 View Cassidee's full photo gallery here
LADIES, DON'T MISS YOUR CHANCE TO ENTER OUR 2018 #SHOCKERRACINGBADSANTA CONTEST! Click below for details: