Macie Watkins Joins the ShockerRacing Girls
Written by James Monday, 18 March 2019 14:23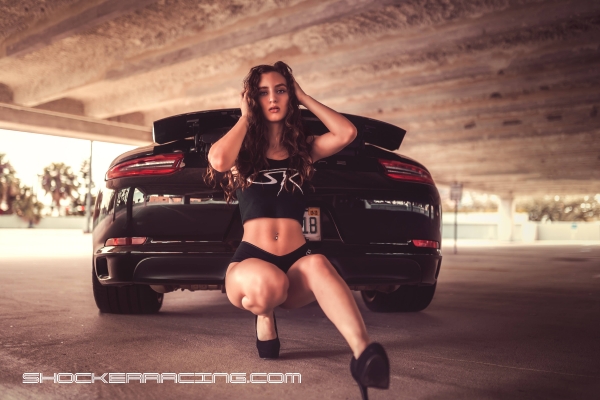 Macie Watkins is a college student, works at LA Fitness, an Ambassador for 1UP Nutrition, a fitness enthusiast, and a photographer!  Now she is joining the ShockerRacing Girls as she is getting more active in the car scene and enjoying modeling.  She may just be one of the most motivated 19-year-olds you will ever meet.  In her free time, you will catch Macie out at some of the local tuner events both in front of and behind the camera.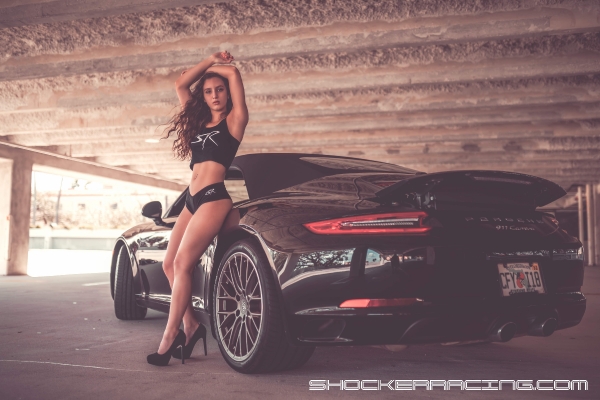 This Florida girl grew up in Palm Bay but has moved to the Orlando area to attend college and to be closer to a bigger car scene.  Macie attends the University of Central Florida where she is currently studying Exercise Science. Ms. Watkins didn't grow up with a family that was huge into cars, but she tells us, "I always had an interest in cars when I was growing up.  I owned a huge Hot Wheels collection and loved playing racing video games."  Later on in life, an ex-boyfriend of hers liked the car scene, so that helped pique her interest even more.  "I started liking the look of Stanced cars and began following them on Instagram for inspiration," Macie explained.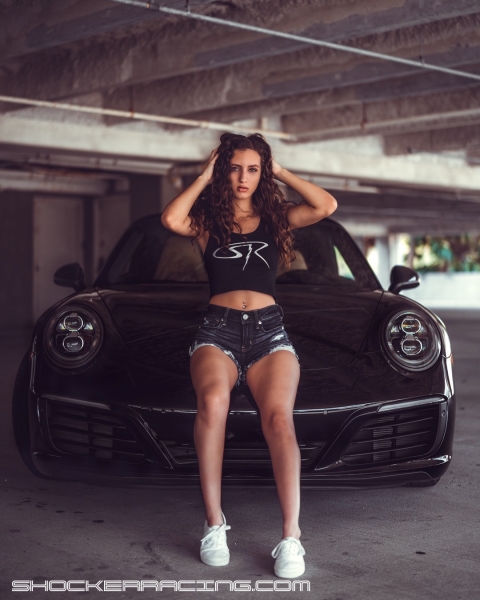 Macie had started out doing some Fitness and Portrait modeling when she was just 14, so when the opportunity presented itself to model with a friends car, she jumped on it.  Eventually, she tried modeling at shows in front of a lot of people, and that helped her to meet more people in the car scene and got her fully involved. Macie's first ShockerRacing Girls shoot was scheduled for a few weeks back, but the photographer, Trevor Proctor, got into a car accident on his way to the shoot so it got postponed.  Then the car that was scheduled for this shoot could not make it at the last minute, so @newbraza was able to scoop his uncle's Porsche 911 for Macie to shoot with.
We asked Ms. Watkins was sparked her interest in ShockerRacing and the ShockerRacing Girls, "I wanted to be a part of a community that supports women car enthusiasts and models.  A company that brings all girls together instead of competing against each other in the car scene," was her response.  Here at ShockerRacing, this has always been our #1 goal.  We have always wanted to build a team of motivated and respectable women in the automotive world, and we always love to hear that people are noticing this.
Keep reading for our full interview with Macie Watkins:
SR: What do you currently drive?
Macie: I have a stock 2010 Honda Civic Coupe, which is the first and only car I have owned.
SR: If ShockerRacing was going to pay for any one mod to your Civic, what would you choose?
Macie: I would go with bags or a wrap.
SR: What is your dream car?
Macie: I get asked this a lot, but I honestly don't have one.  I love many different builds and can't choose for the life of me.
SR: What is your favorite automotive event of the year?
Macie: As of right now, my favorite that I have attended was Hot Import Nights.
SR: Are you single?
Macie: Yes, I'm a very independent girl, and it would take a real man, with a lot in common with me for me to actually want to settle down and commit.
SR: What would an ex say is your best asset?
Macie: That I am diligent and optimistic.
SR: What is your biggest pet peeve?
Macie: Flaky people and loud chewing.
SR: What's your favorite food?
Macie: I love Philly Cheesesteaks!
SR: Give us a few fun facts about you that people might not now.
Macie: I'm a lowkey nerd.  I always loved school and was very good at it.  Besides that, I love outdoor activities.  I'm also a Metal Head, I grew up listening to Metal and Rock, but I also enjoy country music!  My interests are all over the place.  I am a very open minded person so I like a lot of different music and can vibe with any crowd of people.
SR: Leave us with your favorite quote.
Macie: "Work hard in silence. Let success make the noise."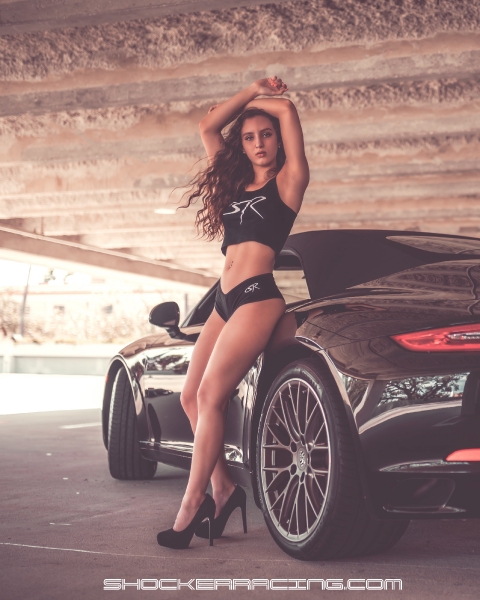 Follow the crew on their social media:
Model - Macie Watkins
Photographer - Trevor Proctor
Car - New Hirunworn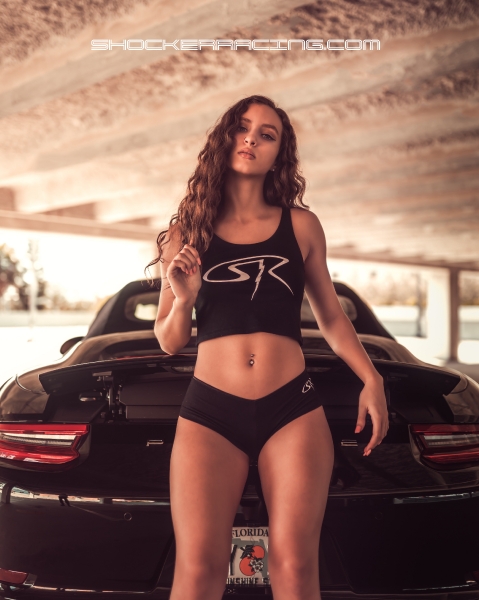 Follow ShockerRacing on our Social Media: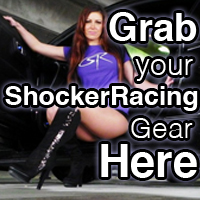 Instagram: @ShockerRacing
Twitter: @ShockerRacing1
Facebook: Facebook.com/ShockerRacing
YouTube: YouTube.com/ShockerRacing
Snapchat: @ShockerRacing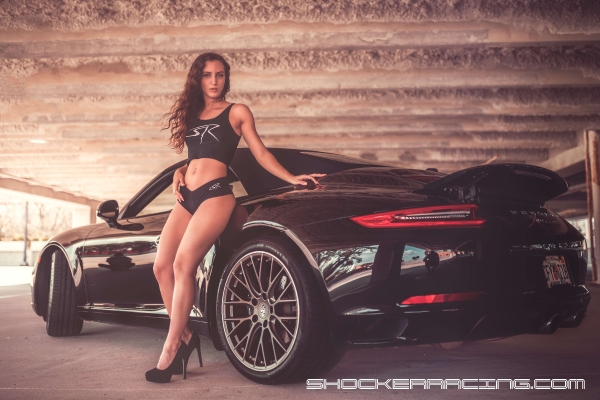 View Macie's full photo gallery here
View Macie's full photo gallery here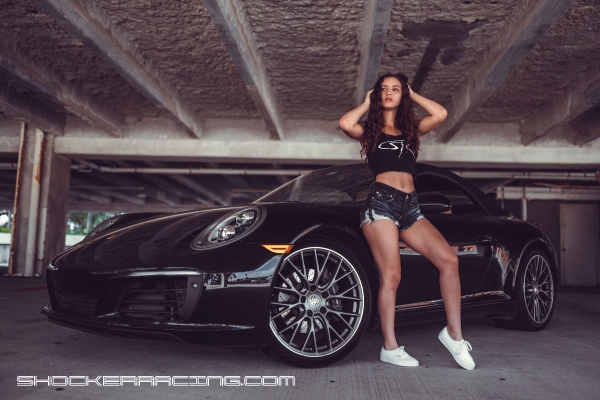 View Macie's full photo gallery here
View Macie's full photo gallery here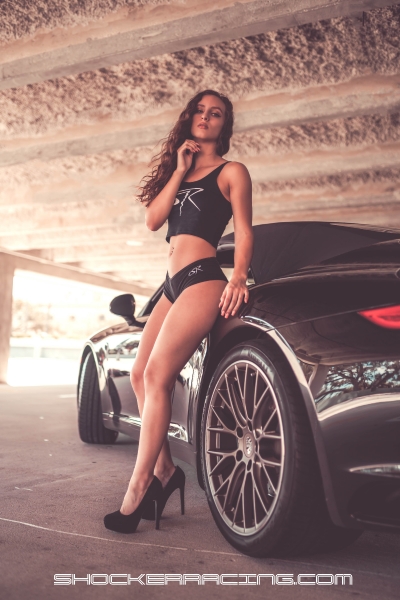 View Macie's full photo gallery here
View Macie's full photo gallery here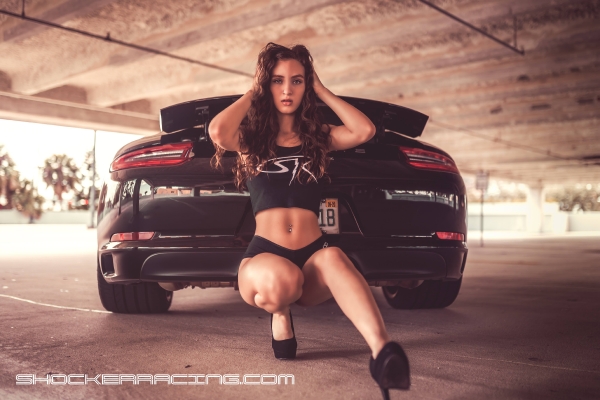 DON'T MISS - BEX RUSS & SARAH IN FLORIDA - CLICK BELOW: