Viper Owners Association of Illinois - Winterfest
Written by James Monday, 10 February 2014 11:59
This past weekend, I had the opportunity to attend the newly formed Viper Owners Association(VOA) of Illinois Winterfest Club meeting as a guest of Luddy's (a current SR Member as well as a current VOA member).  Luddy had been asked to bring his 2004 Paxton Supercharged Viper to the banquet and put it on display. He asked me if I would trailer it to Rosemont in exchange for giving me the opportunity to attend the VOA Club Meeting and see what the club is all about.  We delivered the Viper to the Crown Plaza Hotel in Rosemont late Friday evening and were greeted by a friendly group of members ready to help us unload and get Luddy's boosted Viper inside the hall! Once inside the hall I got a sneak peak at the Anodized Carbon Special Edition Viper you see on the left.  This Viper is a limited production Viper GTS with a new Metallic Matte exterior...
They will only be producing a limited run of 50 of these Carbon Edition Vipers! SRT not only includes the special exterior paint, but will include Alcantara accents inside along with Orange accent stitching on the Nappa Leather trimmed seats.  This gorgeous and sinister machine quickly sidetracked me Friday evening as it has now while writing this article!
The banquet hall already had about 9 cars inside when we arrived and I was informed that more would be brought in Saturday morning!
Saturday evening I braved yet another Chicago snow storm to head out to the VOA Winterfest Banquet and arrived shortly before 7pm.  To my surprise the 250+ person banquet hall was packed with Viper owners and their guests along with Vipers surrounding the entire hall.  They had a table full of raffle prizes including a 60" plasma TV and a pass for every racing event that they put on for 2014, which was over a $1000 value! The prizes had all been donated from their sponsors, members and favorite vendors.  Along with the raffle, they had a silent auction which included everything from Viper Gas Pumps to Viper themed Bean Bag toss games.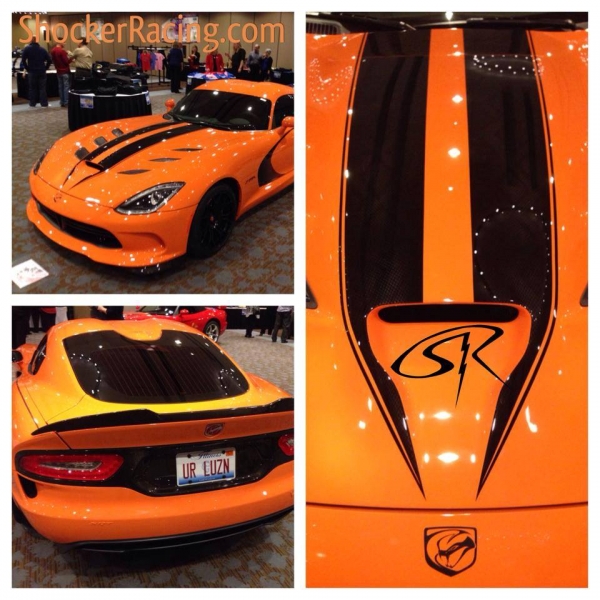 Throughout the evening, they had videos playing on the big screen showing the different SRT Videos and commercials.  There were videos showing racing from some of the previous VOA Club events, along with a well "acted" spoof on the future of the VOA titled "Back From the Future" starring our very own Luddy and his wife! This video was highly entertaining including a "Real Housewives of VOA" spoof, and finally an explanation as to why many of the VOA members had been referring to Luddy as "Douche"! I intially assumed they all just knew him as well as us ShockerRacing.com members, but it turns out it was a reference he made in the video to the VOA Club President in the future.  The event also included many awards being presented to members and to many of those that volunteer their time and energy to the club.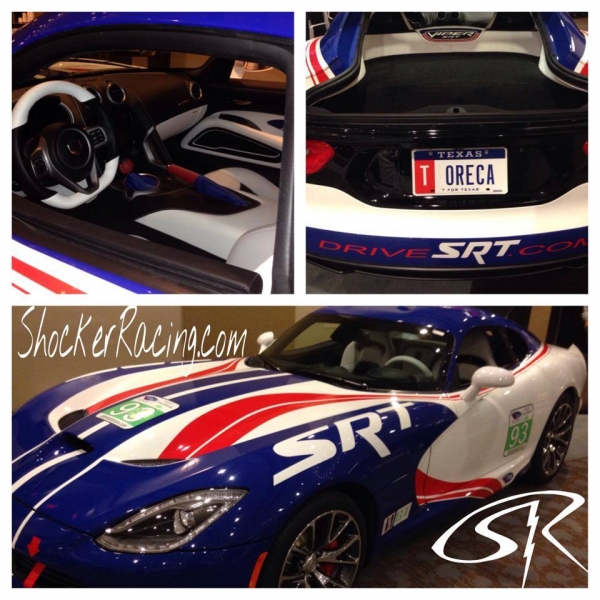 All in all, it was a well organized and entertaining evening capped off by the presence of SRT CEO, Ralph Gilles, and the DriveSRT.com team!  Now we all know I have Corvette blood running through my veins so shaking hands with Ralph kind of made me feel like a traitor, but he seemed like a good guy.  Ralph was gracious enough to spend time talking with many of the members and taking pictures with them and their cars, as well as signing engine covers and other miscellaneous items for his fellow SRT enthusiasts.  The Viper Owners Association of Illinois is a very well run club that offers its members many opportunities like this as well as cruises, tours, and racing events.  The VOA does a monthly get together during the warmer weather months that brings in 50+ cars including some that come in from hundreds of miles away! They announced at this event they will be hosting their monthly cruises at Pinstripes at the Arboretum in South Barrington.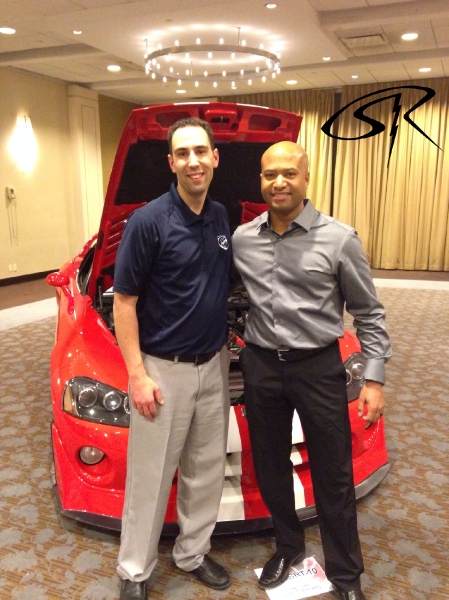 Above: Eric(Luddy) with SRT CEO Ralph Gilles
To see the full gallery of pics click HERE
After you are done checking out the rest of www.shockerracing.com head over to www.illinoisvipers.com to find out more about the Viper Owners Association and all of their events they have planned for 2014.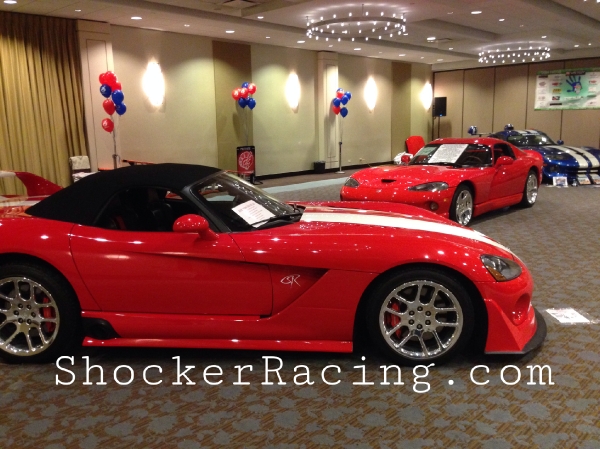 Side Story: Luddy's Viper had 3/4 of a tank of gas and the VOA had a visit from the Rosemont Fire Marshall on Saturday morning! All vehicles are required to have less than 1/4 tank of gas in order to comply.  Luddy had to pull it out into the parking garage and and pump the excess fuel out of the tank.  After pumping out a bunch of fuel from the car, Luddy was having a hard time getting the car to start! The "Douche" himself had pumped ALL of the fuel from the vehicle!
Don't miss the Verde Green Viper SRT this week at the Chicago Auto Show
SRT Extended Cut Commercial: