Featured Articles
Valentine's Day Instagram Giveaway for the ladies
Written by James
Wednesday, 11 February 2015 20:55

ShockerRacing is running an Instagram (IG @shockerracing) Contest to celebrate 15,000 followers and and Valentine's Day! The winning lady will be posted as our profile picture for the remainder of February on IG along with winning a $10 coupon towards the item of your choice in our new online store!  Ladies, here are the rules:
Read more: Valentine's Day Instagram Giveaway for the ladies
Sarah Sewell and her 2014 Mustang GT
Written by James
Monday, 09 February 2015 16:31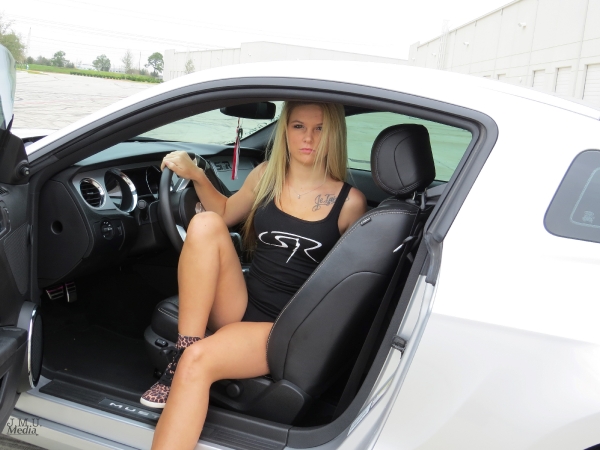 20 year old, Sarah Sewell (@trisarahhtopss), grew up in Texas just outside of Houston.  Texas girls like their motors big and their cars fast! So of course Sarah opted for the 5.0 motor in her 2014 Ford Mustang GT.  She tells us she bought it brand new with just 3 miles on it.  This meant that she would be able to start from the beginning to make her Mustang entirely her own. Hit the link to see what Sarah has already done to her ride and what her future plans are...
Kaitlyn Macdonald: Car Girl, Biker Girl and now an Official ShockerRacingGirl
Written by James
Saturday, 17 January 2015 10:53
Kaitlyn Macdonald (@kait_gsxr295) is your perfect woman.  She's a beautiful blonde who loves cars and rides a Suzuki GSXR-600.  Ms. Macdonald, has multiple Mustangs including the 2011 Ford Mustang GT she did this photoshoot with. She doesn't mind getting her hands dirty working on her cars but also likes to be girly. Kait tells us, "I am huge makeup nerd." but guys, there is just one problem...
Read more: Kaitlyn Macdonald: Car Girl, Biker Girl and now an Official ShockerRacingGirl
2014 ShockerRacingGirl of the Year - Kyrie(Miss4v)
Written by James
Saturday, 10 January 2015 12:41
Your 2014 ShockerRacingGirl of the year is Kyrie aka @Miss4v! This past summer Kyrie met up with one of our favorite photographers, Chromalusion Photography, at Mustang Week 2014.  As expected, when Chromalusion Photography and Kyrie got together some magic happened.  When voting went up on ShockerRacing.com for the 2014 ShockerRacingGirl of the year we weren't sure what to expect with so many great features and beautiful car girls, but Kyrie took the voting by storm! With over 55% of the votes I think its safe to say Miss4v is a clear winner with great support from the Mustang Community!
Click here to view the full feature: Chromalusion Photography headed to Mustang Week 2014 and met up with Miss4V
Shelby Wolf and Lauren Samuhel; A New Year and a New Friendship
Written by James
Sunday, 28 December 2014 15:46
This is a photoshoot that almost never happened... for a good part of 2014 there has been a divide between many of the Mustang girls on Instagram(IG).  IG has become a thriving community for female automotive enthusiasts and the Mustang ladies make up an overwhelming part of this community. The divide left Shelby Wolf(@ashelbycobragirl) and Lauren Samuhel(@lil50monster) on opposite sides of the situation.  Both of these ladies are strong, intelligent and loyal women that truly have a love for cars and the entire automotive world.  Lucky for us, all of the women made the effort recently to get together and discuss their differences and put an end to their beef! Lauren said it best, "Sometimes negative situations can rotate the tires in sour relationships and provide opportunities for us to work together.  I'm extremely grateful that I and a lot of fellow female Mustang enthusiasts have been able to reevaluate each other and grow as a unit.  I think it's important to tap the brakes every once in a while and take the time to communicate. Someone you thought to be your worst enemy could end up being a huge blessing."
Read more: Shelby Wolf and Lauren Samuhel; A New Year and a New Friendship
Olivia Hart is heating things up this month with a pair of Mustangs
Written by James
Tuesday, 09 December 2014 10:23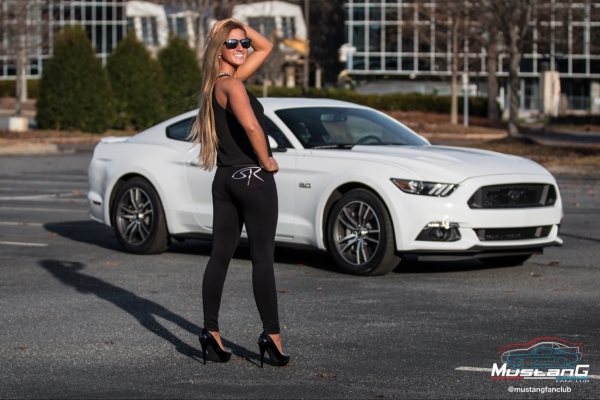 ShockerRacingGirls is excited to announce Olivia Hart as our December Featured Article.  This 20 year old, Kentucky girl enjoys hitting up car shows, especially shows like Mustang Week in her time off from waitressing. Olivia tells us, "I went to my first big show at the Mustang 50th anniversary in Charlotte, NC" and that was her gateway into the automotive world!  Her first car was a Mitsubishi Eclipse and she currently is driving a Ford Focus but has dreams of getting her hands on a 2015 Ingot Silver 5.0 Ford Mustang.  My biggest pet peeve is "when people ask me the same questions over and over again" Olivia added, so we were very careful not to ask anything twice! We are always curious to know how much modeling experience each new ShockerRacingGirl has and Olivia tells us "I have very little experience but with those experiences, I've grown better and I enjoy modeling."  She added that her first photoshoot was just this past September.  Olivia appears to be very comfortable with this 2015 S550 Mustang GT in this photoshoot by @MustangFanClub.  Click to read more and see Olivia with Chris Alfieri's Supercharged SN95 Mustang!
Read more: Olivia Hart is heating things up this month with a pair of Mustangs
How to become one of the ShockerRacingGirls
Written by James
Tuesday, 25 November 2014 10:14
The ShockerRacingGirls started back in 2006 thanks to Myspace and some beautiful female car enthusiasts that were fans of ShockerRacing. It all started with us sending one of our fans, Zandrea, a ShockerRacing tshirt in exchange for a few photos.  Shortly after that we made long lasting contacts with Chromalusion Photography(North Carolina) and Jon Mulkey Photography(Las Vegas) who have worked with many beautiful SR Girls.
I have been receiving a lot of inquiries about becoming one of the now famous #ShockerRacingGirls lately and figured its time to post some details up here. Hit the jump to find out how you can become one of the ShockerRacingGirls.
Cassidy gets fancy with an Aston Martin V8 Vantage
Written by James
Tuesday, 28 October 2014 09:10
Shocker Racing first met Cassidy a few months back on good old Instagram.  Cassidy owns Cnorr Vinyl, a sticker and apparel company that had been popping up around the automotive community on IG.  After sharing a few of her photos on the @ShockerRacing IG page, Cass contacted us about what it would take to be one of the official #ShockerRacingGirls.  We discussed the details and began searching for a photographer and a car to work with in the Pittsburgh area.  Finding a photographer ended up being the easy part as Shelby Wolf set us up with Fred Jennings.  Fred was highly recommended by Shelby, as she explained that he was really easy to work with and that he was especially helpful for models with little to no experience.  To view more from Fred Jennings Photography be sure to check out his website: www.1Camera1Lense.com
The hardest part of making this whole shoot happen was finding the right car.  We had quite a few nice cars submitted as possibilities for the shoot but none of them felt quite right.  I wanted to see something different, something that we had not shot with before and don't see a lot of.  Fred, Cass and I were all using our resources to see what we could come up with and finally Cass found the winner.  Cassidy had found someone who put us in touch with Paul who owns this beautiful Aston Martin V8 Vantage Roadster...
Read more: Cassidy gets fancy with an Aston Martin V8 Vantage
#ShockerRacingHalloween Contest 2014
Written by James
Tuesday, 21 October 2014 11:04
Thanks to our friend Kyrie(aka Miss4V) we were inspired to run a T-Shirt Giveaway on Instagram to our favorite entry into the Shocker Racing Halloween Contest.  We are encouraging the lovely ladies of IG to take photos in their Halloween Costumes with their car and post them on Instagram with the hashtag ShockerRacingHalloween.  On November 2nd, we will select our favorite entry to win a ShockerRacing T-Shirt.  The entries are starting to roll in and we are really loving the creativity you ladies have been coming up with for your entries! Keep up the great work and be sure to hit the jump to see all of the latest entries!
Written by James
Friday, 12 September 2014 10:44
COMING SOON C5Z06SpeedJon's 2002 A&A Supercharged Corvette Z06 vs Eagle's KB Shelby GT500... Who will win??
C5Z06SpeedJon:
Eagle:
Page 33 of 35