Heather Lynn
Written by James Tuesday, 15 September 2020 10:31
Heather Lynn has been a fan of ShockerRacing for a while now.  She has been wearing her SR Apparel often, and appreciating all of the ShockerRacing Girls. Now it is time for Heather Lynn to have her time to shine.  For her introduction, she chose to shoot with her manual 2016 Ford Mustang GT. Heather's Stang happens to be in my favorite S550 color, Competition Orange, and features some unique black striping.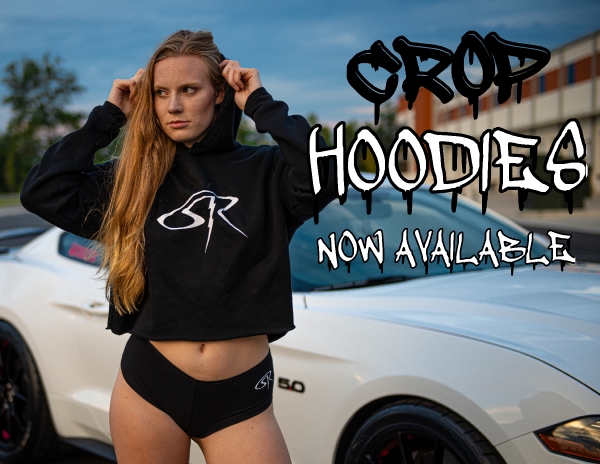 Originally from Kansas City, MO, Heather Lynn recently moved to Jacksonville, FL with her boyfriend who is in the Navy. The 22 year old works as a Medical Assistant, but tells us she is really starting to enjoy modeling. "I'm a new model for sure.  I have modeled with my Mustang a bunch and I absolutely love it," Heather explained, "I would love to expand my modeling more." She has been featured in Stang Magazine numerous times, and is excited for more features in the future. "From my first shoot to this one, I can see myself becoming more comfortable in front of the camera. I love how confident I am becoming," Heather explained.
Heather tells us, "I love how ShockerRacing shares all women body types, they give all women the opportunity to be featured." She went on to tell us, "Sen City is my favorite SR Girl, she seems so down to earth and cool!"
Heather got involved in the car scene after being raised around muscle cars. Once she picked up her 2016 Ford Mustang, she started hanging with friends that had similar cars and it escalated from there. She enjoys taking her S550 to the Saturday morning Cars and Coffee event near her, and tells us one of her favorite events she has been to is Clean Culture.
The 2016 Ford Mustang GT features a handful of tasteful mods, including;
Steeda Sportline Suspension with Coilovers
MMD V Series Spoiler
APR Front Chin Splitter
Corsa Extreme Exhaust
E85 Tune
RTR Tech 7 Wheels
Street Aero Rear Diffuser
Don't miss Heather Lynn's interview below:
SR:
What was your first car?
Heather: I had a 1968 Ford Mustang 302!
SR: What is your dream car?
Heather: I would take a Lamborghini or a Ferrari.
SR: If we were going to buy you any mod for your Stang, what would you choose?
Heather: How about a set of Long Tube Headers?
SR: If you could travel and take your Mustang or your dream ride anywhere in the world, where would you go?
Heather: I would travel to Italy! I am full blooded Italian, and my daddy was adopted from Sicily!
SR: What would an ex say is your best asset?
Heather: My booty or my face, lol!
SR: What is your biggest pet peeve?
Heather: People who think they know everything about my car, when they really know nothing!
SR: What is your favorite food?
Heather: Mexican food! Especially tacos!
SR: What is your favorite Pizza topping?
Heather: Extra cheese and pepperoni!
SR: Do you have any tattoos?
Heather: I have lots of tattoos. I am going to have full sleeves. I am a huge nerd and I love anime and comic books.  I have the Joker, Batman, and Superman for my DC sleeve and my other arm is Japanese art.
SR: Leave us with two fun facts about you that people don't already know.
Heather: I hate bugs... I will lose my shit!!! I am also obsessed with serial killer documentaries.
SR: Leave us with you favorite quote.
Heather: "Clever as the devil, and twice as pretty."
Follow the crew on social media:
Follow ShockerRacing on our Social Media: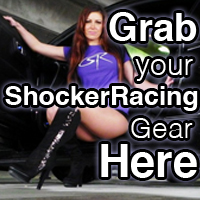 Instagram: @ShockerRacing
Twitter: @ShockerRacing1
Facebook: Facebook.com/ShockerRacing
YouTube: YouTube.com/ShockerRacing
Snapchat: @ShockerRacing
DON'T MISS - HEATHER LYNN'S PHOTO GALLERY HERE
DON'T MISS - HAYLEY PERKINSON'S LATEST SHOOT: