Written by James Wednesday, 09 August 2017 09:19
19 year old, Jamie Upton is new to the automotive scene.  In fact, this was her first time she has done a photoshoot with a vehicle even though she has a lot of previous modeling experience.  Jamie is definitely not camera shy, she has modeled for clothing stores, as well as magazines.  "I have been modeling for about 2 and a half years! It feels longer though, I've done a lot in the past two and a half years." Jamie tells us.  This shoot was set up by our friend and photographer, Dennis Scales.  Jamie was lucky enough to have the opportunity to shoot with this gorgeous 2012 Shelby GT500 for her first automotive shoot.

The beautiful blonde Jamie was born and raised in Austin, Texas.  She's a true Texas girl, she loves to hunt and she drives a 2003 Dodge Ram.  "If ShockerRacing was going to pay for any mod to my truck, I guess I would want it lifted or leveled.  It's kind of slanted right now." says Jamie.  Ms. Upton is clearly not a car enthusiast... when we asked her about the car she shot with she responded, "a black car... they called it Shelby."  It's ok Jamie, something tells us this won't be your last automotive shoot! Stick around the ShockerRacing crew and we will break you into the car world!
Photographer Dennis Scales procured this Black 2012 Shelby GT500 for the shoot and they headed to the Historical Division of Taylor Texas. The Shelby features a host of performance modifications.  A JLT 123mm Cold Air Intake feeds the air into the motor and a 2.5 upper pulley increases the boost from the factory blower.  It features an off-road H-Pipe for the exhaust and a John Lund Tune.  A set of 3.73 gears, with BMR Lowering Spring, and Nitto 305/35/20 drag radials handle getting the power to the ground.
Follow the photographer Dennis Scales:
Follow Jamie Upton on her Social Media:
Follow ShockerRacing on our Social Media: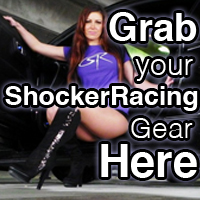 Instagram: @ShockerRacing
Twitter: @ShockerRacing1
Facebook: Facebook.com/ShockerRacing
YouTube: YouTube.com/ShockerRacing
Snapchat: @ShockerRacing
Don't Miss: Marris Gulledge - Farewell to a Friend - Click Below: