Written by James Anderson Monday, 04 May 2020 16:49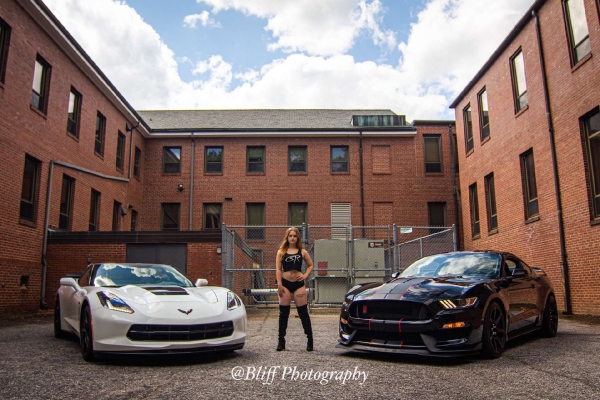 This weeks ShockerRacing Girl feature introduces 19-year-old Brina to our fans.  She has been living in North Carolina since 2008, but Brina was born in West Virginia and moved around a lot growing up.  She wasted no time submitting not one, but two photo shoots to us.  For her first shoot she used the Old Catsburg Country Store in Durham, and the second location was at Dorothea Dix Park in Raleigh.  Brina rocked our classic Crop Tank Top and black Bootyshorts with a variety of vehicles for her introduction to ShockerRacing.
Hit the link to see both of her photo shoots:
Brina currently drives a 2011 Hyundai Sonata but she dreams of owning a 1969 Camaro SS.  She clearly has great taste in American Muscle. These first shoots included a 2020 ZL1 Camaro, 2016 Z51 Corvette, 2017 Mustang Shelby 350R, and a 2020 Camaro SS and even a 2020 Lamborghini and a BMW.
Brina has only been around the car scene for about a year now.  "I got involved with cars through some friends, and from there my interests started expanding.  I wanted to see and learn more about cars," Brina explained.  She isn't quite so new to modeling though, "I have been modeling for three years, I took modeling classes for a year and have worked with various photographers."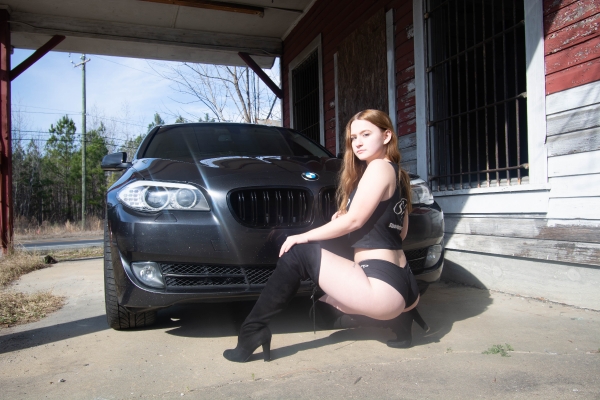 She tells us she became interested in ShockerRacing as her love of cars and modeling grew.  "I wanted a way to expand my art and share it with other automotive models," Brina shared, "My favorite ShockerRacing girl is Meg Jordan aka @Sailormoonigan because of her creativity and love of modeling."
Learn more about Brina below:
SR: What was your first car?
Brina: I had a 1999 Dodge Durango
SR: If you could travel and take your dream '69 Camaro anywhere in the world, where would you go?
Brina: I would love to go to Brazil.
SR: What is your favorite automotive event of the year?
Brina: It would have to be Shades of the Past in Pigeon Forge, Tennessee.
SR: What would an ex say is your best asset?
Brina: Probably my honesty.
SR: What is your favorite food?
Brina: I love Pupusas, it's an El Salvadoran Dish.
SR: Do you have any tattoos?
Brina: I have five! "Viva La Vida" on my forearm, a rose on my ribcage in memory of my grandma, "Look past limitations and see the gift" on my left thigh for my specials needs brother, and a Mandala on my sternum.
SR: Give us some fun facts about yourself.
Brina: I love skateboarding and photography. I'm a neat freak, and I have always wanted a pet Chinchilla.
SR: Leave us with your favorite quote.
Brina: "With the new day comes new strength and new thoughts." - Eleanor Roosevelt.
Follow the crew:
Follow ShockerRacing on our Social Media: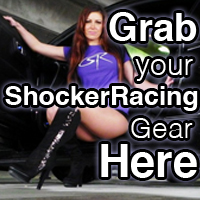 Instagram: @ShockerRacing
Twitter: @ShockerRacing1
Facebook: Facebook.com/ShockerRacing
YouTube: YouTube.com/ShockerRacing
Snapchat: @ShockerRacing
VIEW BRINA'S FULL PHOTO GALLERY HERE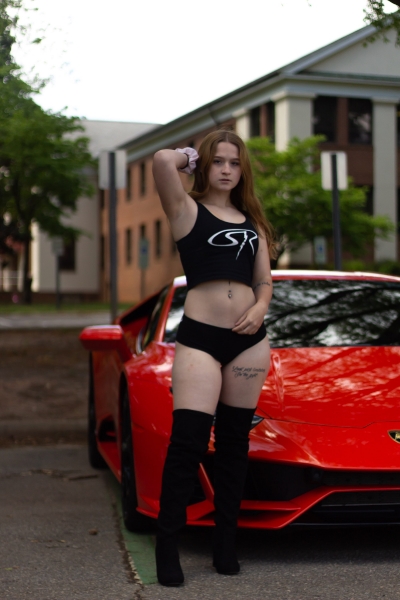 VIEW BRINA'S FULL PHOTO GALLERY HERE
VIEW BRINA'S FULL PHOTO GALLERY HERE
VIEW BRINA'S FULL PHOTO GALLERY HERE
DON'T MISS - ABS EMERY JOINS THE SHOCKERRACING GIRLS: