Written by Bex Russ Monday, 25 May 2020 09:01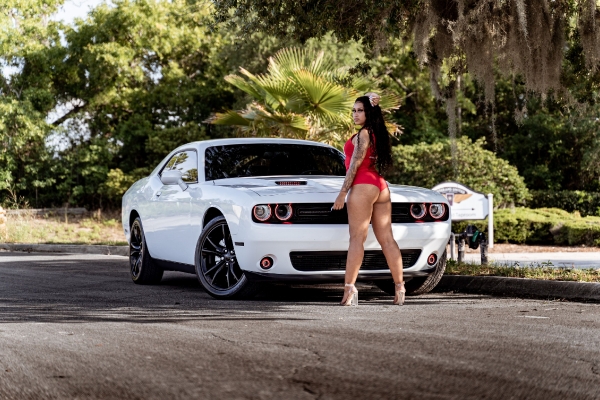 Porscha Peterson is back with ShockerRacing for another shoot for the fans! Once again, she worked with photographer, Sebastian, from Marksman Media. You may remember Porscha's first shoot from just a few months ago: Porscha Peterson Joins the ShockerRacing Girls. This time chose to work with another group of hot Mopars!
Keep reading to see the new pics:
This shoot was completed in Porscha's hometown of Jacksonville, Florida. She met up with the photographer and three car owners to show off her new ShockerRacing Heart Logo Tank Top & the Heart Logo Boyshorts at a warehouse. Porscha and her crew wandered to different spots around the location to get some unique shots. The warehouse is home to a local brewery with its own taproom for guests to enjoy fresh beer. So there were plenty of industrial background shots, shade, and space for the vehicles.
"The weather was amazing plus it was sun & shade everywhere! The shoot was amazing, full of laughs, smiles, and beautiful cars," Porscha tells SR. She modeled with two white Challengers and a red Charger which matched the SR apparel perfectly. Porscha tells us about her favorite feature on one of the cars, "My Favorite mod was on the white Challenger. He had red headlights and I loved how the red matched my outfit, it made the picture pop more!"

The lights Porscha is fascinated with are a specific model of halo lights from, Lighting Trendz. The company calls them Colorwerkz, but some may call them RGB, Colorshift, Colormorph, Color-Changing, etc. lights. RGB stands for Red, Green, Blue and with those 3 colors you can come up with any desired color with the push of a button. Most halo kits are purchased with a remote so you can roll through more than just one color. This is how the car owner was able to match Porscha's outfit exactly.

Porscha told us her next car show is hopefully "Freedom Fest Car, Bike and Truck Show" on July 4th. Located in Jacksonville, Florida. The show is hosted by a good friend of Porshca's, Brian Woosley. We hope the pandemic restrictions are lifted by then so she will be able to represent Shocker Racing well at the event. If you are interested in becoming a Shocker Racing Model, please, email  This e-mail address is being protected from spambots. You need JavaScript enabled to view it  for a list of guidelines and restrictions on how to become apart of the team.
Follow The Crew
Model: IG- @heelsinahemi.
Photographer: IG- @_mrksmn.
Car Owners:
White Challenger: IG- @annabelle_392
2nd White Challenger: IG- @sickchally
Red Charger: IG- @omega_red904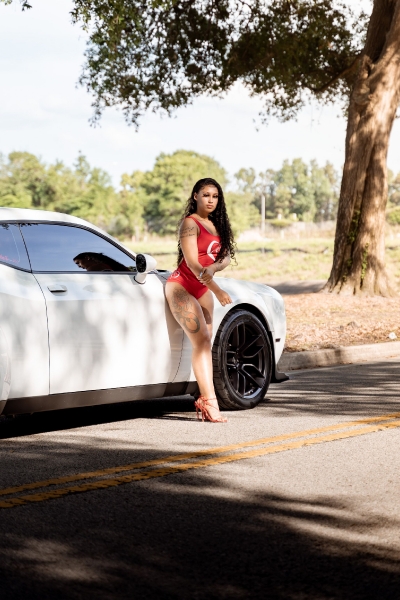 VIEW PORSCHA'S FULL PHOTO GALLERY HERE
VIEW PORSCHA'S FULL PHOTO GALLERY HERE
VIEW PORSCHA'S FULL PHOTO GALLERY HERE
DON'T MISS - HAILEY IS BACK - CLICK BELOW: