Written by Bex Russ Monday, 02 November 2020 15:04
S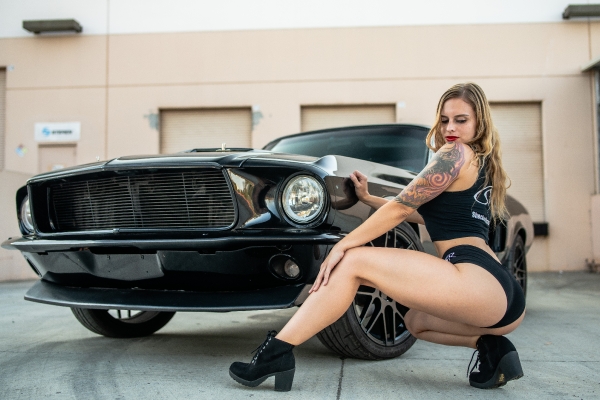 hockerRacing Elite Model, Zelanna hasn't let 2020 slow her down. Ms Sessions has still been dropping some killer photo shoots on us and attending car shows. This is Zelanna's third shoot with us this year and fourth article over all for ShockerRacing. Recently, Zelanna was hired to work with Instagram photographer, Brandon Lopez, for a shoot with his client, Youtuber Nate Rider, who owns a gorgeous 1968 Ford Mustang Fastback. Keep reading to learn about Zelanna's shoot:
Zelanna told ShockerRacing that the team chose a business location. "It was after-hours so it was spacious and free of people. The day started out very hot but eventually cooled down a little," Zelanna tells us. The location was in Chula Vista, CA. The small town with a HUGE history. Chula Vista, Spanish for '"beautiful view"' is the second largest city in the San Diego metropolitan area. Chula Vista is named because of its scenic location between the San Diego Bay and coastal mountain foothills.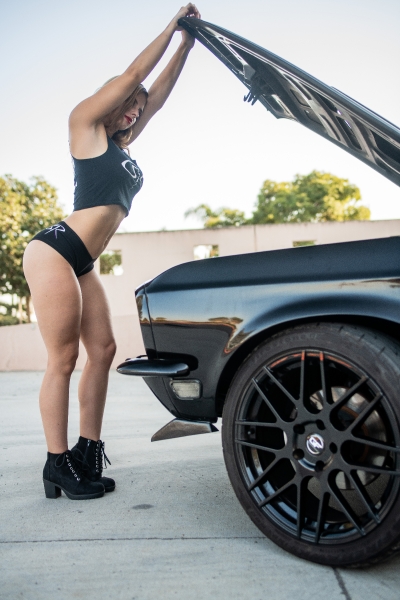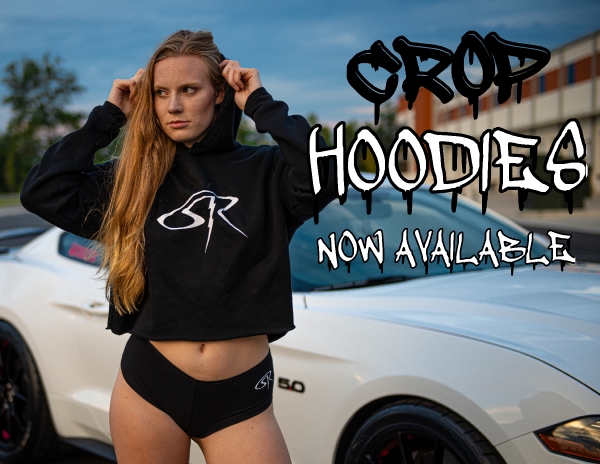 Zelanna shot with popular Youtuber Nate Rider and his 1968 Ford Mustang Fastback. Nate's Youtube Channel is poised to hit the huge milestone of 100k Subscribers any day now. Nate describes his channel as, "A channel with unique builds, full throttle experience, crazy reactions, lunatic driving, hot girls, in depth installs and reviews with loud exhausts and burnout rubber! The channel shares a passion for cars never before seen." His '68 Ford Mustang is a classic Mustang which many SR fans drool over and many SR Girls would love to shoot with. Changes for the 1968 Ford Mustang model increased safety with a two-spoke energy-absorbing steering wheel, along with newly introduced shoulder belts. The 1968 Ford Mustang GT Fastback reached iconic status after it was featured in the 1968 film Bullitt, starring Steve McQueen. In the film, McQueen drove a modified 1968 Mustang GT 2+2 Fastback chasing a Dodge Charger through the streets of San Francisco.
Zelanna rocked the classic ShockerRacing uniform with the black crop top and black booty shorts. Zelanna explained to us that during the shoot there was an admirer checking out either her or the car. We will let fans decide whom they were stalking! Zelanna also mention a coyote was wandering around near the shoot. Since we were talking about Ford Mustangs, SR staff immediately thought about the Coyote Motor in the newer Stangs. However, Zelanna, meant the wild animal! Zelanna bragged about her encounter with the fastback, "I loved how clean the fastback was. You would not believe how great it sounded!" We could only imagine!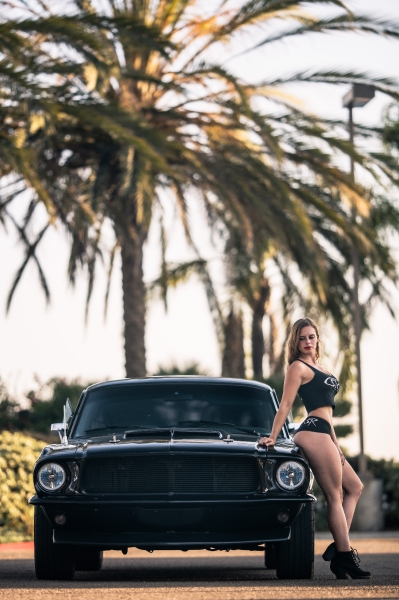 Zelanna has dreams to shoot in a classic car garage or with exotic cars for her next shoot. If you have either style and looking for a model in the Chula Vista area, be sure to message Zelanna on her social media for rates and availability. Follow her social media to see where her next local car meet, she will be at or follow along at her shoots. If you are interested in becoming a Shocker Racing model. Please, email This e-mail address is being protected from spambots. You need JavaScript enabled to view it for more information.
Follow The Crew:
Model: @zuhlaynuh
Photographer: @cameramanbrandon
Car Owner: @nate_rider_svt - Nate Rider YouTube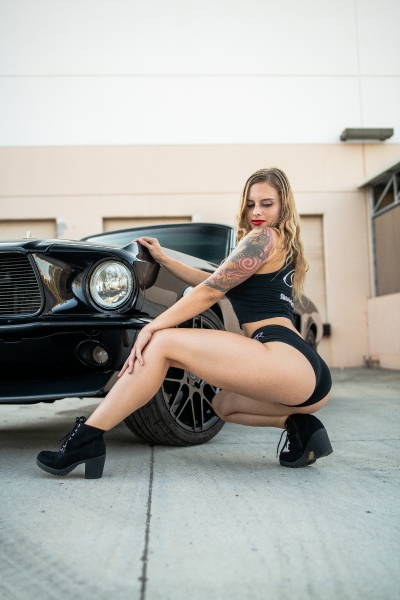 Follow ShockerRacing on our Social Media: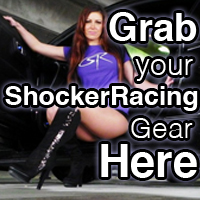 Instagram: @ShockerRacing
Twitter: @ShockerRacing1
Facebook: Facebook.com/ShockerRacing
YouTube: YouTube.com/ShockerRacing
Snapchat: @ShockerRacing
DON'T MISS - LILY STALNAKER JOINS THE SHOCKERRACING GIRLS: