Written by Bex Russ Tuesday, 15 August 2017 09:31
Shocker Racing is all about the team work and community in the car industry. We work hard to promote each other and support our fellow car enthusiasts and models. Lately, we have been promoting this camaraderie on our social media, and it is very important to us that the ShockerRacingGirls grow and help each other grow together. Our newest model, Courtney Lynn, from Central NY as well as Official SR Model, Lam, have shown in this feature how fun it is to team up and work together to make magic. But first lets get to know our new model Courtney.

Courtney became interested in the Shocker Racing family from her co-worker Lam. You may remember Lam from her previous shoot: LAM with @Boosti_Lee's WRX STI.  The two decided to team up for a co-photoshoot for Courtney's big entrance into Shocker Racing. Although it's not shown in this feature, Courtney drives a 09 Subaru Legacy GT limited. Her Legacy has an aftermarket Cobb turbo inlet, intake, Accessport, Agency Power downpipe, Magnaflow cat-back exhaust, and COBB blow off valve. Courtney told us if Shocker Racing were to pay for any mod to her car she would choose a dynotune or FMIC. Courtney gave Shocker Racing a little history on her car interest. Her first car was a 09 Subaru legacy 2.5i. Her father got her into the car scene, his interest in cars intrigued her. She also told us her dream car would be a 09 Subaru Legacy GT SpecB or a twin turbo B4 Legacy.
We loved Courtney and Lam's positivity about this shoot. They met up with photographer Bryan Maes of Inspiration Studios and car owners Barry and Cathy White in a central location to get some great night life shots. Barry and Cathy are a married couple that run a club called NNY Imports in NY.  Courtney Lynn posed with Cathy's Subaru and we asked what was her favorite detail about the car she posed with. Courtney told us "My favorite details were the puddle lights she had under the doors when you opened them. They were all different shades of blue and purple, they were awesome". Lam posed with Barry's car. She told us "My favorite detail was actually the Homer Simpson sticker he has above the exhaust I thought that was hilarious!"
Courtney and Lam plan to shoot again in the future. As well as attend some car and bike shows in the New York, Connecticut areas. Including the Wicked Big Meet in Connecticut. Check out the rest of Courtney's interview here:
SR: What would an ex say is your best asset?
Courtney: My nurturing personality
SR: What is your biggest pet peeve?
Courtney: When people have nothing nice to say and they open their mouths anyway. I love to spread positivity.
SR: What nicknames do you have?
Courtney: Cdows and Princesss LGT.
SR: What's your favorite food?
Courtney: Anything spicy, meaty and cheesy!
SR: What's your favorite Pizza topping?
Courtney: Green peppers, cheese and hot sauce.
SR: If you could travel and have your dream car anywhere in the world, where would you go?
Courtney: I would drive it to every car show in the country that I could make it to and then to California to have some beach time.
SR: Which of the Fast and Furious movies is your Fave?
Courtney: Tokyo Drift!
SR: Are you a Paul Walker or a Vin Diesel kind of girl?
Courtney: Neither, Letty all the way!!!
SR: What are two fun facts about you that people don't already know?
Courtney: I play the piano and I love to paint and draw.
SR: Do you have a favorite quote?
Courtney: "Makeup can only make you look pretty on the outside, but it doesn't help if you're ugly on the inside… unless you eat the makeup."- Audrey Hepburn
Don't forget to read up on the car modifications:
Barry White's 2011 Subaru WRX White Satin Pearl
Interior:
~Prosport Oil Gauge and Boost Gauge
~Kenwood DVD Headunit
~Powerbase Subwoofer and JL AMP
~BLOX Shiftknob
~Custom wood Floor
~Power Coated Harness Bar
~NRG Harness
~LEDs in Trunk and Under Footwells
~Anker Dash Cam
~Performance:
~STM Protune-292WHP, 301 Torque
~COBB Accessport
~Invidia N1 Catback
~Cobb Catted Downpipe
~Deatschwerks DW65C Fuel Pump
~Cobb SF Intake and Airbox
~Process West Verticooler
~Mishimoto Radiator Hoses
~Gates Timing Belt Kit
~Wheels and Suspension:
~Advan RGIII Wheels 18X9.5+45
~Micheln Pilot Sport Tries-18/265/35
~Stoptech Drilled Rotors
~Stoptech Steel Brake Lines
~KICS Legdura 2 PC. Lugnuts
~Raceland Coilovers
Exterior:
~Cobb Plate Delete
~Perrin Short Antenna
~Powder Coated Cusco Strutbar, SPT Battery Tirdown
~Power Coated Grimmspeed Radiator Shroud and Alternator Cover
~Headlights-Turn Signal LED Plates, Clear Lens Upgrade with custom etching, Morimoto XBT Controller for phone, Control of XC Halos and XC Demon Eyes
~Blacked out Tailights
~Lip and Sideskirts
~Rally Armour Mudflaps
~Aeroflowdynamics Splitter
~FRT Splitter Rods
~Front Mounted Camera
~Perrin License Plate Bracket
~Tire Letters
~Agency Power Carbon Fiber Rally wing
~Greddy Oil Cap
~Hella Horns
~Roof Wrapped Gloss Black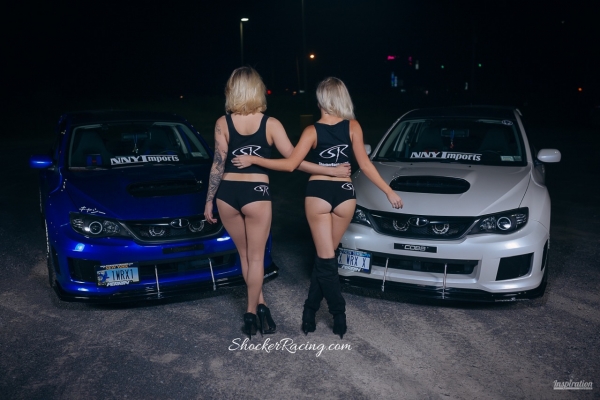 Cathy's White 2011 Subaru WRX World Rally Blue
Interior:
~Prosport Oil Gauge and Boost Gauge
~Kenwood DVD Headunit
~Massive Audio Subwoofer and JL AMP
~Blox Shiftknob
~Custom Oak Wood Floor
~Powder Coated NRG Harness Bar
~ NRG Harness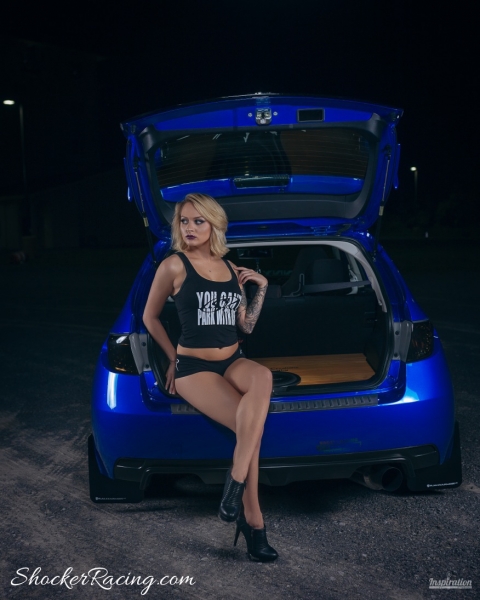 ~LEDs in Trunk and Under Footwells
~Anker Dash Cam
Performance:
~STM Protune-292WHP, 301 Torque
~COBB Accessport
~Invidia N1 Catback
~Cobb Catted Downpipe
~Deatschwerks DW65C Fuel Pump
~Cobb SF Intake and Airbox
~Process West Verticooler
~Mishimoto Radiator Hoses
~Southbend Stage 2 Endurance Clutch
Wheels and Suspension:
~Wedport SA72R BLC II Wheels 18/9.5+45
~Micheln Pilot Sport Tries-18/265/35
~Stoptech Drilled Rotors
~Stoptech Steel Brake Lines
~KICS Legdura 2 PC. Lugnuts
~Raceland Coilovers
Exterior:
~Cobb Plate Delete
~Perrin Short Antenna
~Powder Coated Cusco Strutbar, SPT Battery Tirdown
~Power Coated Grimmspeed Radiator Shroud and Alternator Cover
~Headlights-Turn Signal LED Plates, Clear Lens Upgrade with custom etching, Morimoto XBT Controller for phone, Control of XC Halos and XC Demon Eyes
~Blacked out Tailights
~Lip and Sideskirts
~Rally Armour Mudflaps
~Lip and Sideskirts
~Aeroflowdynamics Splitter
~FRT Splitter Rods
~Front Mounted Camera
~Perrin License Plate Bracket
~Tire Letters
~Agency Power Carbon Fiber Rally wing
~Greddy Oil Cap
~Hella Horns
~Roof Wrapped Gloss Black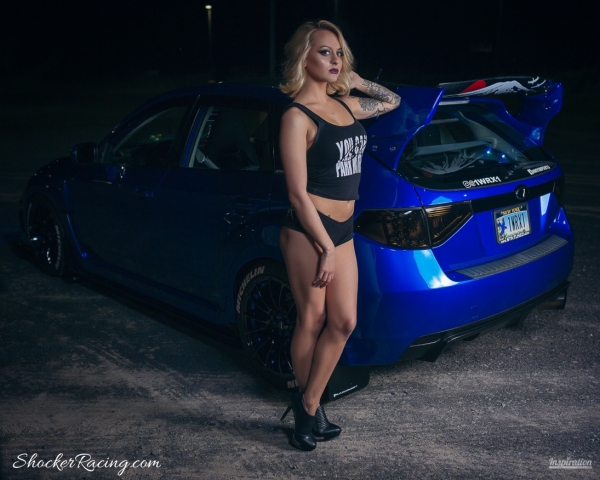 Follow The Crew:
Model: Lam
Model: Courtney Lynn
Photographer: Bryan Maes
Lighting Assistant: Raven Johnson
Car Owner: Cathy White
Car Owner: Barry White
Follow ShockerRacing on our Social Media: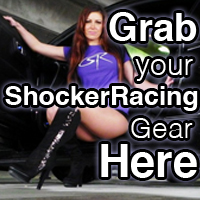 Instagram: @ShockerRacing
Twitter: @ShockerRacing1
Facebook: Facebook.com/ShockerRacing
YouTube: YouTube.com/ShockerRacing
Snapchat: @ShockerRacing
View the full photo gallery here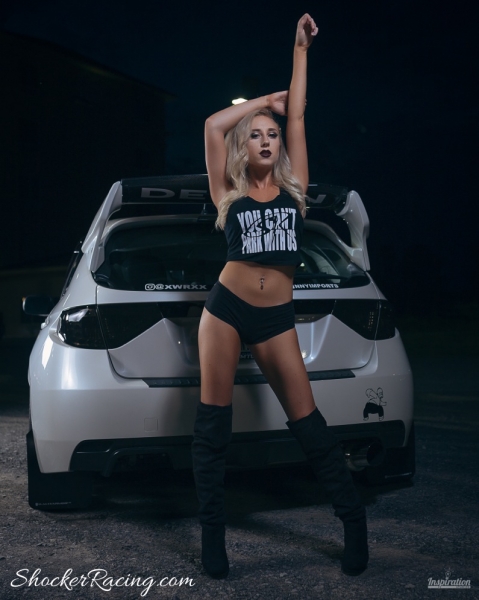 View the full photo gallery here
View the full photo gallery here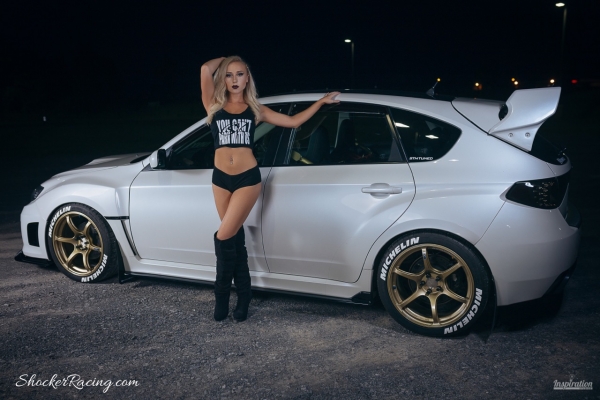 DON'T MISS - Bex Russ with a 1968 Shelby Mustang - Click Below: