Written by Tyler Sorget Friday, 18 August 2017 09:29
Tyler Sorget from Tyler Sorget Photography is back with his third shoot for ShockerRacing and this time he's got new models, new rides, and a whole new attitude! Over the winter months Tyler, Nicole (ShockerRacing's Miss April 2017), and James discussed the comments posted on the photos that Tyler has shared of Nicole and other models on top of his 1969 Mach 1 Mustang. The conversation sparked an idea for a brand new ShockerRacing design...and so the #GETOFFTHECAR design was born!

Along with a new ShockerRacing design, Tyler and Nicole were able to work with two new models and bring them into the ShockerRacing family. Let's give a warm welcome to Shauna Zielaskowski and Brandi Chojnacki! Keep reading below to get to know our newest ShockerRacingGirls!

Drawing attention with bright multi-colored hair and stunning eyes, Shauna Zielaskowski brings her own style and attitude to ShockerRacing. Shauna is a 25 year old hairstylist from Posen, Michigan. She has been modeling off and on for three years. "It's been a really amazing experience for me and it helps me build my confidence." Shauna stated. She has had photos shown in art galleries in Gaylord, Michigan and in an art show at Alpena Community College. Shauna became interested in ShockerRacing, after sitting down and talking with Tyler. When asked what she thought of ShockerRacing, she replied, "Definitely a really awesome group and I'm happy to be a part of it!"
Shauna currently drives a 2007 Pontiac G6, but hopes to upgrade to something different soon. She shares that her first car was a 1999 Mercury Cougar, but admits that it was too low for her. When asked what her dream car would be, Shauna explained, "My dream car is a Jeep Wrangler. I like adventures." Living in Northern Michigan where there are plenty of "two track" roads and trails to explore, a Jeep Wrangler makes perfect sense!
Check out the rest of Shauna's Interview below, and be sure to follow her on social media!
IG: @Shauna46
SR: How did you get involved in the car scene?
Shauna: This was honestly my first automotive photoshoot.

SR: Are you single?
Shauna: I am happily single, and I love it.

SR: What would an ex say is your best asset?
Shauna: He would probably say how loving and protective I am.
SR: Which of the Fast and Furious movies is your Fave?
Shauna: I have watched them all, but don't have a favorite.

SR: Are you a Paul Walker or a Vin Diesel kind of girl?
Shauna: Paul all the way, baby.
SR: Favorite quote?
Shauna: "Leave people better than you found them."
Coming in next, with blonde hair, blue eyes, and a gorgeous smile...Brandi Chojnacki brings her charm and enthusiasm to ShockerRacing. Brandi is a 20 year old waitress, who is fairly new to modeling. She has worked with Tyler Sorget Photography on occasion for the past two years, but this was her first opportunity to be published. Brandi credits modeling for helping to boost her confidence.
Brandi currently drives a Pontiac Grand Am, which has been the only vehicle that she has owned. However, she hopes to someday own a black Ford Raptor. Needless to say, a Ford Raptor would fit Brandi's "All-American Girl" personality quite nicely.
Check out the rest of Brandi's interview and be sure to follow her on social media!
IG: @bchojnacki3
FB: Brandi Chojnacki
SR: Are you single?
Brandi: Yes, I Am!
SR: What would an ex say is your best asset?
Brandi: That I am a social butterfly and my beautiful blue eyes!
SR: Favorite quote?
Brandi: "Never regret anything that has happened in your life. It cannot be changed, undone, or forgotten. So take it as a lesson learned and move on."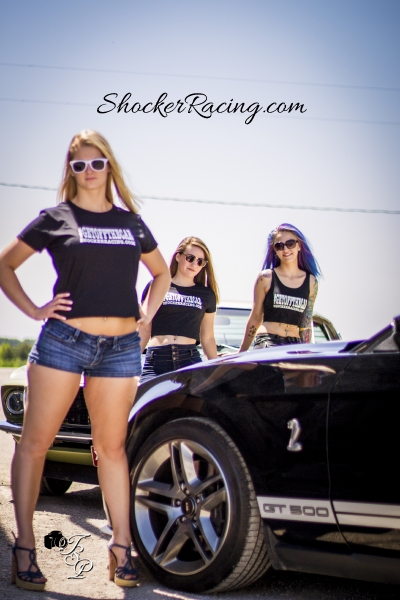 Now that we have taken care of the introductions, we can dive into the details of the photoshoot itself! With this being the third shoot that Tyler has set up for ShockerRacing, he knew it was time to find some new cars to shoot in addition to his 1969 Mach 1 Mustang. He didn't have to look far...it just so happened that a family friend, Howard Viegelahan, had recently bought a 2011 Shelby GT500 Convertible Mustang! The car is black on black; with silver stripes...Tyler knew that this was the perfect car to combine with the debut of the #GETOFFTHECAR ShockerRacing design.
The weather turned out perfect for the day of the shoot. When meeting at 9:30 in the morning at Tyler's, it was already 80 degrees, but that didn't stop this crew. The shoot started off with photos of the girls with Tyler's Mach 1 and a vintage gas pump. Each girl paired their individual ShockerRacing top with a pair of jean shorts, for that classic summertime vibe.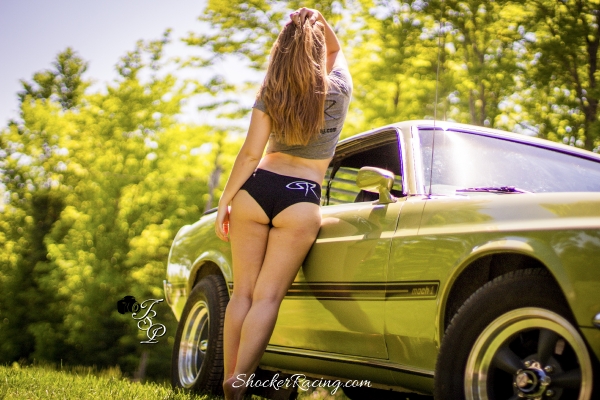 Shauna rocked her ShockerRacing crop tank; Brandi had her ShockerRacing tank in red, and Nicole wore her white and purple crop tee. Then, the girls moved under the shade tree in Tyler's front yard for some shots. Everyone soon found a routine of rotating through various individual poses. Nicole made a quick wardrobe change to her gray crop tee and ShockerRacing booty shorts for a couple of quick shots. From there, it was time to move the shoot to its second location.
Once at Howard's, the girls all rocked their new #GETOFFTHECAR ShockerRacing apparel! Tyler wasted no time getting a few shots of the girls with both his classic Mach 1 and the Shelby. However, his main focus was on the Shelby...and with permission the girls took full advantage of climbing in, on, and all over the car!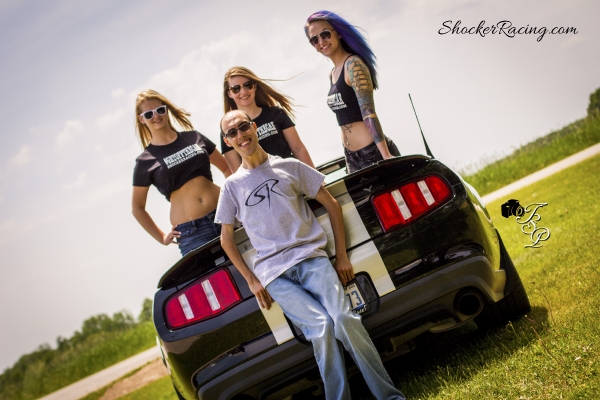 When asked about the photoshoot, each girl was kind enough to share their thoughts. "The whole vibe of the shoot was awesome, it was a lot of fun and I felt very comfortable and confident!" explained Shauna.
Brandi summarized the shoot with the following: "I liked that it showed each girl's own personality and we all had so much fun. The shoot turned out great. It was a little warm, but we worked through it and got some amazing photos. Tyler did a wonderful job. He does an outstanding job and allows everyone to show their own style how they would like. I always look forward to future shoots! Thank you again, Tyler for getting me involved in the modeling experience!"
Nicole reflected on the shoot with the following: "Today was my first day working with two other models and it was a blast. It was great to be able to see our individual differences in group pictures, but also have some similarities, as well. It was exciting to be able to collaborate with so many minds. A big thanks to Tyler for another awesome day and photos to last a lifetime!"
Be sure to follow Nicole on IG: @nicole.bannasch. To see outtakes from this shoot and more be sure to follow Tyler on IG, Facebook, and his website!
IG: @tylersorgetphotography Facebook: Tyler Sorget Photography Web: https://tylersorgetphotogr.wixsite.com/tsphotos
Follow ShockerRacing on our Social Media: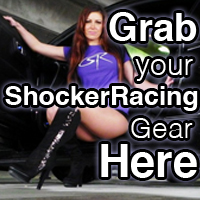 Instagram: @ShockerRacing
Twitter: @ShockerRacing1
Facebook: Facebook.com/ShockerRacing
YouTube: YouTube.com/ShockerRacing
Snapchat: @ShockerRacing
Don't Miss - Bex Russ and Bianca Owens at American Muscle 2017: