Written by Bex Russ Friday, 19 June 2020 08:21
ShockerRacing fans, we have another truck girl to add to the mix! Please welcome Mia Cervantes and her 2018 Toyota Tundra TRD! The twenty-four year old model is from good ole San Antonio, TX... One of our favorite places in America! San Antonio brings us colonial heritage, museums about The Alamo, the San Antonio River with its amazing river walk, and so many lovely ShockerRacing Models including Ms. Mia! We are so excited to introduce this Toyota queen.  We say Toyota queen because not only does she own the Tundra, but also a nicely modified TRD Camry!  Hopefully we will get to see that ride in her second photoshoot for ShockerRacing!
Keep reading to learn more about Mia and see the full photo shoot:
While Mia is fairly private with her personal life, she is not afraid to brag about her new bad blue Tundra! Mia seems to be a fan of the Toyota brand as she just traded in her 2018 Tundra you see in these pics for her current 2020 beast. She has wasted no time making her new 'Yota one of the baddest around! Check out this mod list Mia has for her ride!
NSV light bar
AMP Steps
Pro Comp lift base
6" Pro Comp Coilovers
1" CoachBuilder shim
CoachBuilder +3 shackles
26" Fuel Forged
37 Toyo M/T
Rigid Radiance light bar
28 pro comp rock lights
16 infinite off-road  lights
@Lockerdown Console safe
Volant air intake
Pedal commander
TRD sway bars front and back
Icon billet Upper Control Arms
@MAMMOTHGuardsUSA
@JomaxCustoms (Sensor relocation bracket)
@TacoTunes (Baller system)
Hornblasters Conductor Special
Bakflip bed cover
Skyjacker leaf springs
Supernant Suspension Traction bars
Powder Coating by San Antonio Powder Coating
Before we get into the rest of Mia's killer shoot, let us also note a few mods for her other Toyota... A 2020 Trd Camry.
AEM Intake
Resonator Delete
Niche Wheels
@hirevsports taillights
@TacoTunes system
OPT 7 lighting
JDM Fog lights
Pedal Commander
Michelin sport tires
@dzign_kulture TEQ rear badge
@giizmoo17 for the carbon fiber Trd plate frame
Powder Coating by San Antonio Powder Coating
Mia spent a rainy afternoon with her photographer, Chris, at an industrial location in San Antonio. The two did their best to keep the Tundra clean. However, it wasn't until after shooting when Chris started editing that he discovered they forgot to wipe down the wheels. It's become an inside joke between the two and has easily become Mia's favorite part of the shoot.
While most ShockerRacing models became interested in the team from the uniform or the community the page holds. Mia tells ShockerRacing that she became interested after seeing one of Sarah's Mustang shoots. Regardless, we are excited to have her on board and pumped to have another truck loving gal around!

See the rest of Mia's interview here:
SR: If ShockerRacing was going to pay for any mod to your truck no matter what the cost, what mod would you choose?
Mia: I'd love to add Turbo to the Tundra!

SR: What was your first car?
Mia: I had a 2000 Accord for a few years.

SR: What is your dream car?
Mia: No dream car. More like a garage filled with classics, exotics, off-road, and some of my current vehicles!

SR: If you could travel and have one of your dream vehicles anywhere in the world, where would you go?
Mia: I'd love to see Bora Bora or St. Thomas.

SR: What is your favorite automotive event of the year?
Mia: I'd love to attend SEMA someday

SR: What modeling experience do you have?
Mia: I have done Red McCombs' Toyota's Ads.

SR: What's your favorite food?
Mia: I love Fries, they basically go with anything!

SR: What's your favorite Pizza topping?
Mia: Bacon, yummmm!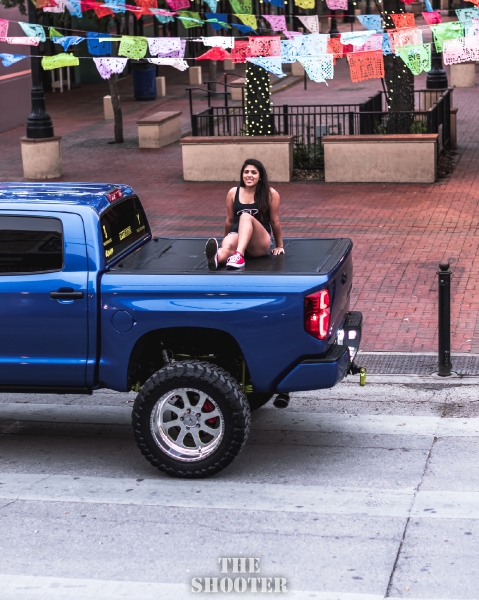 SR: Do you have any tattoos? If so, how many? Tell us about them.
Mia: I do! I have Proverbs 31:25 on my ribcage and an anniversary date on my finger.

SR: Do you have any other fun facts about you that people don't already know?
Mia: I love sports, I play softball and volleyball. I also enjoy playing COD. When I get the chance, I love to hunt and fish. I'm also an avid coupon-er. MOVE OVER KAREN!

We hope you enjoyed getting to know Mia as much as we did. Mia attends many car/truck events in San Antonio. When pandemic restrictions are lifted, we are positive you will see her out an about. So be sure to give her a follow to catch her at her next event.
If you are interested in becoming a Shocker Racing model, please, email  This e-mail address is being protected from spambots. You need JavaScript enabled to view it  for more information and guidelines on how to become a model.
Follow the Crew:
Mia: Facebook, IG, and TikTok- @badblue_tundra_andmia
Photographer: IG - @chrshoots
DON'T MISS - BEKAH JOINS THE SHOCKERRACING GIRLS: