Written by Bex Russ Saturday, 31 October 2020 09:34
ShockerRacing has models from all walks of life, from all over the country. Many who lived in their home towns their whole lives and know them like the back of their hand, many are well traveled and have a good sense of direction in life. Our newest model, Lily Stalnaker, knew exactly where she wanted to go and what she wanted to do at just 19 years old. Keep reading to learn more about Lily and see more images from her first feature for ShockerRacing.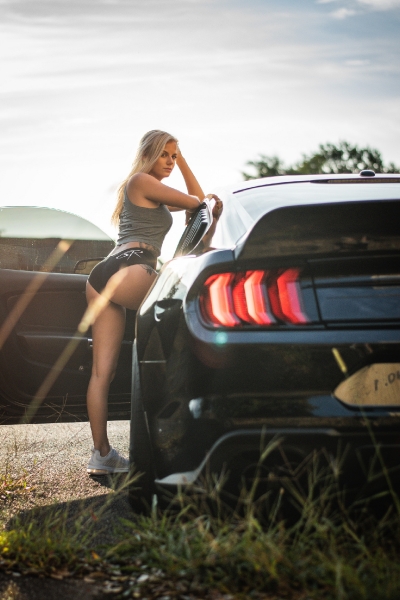 "I'm originally from West Virginia. In August of last year, I had an opportunity to move to Georgia. I've always wanted to move south. I really wanted to get away from the snow and salty roads in winter. I'm happy with where I am now. There is a very big car scene her in Atlanta, Georgia. Which has given me the honor of meeting so many great people." Lily tells us. She works as a sales professional for a motorsport business just north of Atlanta, called Freedom Powersports. "We fuel your escape! As we like to say at FP. I sell people their dream motorcycles and side by sides!" What a fun gig and great reason to move south!
With such passion for the motorsports we were curious what got her into the scene. Lily told us, "In West Virginia, a lot of people don't modify cars because of the salt on the roads. I grew up around high horse power engines. My mother pulled a 1998 Dodge 12 valve Cummins. As I got older, we moved on from the 'pulling' environment. When I moved to Georgia, my boyfriend encouraged me to go to car shows and meet new people. I have to give him all of the credit on pushing me out into the car scene, again. My love for the environment came back after seeing so many nice cars again. From there I started doing small mods to my Jetta, then recently purchased my Audi S4 which I have big plans for!"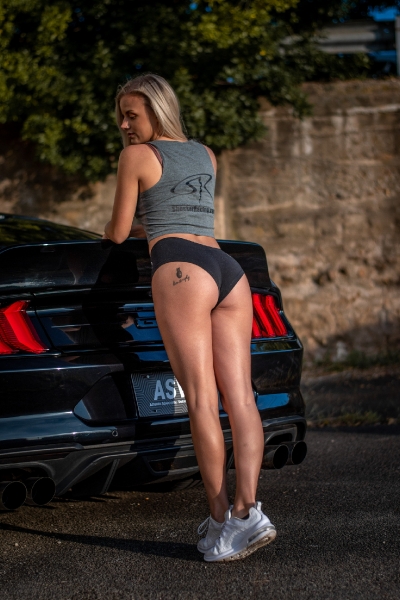 With this bit of information, we had to know more about Lily's Audi. We wanted to know what mods she has already done to her ride. "It's a 2014 Audi S4. Still pretty stock. I did add an ECS carbon fiber cold air intake and a custom exhaust. It's still a work in progress, I have a lot of plans for it!" We posed the question to Lily; if ShockerRacing was going to pay for any mod to your car no matter what the cost, what mod would you choose? To which she replied, "Any motor mod would probably be to upgrade my pulleys and do a tune, if it was an exterior mod it would more than likely be a wrap. I've always loved the wild colored wraps!" We dug a little into her history and asked, what was your first car? Lily told us "My first car was a 2004 MK4 Volkswagen Jetta TDI, I still actually have that car and plan to keep it for a while. I've always loved my MK!" Lily also told us about her dream car and where she would take it! "A newer R8, or an Aston Martin! I would probably want to go to Germany!"
Lily is still a little new to the modeling industry, she started back in January 2020 with popular photographer Jason from Ghostly Media. She mentioned "I've also attended a few car shows/events and posed for a few admirers. I just recently started modeling full time and I am super excited to see where it goes." We are happy to have Lily as part of the team here at ShockerRacing as she begins her journey. So, we had to know what got her interested in working with us. Lily told us "When I started modeling, I looked at the ShockerRacing Girls for some inspiration. I am hoping I can be as good as the current ShockerRacing girls." Lily continues with "I've met quite a few ShockerRacing Girls and models in the area, they're all always so nice and so supportive! It really helped me through my own insecurities!" Curious on who she's met, we had to know who her favorite previous SR model was. "Sen.cityy, I love Sarah's personality, she's super nice and welcoming of everyone! She's also gorgeous, and so honest with her page," Lily happily explained.
Learning so much about Lily we almost forgot to mention the shoot! Quickly, we will mention that Lily braved the below 50-degree weather bright and early for a sunrise shoot. The blue hour was the perfect lighting for Lily's first shoot with SR. She posed with her boyfriend's Cadillac and a friends Mustang. Photographer, Jason, picked the location in front of an abandon clothing warehouse in Bremen, Georgia.
Read more of Lily's interview to get to know more about her:


SR: What is your favorite automotive event of the year?
Lily: That's a hard one. I love all the Slammednuff events. I've never been to IA but everyone says it's great. I was super excited to go to that one this year. Unfortunately, Covid ruined attending IA for me.
SR: What would an ex say is your best asset?
Lily: I always push myself to be the best person I can be, and I'll always push other people to better themselves!
SR: What is your biggest pet peeve?
Lily: Being interrupted while talking. OR people who don't pay attention while you're talking.
SR: What's your favorite food?
Lily: I love Mexican!
SR: What's your favorite Pizza topping?
Lily: Pineapple!
SR: Do you have any tattoos?
Lily: I have 3 tattoos. One piece I had 6 sessions for is on my right hip. It's dedicated to family members and hard times I've gone through. The piece has a hummingbird on top of the roses. It is a reminder, that no matter what, I can spread my wings and fly. It also reminds me that, whatever bad times come, I can bring myself out of them if I push myself hard enough to get through it. The second piece is on my left rib cage. It's my mom's handwriting that says 'because of her I will not fail'. My mom has a similar tattoo, the writing from me says 'for her I would risk it all.' My third tattoo is just a fun little piece. I have a pineapple with the words live simply underneath it. I'm considering a fourth with my newest favorite quote.
SR: What is your favorite quote?
Lily: "You get in life what you have the courage to ask for."
SR: What are two fun facts about you that people don't already know?
Lily: I used to shoot professional archery nationwide for about 4 years and I stopped because of a shoulder injury. When I lived in West Virginia, I grew up on a cattle farm. I used to 'show' the cattle.
We hope you've enjoyed getting to know Lily as much as we did. Be sure to follow her social media pages to see when her next event or shoot is. If you are interested in becoming a Shocker Racing Model. Please, email This e-mail address is being protected from spambots. You need JavaScript enabled to view it . Thank you!

Follow the crew here:
Model: @lilystalnakerr_
Photographer: @ghostly.media
Car Owners: Cadillac - @thatcaddy Mustang - @static.s550
Follow ShockerRacing on our Social Media: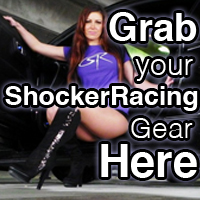 Instagram: @ShockerRacing
Twitter: @ShockerRacing1
Facebook: Facebook.com/ShockerRacing
YouTube: YouTube.com/ShockerRacing
Snapchat: @ShockerRacing
DON'T MISS - DANIELLE ALEXIS JOINS THE SHOCKERRACING GIRLS: