Perry - Procharged 2002 Corvette Z06
Written by Brandon Wednesday, 15 July 2009 10:23
Name: Perry
Screen name: Smoothblue
Shocker Racing Position: Member
Location: Westmont IL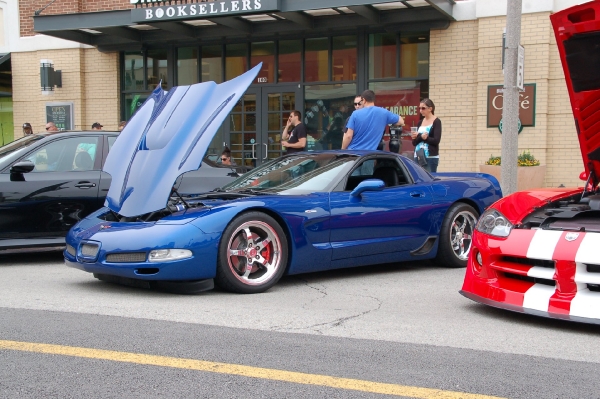 Drag Racing

Previous Rides:
-1978 Camaro RS
-1991 Honda CRX
-1996 Mustang GT
-2002 Mustang GT (supercharged)

Current Ride:
-2002 EB Corvette Z06

Modifications:
-Stock ls6 heads down to 9:6.1 compression
-Comp Cam
-Stainless Works 1 7/8 Long Tube Headers & X-pipe
-B&B PRT exhaust
-Procharger DS1-SC 11.5 lbs with Twin intercoolers
-3:90 gear stock rea end
-DTE brace
-lowered on stock bolts
-CCW SP500 18/11 front and 18/12 rears 335 drag radials
-C6 Z06 short shifter
-Blue raptor shift light
-Tigershark Rear Bumper/Corsa Exhaust
-MCM Carbon Fiber Hood

Stereo/Light Modifications:
- Pioneer IMPP 12" sub
- Rockford Fosgate Punch 75 Amplifier
- Alpine CD Player with ipod hook up
- Custom Blue LED Interior
- HID head light kit
- Clear turn signals


Well just like most. I have always loved cars and said some day I will own a nice and fast sports car. I got my first car at the age of 15. It was a run down 1978 camero. I had to do all of the work on the car to make it look NEW again.. Sounded easy but was very hard. My dad had a buddy that owned a body shop and told my dad he would help out. Show me the ropes. Then I bought a 1991 Honda CRX. Only mods on that was a system and exhaust( not alot of money to do much). Traded that in for my first Mustang GT 1996. Loved it,but the insurance was more then the car payments so she had to go..Stupid tickets. Later on I bought a new 2002 Mustang GT. Started to mod it and never stopped till they said to do a motor was going to run me around 10 grad. If I was going to spend 10 grad on a motor I was going to get a new car. So I bought a 2002 EB Z06. Since then I have done alot of work to the car. She makes GREAT power, and is always FOR SALE. Never know what I will get next.