About ShockerRacing & ShockerRacingGirls
Monday, 29 June 2009 15:13
Shocker Racing was formed by a small group of friends in 2000 who happened to share a few common interests: nice cars and good times. Over the years we've seen many new faces, many new cars, and more good times than we can count. Shocker Racing has grown from just a few guys who liked to cruise and race to over 20 full members and pledges who plan racedays out of state and even vacations together out of the country.

Some of the ties that have bound all of us from day one are late night food runs after the track, even later nights at the shop fixing a clutch or installing headers, early morning hangovers, dozens of personal bests, a few cars up in flames, taking over a resort in Cancun, endless friendly competition, and many a night talking about which car is faster over a few brews.
It doesn't matter what you drive or how much you know. We welcome all types of cars from front-wheel drive import monsters to 9-second American V8 beasts.


History of the ShockerRacingGirls and how to apply: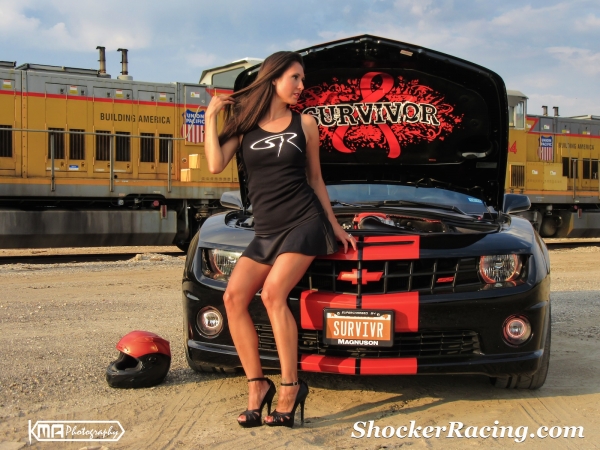 ShockerRacingGirls began in 2006 when ShockerRacing (a Chicago based car club) decided to do an online t-shirt giveaway to a female follower who would in turn submit a few photos of herself repping her ShockerRacing t-shirt. That winner was Zandrea Penn, and she shared a handful of photos with us looking gorgeous in her new shirt. Shortly after we met Stephani from Chromalusion Photography. Stephani was an up and coming photographer with a passion for cars. She had already been shooting different models with cars, some of the girls owned the cars Stephani was shooting and some of them just enjoyed modeling with beautiful cars. We created a partnership with Chromalusion Photography and over the years Stephani has continued to do ShockerRacingGirls photoshoots for us and provide us with some amazing shots. Shortly after partnering with Stephani, we also created a partnership with Las Vegas Photographer, Jon Mulkey. Over the years the two photographers helped us continue the growth of ShockerRacingGirls and the pairing of amazing women and beautiful cars.
In late 2013, we realized that there was more to the ShockerRacingGirls than just photoshoots. These women were strong and incredible women whether they were actual car enthusiasts that enjoyed getting their hands dirty wrenching on cars or if they had just found a niche for the modeling career that involved them posing with some incredible automobiles. Here at ShockerRacing, we believe that there is room for both female models and female car enthusiasts in this world and we want to give all of these women an outlet and place to share their passions. We also noticed a lack of Woman Specific Apparel available for ladies in the automotive scene. You ladies have demanded unique apparel that isn't just the standard black t-shirts that most of the men in the car scene wear. We listened and continue to offer and create new apparel for you ladies to wear to your favorite automotive events or to a photoshoot! Our website is dedicated to giving women an opportunity to be featured in more than just a short blurb and single photo. We also take the time to feature the vehicles and the photographers that were involved in the photoshoots.