Her Name's Shelby But She's a Vette Girl
Written by James Anderson Thursday, 04 May 2023 00:00
Page 1 of 2
It's refreshing to see a car girl named Shelby driving something other than a Mustang.  So often, ladies named Shelby were named after the iconic Mustangs because their families were die hard Ford fans.  Shelby Evans admits that her first car was a 2012 Ford Mustang GT but she upgraded to a stick shift C7 Corvette with the Z51 package and hasn't looked back! Hit the link to learn more about the SEMA Girl with a need for speed:
Shocker Racing is constantly on the lookout for talented and reliable models in the industry to help promote the brand. So we are excited to announce our newest ShockerRacing Girl, Shelby Evans. A professional model based out of South Carolina, who has been published in well-known publications such as Baggers Magazine, Gauge Magazine, and Super Street Bike Magazine.  She has also worked for Procharger at SEMA and the PRI shows for the last 3 years.
Shelby tells us she got started in the automotive industry from her supportive father. She spoke fondly of him and told us he was very big in the cars and motorcycle scene and introduced her into the fast life.  We are not surprised that Shelby chose a black, 2014 C7 Z51 with bright yellow brake calipers and the 7 speed transmission.  Since acquiring it she added a set of Vertical Doors and of course a Procharger Supercharger.  The Procharger puts her Vette at over 600 horsepower! Shelby shows off her stunning car with these images by photographer, Mike Smith.
We asked Shelby what got her interested in joining the ShockerRacing team, she told us, "I can appreciate two things like anyone else, beautiful girls and fast cars. That's what ShockerRacing delivers." We certainly agree with Shelby on that one! We do have a great line up of models to promote the brand. We asked Shelby which one of ShockerRacing Girls was her favorite and without hesitation, she praised a crowd favorite, "Bianca Owens, her body is AAAAMAZING!"
Get to know more about Shelby and read her interview here:
SR: Are you originally from where you live now? If not, what brought you to your new home?
Shelby: I moved to South Carolina about a year ago from Chicago. I was ready for a change in temperature and pace.
SR: What nicknames do you have?
Shelby: Shelbs and Boonie.


SR: What was your first car?
Shelby: It was a 2012 Mustang GT with a Carbon Fiber Hood.
SR: What is your dream car?
Shelby: My dream is to own a Nissan GTR.
SR: If ShockerRacing was going to pay for any mod to your car no matter what the cost, what mod would you choose?
Shelby: I would definitely have exhaust, meth injection, and new tune finished.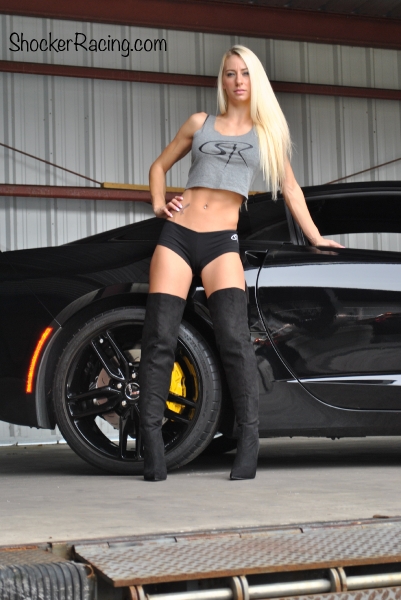 SR: If you could travel and have your dream GTR anywhere in the world, where would you go?
Shelby: I would love to go to Germany and drive the Autobahn!
SR: Which of the Fast and Furious movies is your Fave?
Shelby: Fast and Furious, the 5th movie.
SR: Are you a Paul Walker or a Vin Diesel kind of girl?
Shelby: Paul Walker, he did a lot of amazing things in his life and touched a lot of lives in a positive way around him.
SR: Tell us, are you single?
Shelby: I am not single. I'm happily engaged!
SR: What would an ex-say is your best asset?
Shelby: My positive attitude towards life.
SR: What is your biggest pet peeve?
Shelby: Smokers and being late.
SR: What's your favorite food?
Shelby: I could eat ribs and mac-n-cheese every day!
SR: What's your favorite Pizza topping?
Shelby: I'm simple. I like cheese only. Chicago style deep dish of course!
SR: What are two fun two fun facts about you that people don't already know?
Shelby: I love to play PS4, I grew up playing videos games. Modeling is fun to play dress up with, but I'm big into the outdoors lifestyle. I love fishing, camping and getting dirty!
SR: What is your favorite quote to live by?
Shelby: "Live as if you were to die tomorrow. Learn as if you were to live forever." -Gandhi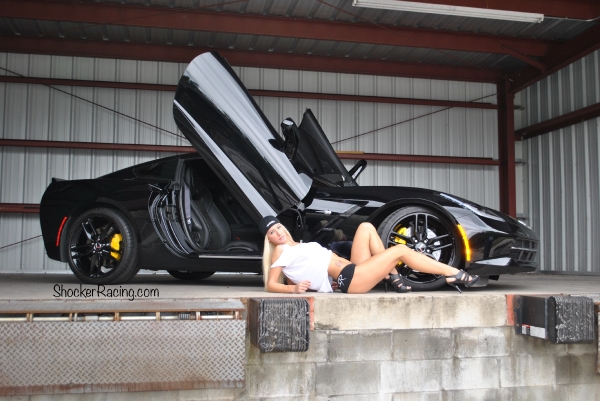 Check out Shelby at the next SEMA show or follow her on Instagram: @shelby9999
Follow the photographer Mike Smith on Instagram: @mas14699
If you would like to work with Shocker Racing in the future to help build your brand, advertise on our website, or become a model for Shocker Racing please email James at shockerracinggirls@gmail.com. Don't forget you can order your 2018 calendar here: 2018 ShockerRacing Calendar. Hurry these calendars won't last long!
Follow ShockerRacing on our Social Media: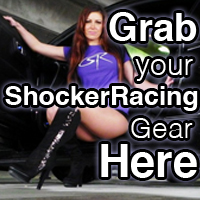 Instagram: @ShockerRacing
Twitter: @ShockerRacing1
Facebook: Facebook.com/ShockerRacing
YouTube: YouTube.com/ShockerRacing
Snapchat: @ShockerRacing
View the full photo gallery here
View the full photo gallery here