Written by James Anderson Wednesday, 16 January 2013 10:23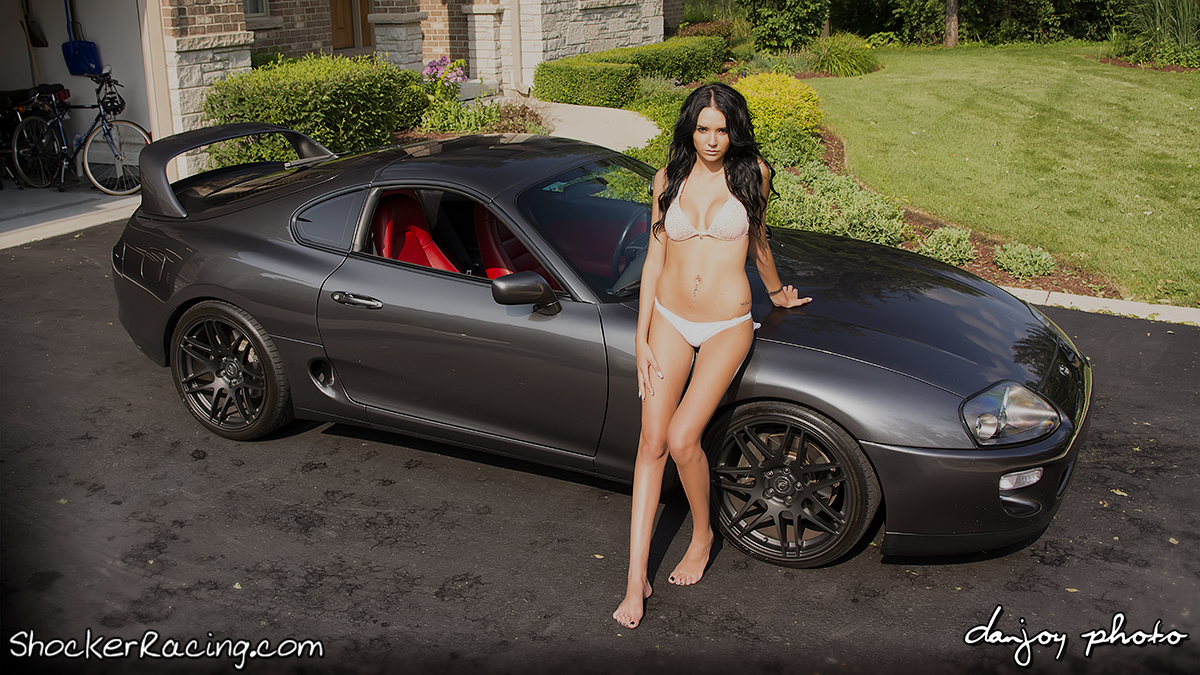 This is a one of a kind Toyota Supra Built by Titan Motorsports in Orlando, FL. Completely rebuilt from the ground up starting life as a Black 1998 Toyota Supra Turbo with over 100,000 miles on it.  The car was repainted with a Ferrari Grigio Silverstone Gunmetal Paint after much time was spent making sure the body was perfect and even shaving off things like unnecessary markers and the antenna. In August of 2014, we completed a photoshoot with the Supra and Model - Angela Angelovska shot by Dan Joy Photography.
View the full gallery of Pics with Angela Angelovska and the Supra
Once the paint and body were done, the Supra received all new Headlights, Taillights, and turn signals along with an upgraded HID Lighting system!  Then the front bumper and hood received a 3M Clear Bra!
While the engine was out it received a fresh OEM Toyota Short Block, a refreshed head and Titan Motorsports 264 Camshafts, along with TM Adjustable Cam Gears.  The factory Twin Turbo's were replaced with a Single Turbonetics T66 Turbocharger on a black coated cast log style manifold for quick spool up.
Fuel is provided by a Titan Twin Pump Fuel System with 850cc injectors allowing the car to make well over 500whp on 93 octane with plenty of head room for a larger turbo in the future.  Engine management is provided by a Titan Motorsports plug and play Haltech Platinum 2000 ECU modified to accept the factory tranmission computer with a custom tune provided by Darin Dichiara.  The extra power is handled by a Boost Logic upgraded automatic transmission and Titan Torque Converter.
The engine bay has seen a host of Chrome finish accents along with Carbon Fiber detailing.
The interior was treated to a complete refresh with the factory seats being wrapped in OEM grade BMW Imola Red Leather, Custom door panels were made that feature the same leather.  The headliner was wrapped in black alcantara suede, and the plastic trim panels were replaced.
The factory mid and high speakers were replaced with Kicker units and the rear hatch received a custom fiberglass enclosure featuring 2 Kicker Subwoofers and a Kicker Amplifier.
The suspension consists of Tein Flex Coilover with Titan Motorsports adjustable sway bars and Powerslot Upgraded brake rotors front and rear.  Cusco carbon fiber strut tower bars front and rear, to help aid in reducing chasis flex.  The car rolls on Matte Black 19" Forgestar F14 Wheels with Hankook Tires.  The fronts are 235/35/19's and the rears are 305/30/19's
Click Here to see the full Photo Gallery
Mook runs TheChicagoGarage.com be sure to check out his website:
October 1, 2013 Update:
Mook has recently put the stock spoiler back on the car:
View the full gallery of Pics with Angela Angelovska and the Supra
View the full gallery of Pics with Angela Angelovska and the Supra
View the full gallery of Pics with Angela Angelovska and the Supra
Video: Race against C5Z06SpeedJon added 5/28/2014
Here is a quick little Highway vid of the car:
Dyno Video added 4/28/14