ShockerRacing Halloween 2018
Written by James Saturday, 06 October 2018 09:57
Now that the summer car show season is over, Shocker Racing is gearing up for the fall/winter season of contests held by ShockerRacing.com. So to start the friendly competitions, the #ShockerRacingHalloween contest is BACK. This is the most participated contest we hold every year. We encourage our favorite Car Girls to show off their costumes with some sick rides. As per usual the contest is available to any ladies that want to join in on the spooktacular fun! So get your costumes and your cars ready, our favorite entries on IG will win a Shocker Racing shirt!  Hit the link for the full contest details...
To enter the ShockerRacing Halloween contest on Instagram:
If you complete all of these steps you will be entered in the contest and we will choose our favorite picture on the night of October 31, 2018 to win one ShockerRacing Apparel Item. *Contest is for U.S. Citizens Only
Check out Shocker Racing Elite Model, Bex Russ starting off the spooky fun with this Headless Horseman themed shoot to announce the fun! Bex is a well known creative model in the DMV/RVA area. She works with many creative photographers in her location. As well as up and down the east coast. Bex is often published for her collaborations with many artists. We are always excited to see her work when she sends in photos. She certainly steps up the game for many in the industry.
Bex worked with close friend and coworker photographer Tori Hunt with Victoria Hunt Photography and Verillas Clothing. The two are passionate about the Halloween Holiday and had already been shooting for the season for their company Verillas Clothing. Bex even featured their popular corset leggings with this shoot. They met at Extreme Powersports in Fredericksburg, VA where Bex is the full-time marketing director and part-time 'amateur mechanic' on top of her work with Verillas. She told us "I love this shop. It's family owned and run. They have accepted me as a little sister. The shop owners are probably my biggest fans and love my work." Bex mentioned the KTM she shot with is currently on SALE at the shop. You can find major discounts on KTMs at Extreme. Hit them up to get your next ride.
Bex told us the bike she used is one of her favorites displayed in the shop. The KTM 690Duke is the latest generation in KTM's line of midrange single-cylinder engine Supermoto or Naked Motorcycles that began with the 1994 609cc. The 690Duke is the most powerful production single-cylinder motorcycle. The Duke was KTM's first street bike, and first Supermoto, having previously made only off-road and racing motorcycles. Initially, the Duke was KTM's entry-level street bike, but later KTM partnered with Baja Auto to produce a bike like the 125Duke, 200Duke, and 390Duke. Basically, Bex modeled with a beast!
Keep up with Bex on her social media pages. There you will see where her next shows will be, like Team Shelby events, Ready Set Drift and SEMA. See more of Bex's Halloween Shoots here... http://shockerracing.com/index.php/featured-rides/featured-articles/229-bex-russ-steps-up-shockerracinghalloween http://shockerracing.com/index.php/featured-rides/featured-articles/352-shockerracing-halloween-contest-2017
Check out the whole team here:
Bex Russ Model:
Victoria Hunt Photography:
Location/Bike Owner - Extreme Power Sports:
Verillas Clothing
Website: https://www.verillas.com/
FB: https://www.facebook.com/VerillasLifestyle/
IG: @Verillasclothing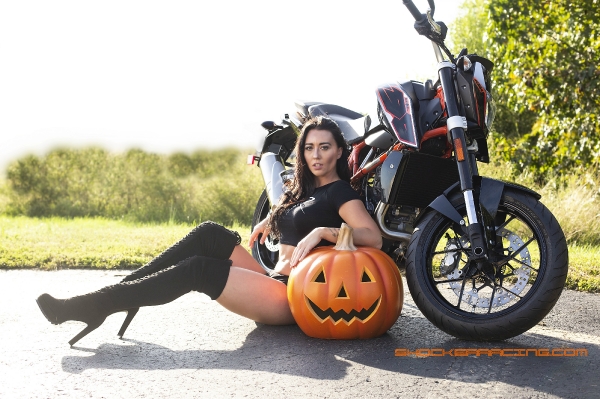 CHECK OUT OUR PAST SHOCKERRACING HALLOWEEN 2017 ANNOUNCEMENT HERE: