2018 Bad Santa Contest Announcement
Written by James Saturday, 15 December 2018 00:00
It's OFFICIALLY the most wonderful time of the year, and while most car models hibernate for the winter, ShockerRacing.com is encouraging models to get out there, feel the joy, and shoot for our #ShockerRacingBadSanta Contest. Every year on Instagram we encourage our favorite Car Girls to show off their costumes with some sick rides for the #ShockerRacingHalloween Contest. Why stop there? So get your jingle bells, candy canes, and tinsel ready. You could get your chance to win some ShockerRacing gear! The contest is available to any ladies that want to join in on the holiday fun! Hit the link to see the rules.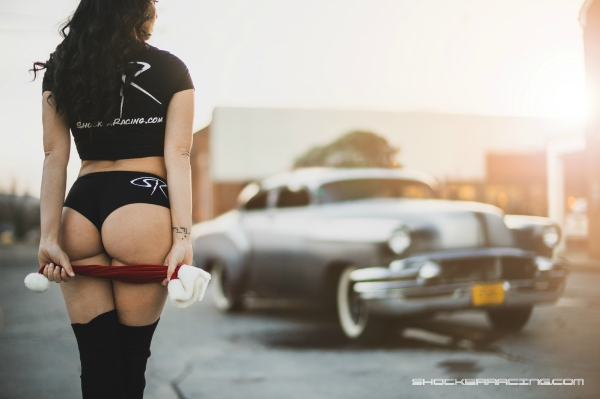 To enter the Bad Santa Contest on Instagram:
* Follow @ShockerRacing on IG
* Take a photo in your Holiday Themed Costume (extra points for incorporating SR Gear) with a Car
* Post the photo on IG and Tag AND Shoutout @ShockerRacing in the post
* Use #ShockerRacingBadSanta in your post
* Promote Shocker Racings Social Media in your IG Story
If you complete ALL of these steps by December 20th at 7pm CST, you will be entered in the contest.  We will place all of the pictures on ShockerRacing.com for voting and the picture with the most likes by 10pm CST on Christmas Eve will win one ShockerRacing Apparel Item.
*Contest is for U.S. Citizens Only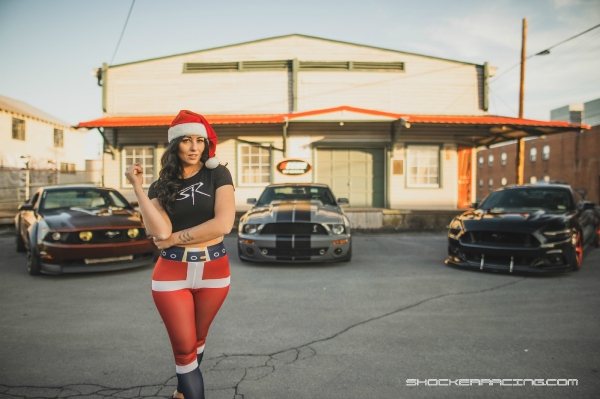 Shocker Racing's Top Elf, Bex Russ, shows off her holiday spirit for the contest with a little more than some milk and cookies. She met up with Santa's Little Helpers.. JD Joyride TV, Les 'Dark Horse', and American Muscle photographer Rob Rabon. "We also had a surprise guest join us during the shoot. The Belair for this session was actually a passerby that I waved down to join us. And I'm so glad we did!" Bex exclaimed. The 1953 Belair was just heading home from the local tree farm when Bex directed him off the street to join the shoot. Imagine being that lucky car owner! The Christmas Tree on the roof was the perfect touch. Check out Bex as she melts the North Pole in some behind the scenes footage from this session on JD's popular YouTube channel.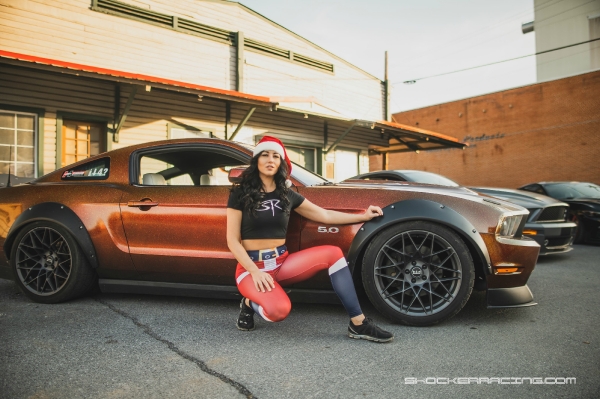 Besides seeing this Sexy Santa being featured on JD's YouTube channel you can watch JD take guests on ride alongs in his 900+hp 2008 Shelby GT500 powered by VMP. JD's Mustang also includes this naughty list of modifications: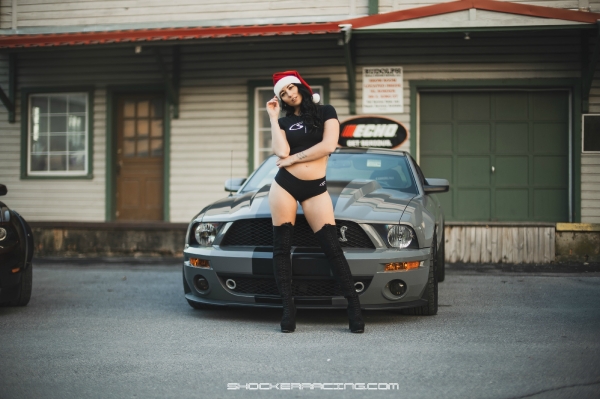 Engine/performance mods:
Diamond Pistons
Manley I-beam rods
ARP bolts & cam bolts
L&M cams
PAC valve springs
Cloyes billet timing gears
Acufab flip kit & chains
VMP 2650 Gen3 supercharger
Metco 90mm AUX pulley
JLT 155mm carbon fiber cold air intake
JLT oil separators.
VMP throttle body
ID1000 injectors
JPC return style fuel system
Two 465 pumps
Fore Fuel rails
JBA longtube headers
JBA Offroad xpipe
XFORCE Exhaust
4.10 gears
McLeod RXT 1000hp twin disc
Driveshaft shop one piece driveshaft
Canton expansion tanks
Moroso power steering tank
Shelby Heat exchanger
AEM wideband failsafe
Suspension mods:
Eibach pro kit springs
BMR panhard bar
BMR lower control arms
BMR relocation brackets
Power Stop brake kit
AMR GT500 style wheels 19x9 front 18x10 rear
Nitto NT555r 305/40-18 rear
Nitto NT555 265/45-19 front
Appearance mods:
35% tint
KR lower grill with brake ducting
Shelby fuel door
Cowl hood
Smoked Raxiom taillights
Smoked side markers
LED 3rd brake light
Auxbeam LED headlights and fog lights
Carbonfiber supersnake front lip
Carbonfiber mirror caps
Carbonfiber radiator cover.
Carbonfiber fuse box cover.
Check out Les 'Dark Horse' 2016 Ford Mustang GT w/Performance/Premium/Security Packages mod list:

Appearance:
APR Front Splitter
Grille delete with floating Pony emblem
Beithperformance  Carbon Fiber/Leather Steering Wheel
Custom Air Ride Trunk setup
Blackout all exterior lights
FRPP blank deck panel
Roush Winglets
Diode Dynamic LED lights
35% Tint
Suspension:
Airlift 3P Air Ride
Steeda Stop-the-Hop package
Wheels/Tires:
AXE EX18 (f) 20x9  (r) 20x10.5
Custom Candy Red Color
Nitto 555 G2s (f) 255/35/20  (r) 275/35/20
Misc:
Hornblasters Shocker XL train horn
Apple CarPlay
Performance:
Corsa Extreme Catback Exhaust with Black tips
Check it twice with Rob Rabon's 2011 mustang gt premium modification list:
Custom Candy Red/ Gold Shift Flake Autoflex by CharmCityDips
Paxton novi 2200 with 8 rib pulleys
Vortech maxflow race bov
Injector dynamics id1000s
Vortech boost a pump
Rev Auto dyno tune
Tmi Products custom Pro Viper series seats
Hurst shifter
Flowmaster outlaw series axle backs
Lethal off-road X pipe
RTR prototype fender flares
RTR front fascia
RTR rear decklid emblem cover
Boss 302 rear diffuser
Astec/ MMD rear spoiler
RTR tech mesh 19x10.5 wheels
Nitto invo 285/35 19's(square set up)
Cj pony parts s550 style head lights
Tiger racing fiberglass hood
Airlift performance V2 air suspension
Viking rear shocks
UPR chromoly lower control arms
UPR adjustable Panhard bar
UPR Lower control arm relocation brackets

And The guest of honor's 1953 Belair:


235 engine 700r4 57 chevy rear
Paint body and chop by trioxin kustoms
Frenched headlights and tailights nosed and decked.
235 with 848 heads
Dual Weber carbs
Offenhauser manifold
Fenton headers
dual glasspacks side pipes
12v conversion
Original seats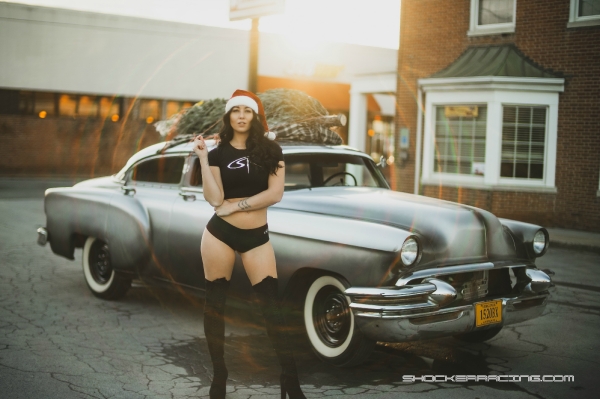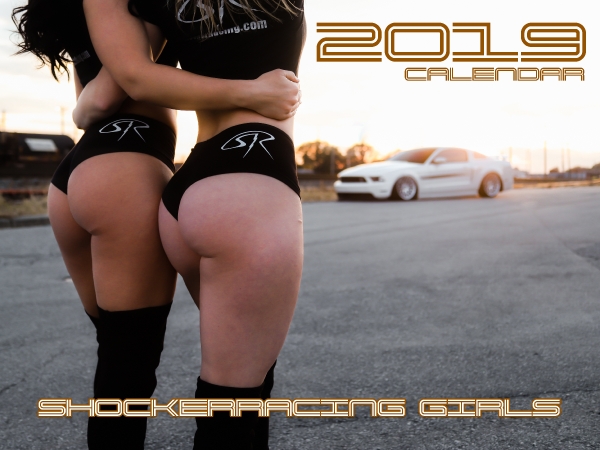 Shocker Racing can't wait to see what people come up with for this contest! With the holidays among us don't forget you can pre-order your 2019 ShockerRacing Girls Calendar today for a discounted price of $22.95 here: 2019 ShockerRacing Calendar Pre-Order. Prices will go up in early December! If you would like to work with Shocker Racing in the future to help build your brand, advertise on our website, or become a model for Shocker Racing please email James at shockerracinggirls@gmail.com
View the full photo gallery here
View the full photo gallery here
View the full photo gallery here
View the full photo gallery here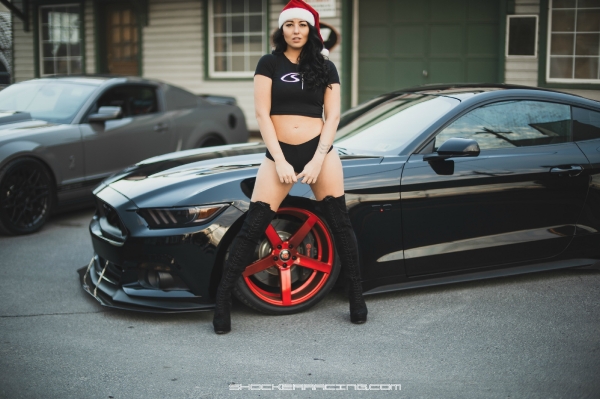 View the full photo gallery here