2019 Bad Santa Contest
Written by James Monday, 16 December 2019 12:34
It's the most wonderful time of the year, and while most car models hibernate for the winter, ShockerRacing.com is encouraging models to get out there, feel the joy, and shoot for our #ShockerRacingBadSanta Contest. Every year on Instagram we encourage our favorite Car Girls to show off their costumes with some sick rides for the #ShockerRacingHalloween Contest. So why stop there? Three years ago we started another contest to keep everyones spirits high in the 'off season'. Let ShockerRacing see you get your jingle bells, candy canes, and tinsel ready. You could get your chance to win some ShockerRacing gear! The contest is available to any ladies that want to join in on the holiday fun! Hit the link to see the rules.
To enter the Bad Santa Contest on Instagram:
Follow @ShockerRacing on Instagram
Take a photo in your Holiday Themed Costume (extra points for incorporating SR Gear) with a Car
Post the photo on IG and Tag AND Shoutout @ShockerRacing in the post
Use #ShockerRacingBadSanta in your post
Promote Shocker Racings Social Media in your IG Story
If you complete ALL of these steps by December 22nd at 7pm CST, you will be entered in the contest.  We will place all of the pictures on our IG for voting and the picture with the most likes by 10pm CST on Christmas Eve will win one ShockerRacing Apparel Item.
*Contest is for U.S. Citizens Only

ShockerRacing's Top Elf, Bex Russ, shows off her holiday spirit for the contest with a little more than some milk and cookies. She worked with one of Santa's Little Helpers and her boyfriend, Alex Vandgergrift. "Truck Christmas pictures are all the rage during the holiday season for us family photographers. But I didn't want to stick to the typical Christmas tree farm vibes. Instead, Alex found this sweet old fashioned gas station just down the street from our Tree Farm." The Christmas Tree Farm sign in the background was the perfect touch. Check out Bex as she melts the North Pole in some these great images with Alex's Sleeper. That's correct SR fam, this truck is the perfect disguised sled for Santa him self. What looks like a run down 2004 regular cab short bed Silverado. Is actually a 2004 regular cab short bed Silverado WITH a Chevrolet LS V8 engine with magnaflow exhaust, swapped the oem 4l60 transmission  for a 4l80 transmission that has a 3200 Circle D stall converter, Trans Go H2D shift kit. It's Elf height and lowered with a 5" drop in front and 7" drop in the rear. Alex asked Santa for twin turbos for Xmas. So only naughty kids with a well trained eye will be able to sense the "sleeper" like build this truck has. Weighing in as much as Santas sleigh full of toys... or a Mustang, this build will surely catch folks off guard!
ShockerRacing can't wait to see what people come up with for this contest!
With the holidays among us don't forget you can pre-order your 2020 ShockerRacing Girls Calendar today for a discounted price of $22.95 here: https://shockerracing.square.site/product/2020-sr-girls-calendar/17?cs=true Prices will go up SOON!
If you would like to work with Shocker Racing in the future to help build your brand, advertise on our website, or become a model for Shocker Racing please email James at  This e-mail address is being protected from spambots. You need JavaScript enabled to view it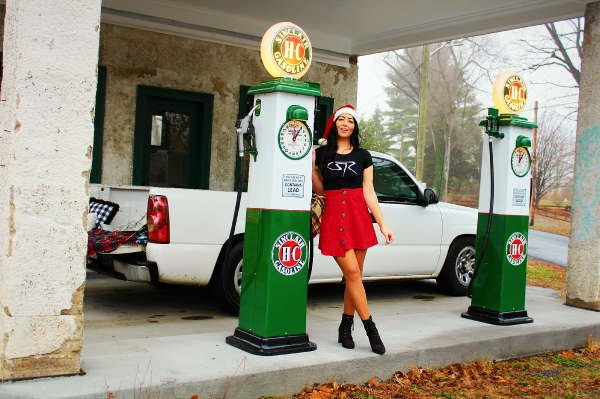 VIEW THE FULL 2019 BAD SANTA GALLERY HERE