ShockerRacing Halloween 2020
Written by Bex Russ Friday, 23 October 2020 09:50
2020 has been an interesting year for car fans. Lack of shows because of the pandemic has taken a toll on a few. Well, ShockerRacing is ending the gloom and doom with some gloom and doom, in a matter of speaking. ShockerRacing staff is gearing up for the anticipated fall/winter season of contests held by ShockerRacing.com. To start the friendly competitions for the end of the year, the #ShockerRacingHalloween contest is BACK. This is the most participated contest SR holds every year. We are encouraging our favorite Car Girls to show off their costumes with some spooky rides. As per usual the contest is available to any ladies that want to join in on the spooktacular fun! So get your costumes and your cars ready, our favorite entries on IG will win one ShockerRacing apparel item! Hit the link for the full contest details:
To enter the ShockerRacing Halloween contest on Instagram:
Follow @ShockerRacing on IG
Take a photo in your Halloween Costume with a Vehicle
Bonus points for incorporating SR gear with your costume
Post the photo on IG and Tag and Shout @ShockerRacing in the post
Use #ShockerRacingHalloween in your post
If you complete all of these steps you will be entered in the contest and we will choose our favorite picture on the night of October 31, 2020 to win one ShockerRacing Apparel Item. *Contest is for U.S. Citizens Only
Check out ShockerRacing Elite Model, Bex Russ starting off the spooky fun with this hilariously themed shoot to announce the fun! Bex is a well known creative model in the DMV/RVA area. She works with many creative photographers in her location. As well as, up and down the east coast. Bex is often published for her collaborations with many artists. We are always excited to see her work when she sends in photos. She certainly steps up the game for many in the industry. "I got the idea for the shoot from a 2019 Halloween entry. It was ShockerRacing Staff's honorable mention. However, it had us all rolling on the floor laughing. 2020 has been a difficult year in the modeling and car show world. Why not just make fun of it all." Bex tells SR.
Bex worked with her incredibly supportive boyfriend, Alex, for this shoot. He is new to the photography world but obviously he has a great teacher. The two are passionate about the car industry and have been working together on a few top secret projects. We are excited to see what she has to reveal in the future. Bex featured our NEW black ShockerRacing Crop Hoodie and some orange checkered pants. Her skeletal partner in crime for this shoot showed off the SR classic black crop top and booty shorts for this shoot. Bex and Alex used their Mountain View backyard to get the few harvest themed shots for this announcement. Bex told us "I love working with Alex. He is understanding and so supportive. I can't believe I'm so lucky to have him in my life. We laughed so hard during this shoot. I'm surprised I got a few decent shots!" We are so happy for Bex, Alex and their amazing new home. We are laughing right along with them for this session.
Bex told us the mustang she modeled with is no ordinary mustang. The 1,000 horsepower 2016 Ford Mustang GT will certainly make you jealous. Read this INSANE modification list.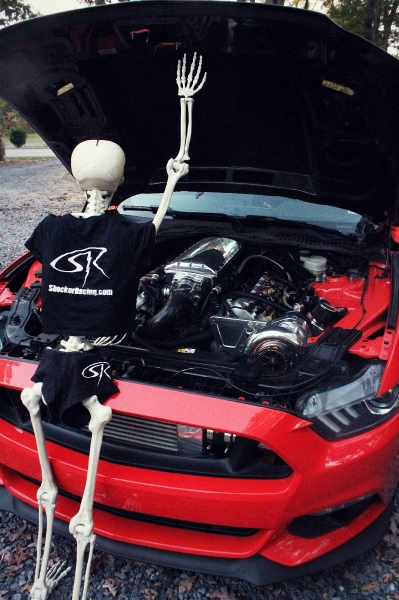 Engine:
Procharger F1a-94 supercharger, procharger big red blow off valve, custom intercooler piping, stage 2 procharger air to air intercooler, Precision Engineering 44mm wastegate, GFB boost controller, Holley sniper hi-ram sheet metal intake manifold, JC Customs billet intake manifold lid, MMR throttle body adapter, deatschwerks 1,000cc injectors, Fore Innovations 1800hp triple pump fuel system with E85 compatibility, Boundary oil pump gear and crank sprocket, BBK long tube headers, x-pipe, 3 to 4.5in custom exhaust, BL Fab radiator relocation brackets, custom breather tank and catch can, Lund tuned for 93oct/E85, and last but not least- American flag painted valve covers
Transmission:
MT-82 transmission, SPEC 3+ clutch and flywheels, steel braided clutch line, Barton Hybrid shifter, Shaftmasters aluminum driveshaft, GForce 1500hp axles
Brakes/Suspension: BAER drag brakes, UPR toe links, BMR cradle lockout, J&M vertical links, BMR front chassis brace, Eibach Sportline springs
Wheels/tires: Track/Party set (pictured) 17in SSR Spike JEGS drag wheels, Mickey Thompson biasply rear tires, Firestone Firehawk front tires
Cruising wheels/tires: 20in Downforce wheels with Mickey Thompson tires
Exterior:
Anderson Composites double sided carbonfiber Cobra jet hood, Roush spoiler, distressed American flag flat black roof wrap, JLT fog light delete, upper and lower DIY grille delete, Holley shift light, UPR Howler 5.0 badges.
Sooo, basically, Bex modeled with a beast!
Keep up with Bex on her social media pages. There you will see where her next shows for 2021 will be, like Team Shelby events, Ready Set Drift and SEMA. See more of Bex's Halloween Shoots here:
Check out the whole crew here:
Bex Russ Model:
Website: bexrussmodel.wixsite.com/portfolioblog
FB: Facebook.com/BexRussModel
IG: @Bex.Russ
Twitter: @BJam1934
Photographer/Car Owner: