@MustangKarisha Goes Rogue with a Nova SS
Written by James Tuesday, 19 April 2016 17:19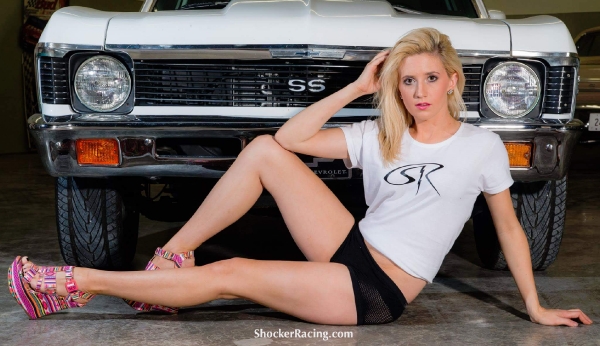 25 year old, Karisha, goes by the name @MustangKarisha on Instagram.  She currently drives a blacked out 2000 Ford Mustang GT, and tells us that her dream car would be an Eleanor Mustang.  Karisha is clearly a Mustang lover, but for her ShockerRacingGirls photoshoot she decided to dance on the dark side.  She met up with photographer Chris Auditore and Dale Womack who brought along his 1972 Chevy Nova SS to make some magic.
Nashville, Tennessee resident Karisha owns a nicely modded 2000 Ford Mustang GT.  It is the only car she has ever owned.  She tells us it is currently sporting a set of BBK Shorty Headers, a Bassani Off-Road X-Pipe, and Flowmaster Superflow 44 Mufflers.  To get more air into the 4.6L motor Karisha added a Cold Air Intake, 70mm Throttle Body, and a Ford Racing Intake Manifold.
Karisha dreams of owning a Eleanor Mustang that she would love to be able to build from the ground up, but if ShockerRacing was going to pay for any one mod to her current Mustang she would choose a single 88mm turbo.  She would love to be boostin' and burning tires in her Pony.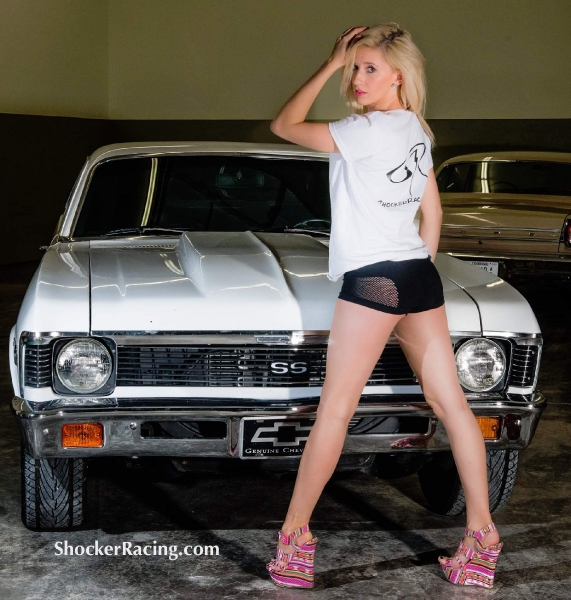 Here is the rest of our interview with Karisha:
SR: How did you get involved in the car scene?
Karisha: As soon as I got my driver's license I was out cruising the strip.  We would hang out in parking lots, talking about cars, and watching street races.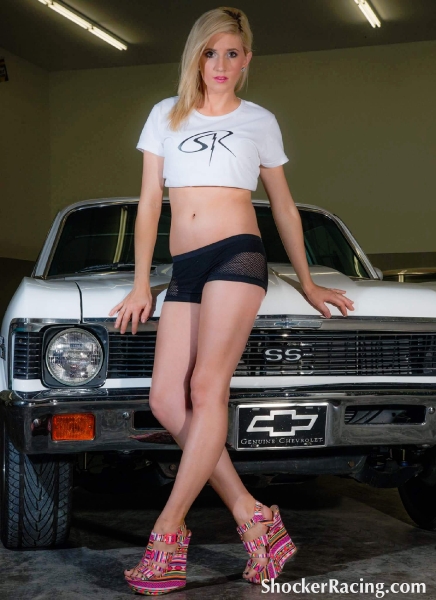 SR: If you could take your dream car and travel anywhere in the world, where would you go?
Karisha: I know I said my dream car was an Eleanor Mustang, but I would love to drive a Nissan GTR through Norway.
SR: Which of the Fast and Furious films is your favorite?
Karisha: Furious 7 was definitely my favorite.
SR: Are you a Paul Walker or Vin Diesel kind of girl?
Karisha: Paul Walker.  He's actually been a huge inpiration to my car, and my driving.
SR: What is your favorite automotive event of the year?
Karisha: Any event that I get to model at.  It's always fun to be a part of the event and also be able to learn about unique builds and foreign cars.
SR: Tell us something about you that most people don't already know.
Karisha: I am terribly afraid of heights.
SR: Leave us with your favorite quote.
Karisha: "It starts with the eyes. She's gotta have those kind of eyes that can look right through the bullshit, to the good in someone.  20% angel, 80% devil.  Down to earth. Ain't afraid to get a little engine grease under her fingernails." Dom from Fast and Furious.
Be sure to give Karisha a follow on Instagram - @MustangKarisha
Follow photographer Chris Auditore - IG: @CJAuditore - Website: ChrisAuditorePhotography.com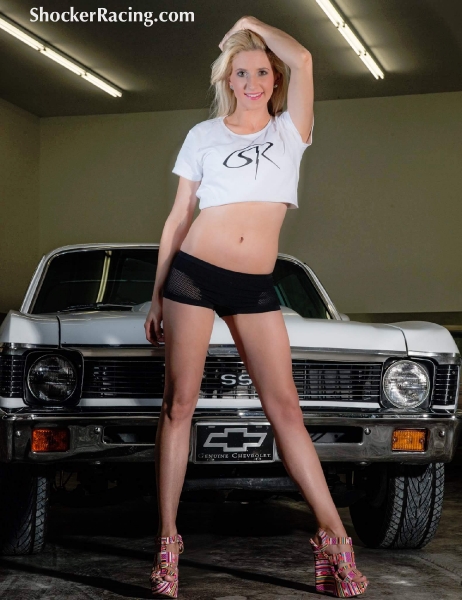 Click the photo below to see Bex Russ' Feature with a Lotus: