Chelsea Hensley with a Mazda RX7
Written by James Anderson Thursday, 04 May 2023 00:00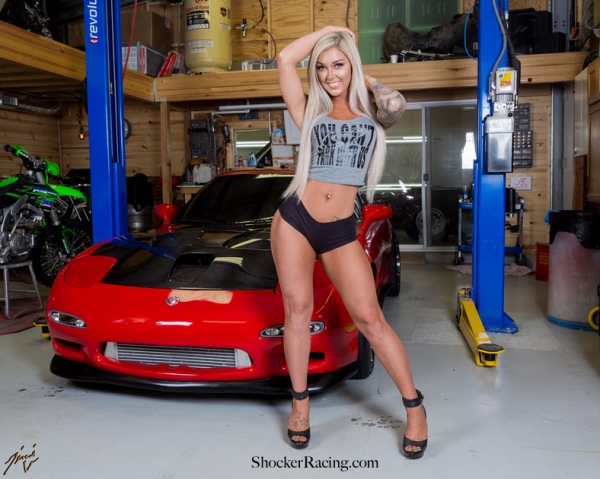 Back in November, our friend Bill Allred included us on a group chat in which a discussion was taking place regarding an upcoming photoshoot with Chelsea Hensley and Jason Pearson's 1994 Mazda RX7. Bill knew that if they were going to be shooting Chelsea, she needed to be wearing some of our famous ShockerRacingGirls Apparel! With the winter weather quickly approaching in Nebraska, we rushed her out one of our new You Can't Park With Us Crop Tops and a pair of our Boyshorts. Chelsea and Jason contacted a good friend of theirs and photographer, JimiV and began working on a shoot location. Jason decided that his shop, JRP Customs, was the perfect place for the shoot since it's where he built the entire car.
Â
Â
Â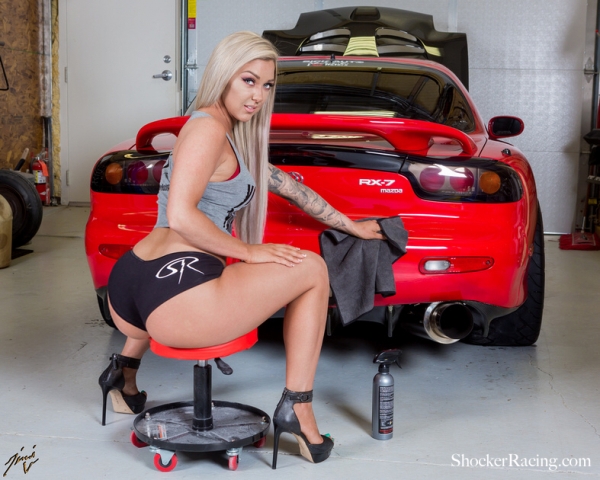 Jason's RX7 has quite the extensive list of upgrades to make this already rare ride truly unique. In fact, Jason tells us his car is 1 of only 248 Vintage Red Manual Touring Models made in 1994. On the dyno the 13B-REW motor put down 500 rear wheel horsepower with the help of a Borg Warner S366 Single Turbo. Jason tells us he is currently looking to upgrade the wheels, so if any of you wheel companies are looking to sponsor a sick ride be sure to contact him! For now, the fenders have been rolled to accommodate the 275/35/18 BFG Drag Radials on 18"x10" Rear Wheels. The fronts are 235/40/18's on 18"x9" XXR 527 Wheels. This along with the Stance 15 Way Adjustable Coilovers give the RX7 the perfect stance. The VIS Scoot Style Carbon Fiber Hood, Feed Style Side Skirts, and Feed Carbon Kevlar Diffuser finish off the look of the one of a kind RX7.
We gave you a taste of the RX7, so now lets get back to Ms Chelsea... The 24 year old from Omaha is no stranger to modeling. She has been modeling and dancing for almost 5 years now. "I'm a Husker Hottie. We do posters, events, tailgates, fundraisers. It's a lot of fun," Ms Chelsea tells ShockerRacing. "I've always loved cars, even as a little girl," she went on to say. So of course shooting for ShockerRacing with the RX7 was completely natural. She tells us her favorite automotive event of the year is the Omaha Ice Cream Cruise, which brings thousands of car enthusiasts out to Raceway Park of the Midlands for a weekend Car Show and Drag Racing!
Take a peak at the rest of our interview with Chelsea Hensley:
SR: Your legs look a mile long in these pics, how tall are you?
Chelsea: I am 5'3"!
SR: Have you always lived in Omaha Nebraska?
Chelsea: No, I am actually from Council Bluffs Iowa.
SR: What was your first car?
Chelsea: I had a 1987 Pontiac Fiero GT... Don't laugh, I thought I was cool!
SR: What is your dream car?
Chelsea: Hard question! I can't pick just one... I would love to own a GTR, Porsche GT3RS, or a Ferrari. I really love muscle cars though. My one true dream car would probably have to be a 1977 Trans Am!
SR: If you could take one of your dream cars and travel anywhere in the world, where would you go?
Chelsea: Italy!
SR: Which of the Fast and Furious films is your favorite?
Chelsea: Easily the first one.
SR: Are you more of a Vin Diesel or Paul Walker kind of girl?
Chelsea: Paul Walker. Major Crush!
SR: Are you single?
Chelsea: Nope, Jason is my King!
SR: What would an ex say is your best asset?
Chelsea: If you asked my ex? Haha... probably something superficial about the way I look, if anything at all!
SR: What is your biggest pet peeve?
Chelsea: People who have pets and then don't take care of them.
SR: Do you have any nicknames?
Chelsea: I have a few nicknames... They call me Chels, Rocky, Peanut, Kitty, and Princess!
SR: What's your favorite food?
Chelsea: Pizza!
SR: What's your favorite Pizza topping?
Chelsea: All of them!
SR: Give us two fun facts about you that many people don't already know.
Chelsea: I love animals, and I am a huge Star Wars Nerd!!! Obsessed!!!
Be sure to follow Chelsea on her social media - FB: Facebook.com/mizchelsearae IG: @msschelsearae
For more on Jason's RX7 build check out his social media - FB: Facebook.com/JRPCustomPaint IG: @jrp_customs
Follow JimiV Photo on social media - FB: Facebook.com/jimivphoto IG: @JimiVPhoto
Follow us on Social Media
Instagram: @ShockerRacing
Twitter: @ShockerRacing1
Facebook: Facebook.com/ShockerRacing
YouTube: YouTube.com/ShockerRacing
Snapchat: @ShockerRacing
View the full photo gallery here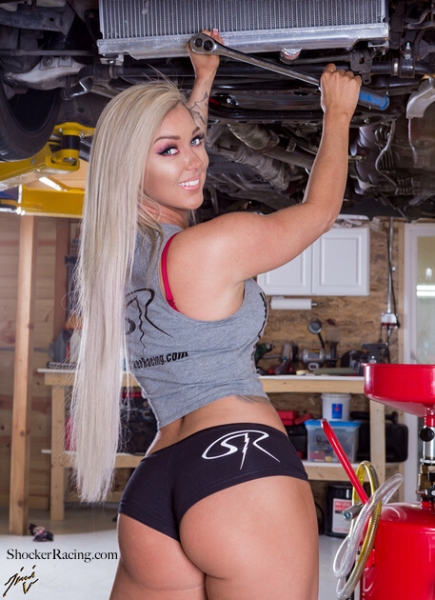 View the full photo gallery here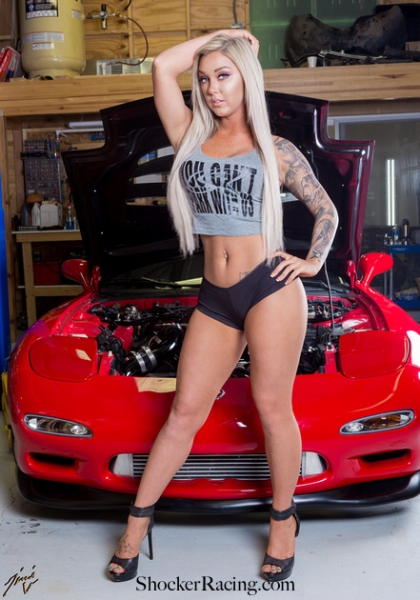 View the full photo gallery here
View the full photo gallery here
View the full photo gallery here
View the full photo gallery here
View the full photo gallery here
View the full photo gallery here