Do You Believe In Miracles?
Written by James Tuesday, 12 June 2018 19:41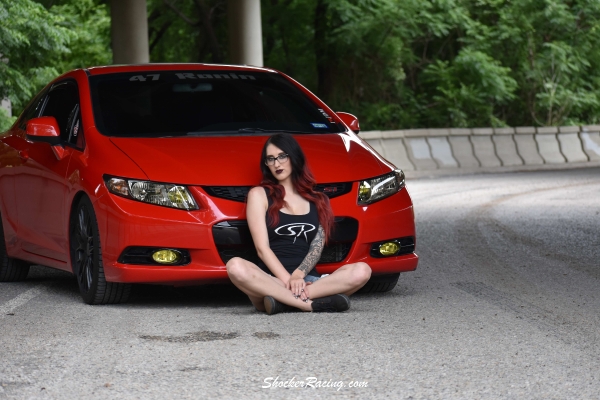 From the proud state of Texas, let's welcome Miracle Petree to the Shocker Racing family! As a full time bartender, Miracle enjoys meeting new faces and entertaining the crowd... a perfect fit to the Shocker Racing team. Although not new to the modeling world, Miracle recently started dabbling into the car modeling industry. Miracle started working with car photographers from the Head Turners car club. She is a member of the scene and works with all style builds and vehicles. Miracle tells us she became interested in Shocker Racing through members of the club. "Shocker Racing is so amazing. They offer so many great opportunities I just knew I couldn't pass that up. The contests they do, and the different ways they sponsor and support all their followers is so great!" Miracle exclaimed.


Miracle tells us she is a proud owner of an orange 2014 Dodge Challenger special edition. "It's a 100 year model. It's straight piped with quad tips on it," Miracle informed us, "If Shocker Racing were to pay for any mod to it, I  would go with a cold air intake, or new tires and rims. I'd like to make my car have stance and look beefy." Miracle shot with her Dodge for her first official shoot with Shocker Racing, as well as, the photographer's Honda. We love her location ideas, Miracle shot at multiple places around Benbrook, Texas. "It was gorgeous everywhere we went. At one point the photographer and I were actually driving to a location when another opportunity popped up. So we had to make a quick stop and get some pictures there before we moved on." We are certainly glad she did!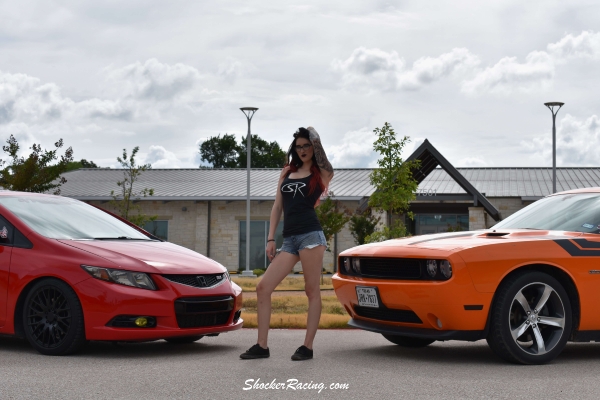 Read more of Miracle's interview here:

SR: What was your first car?
Miracle: A 2006 Kia Spectra. She shook at 70MPH and I named her Shakira.
SR: What is your dream car?
Miracle: Realistically it's a Challenger, either a Hellcat or a Scatpack. Unrealistically though, I would do anything to own a Lamborghini.
SR: If you could travel anywhere in the world with your dream car where would you go?
Miracle: I would go to Blue Lagoon Beach in Oludeniz, Turkey. I want to live at the beach. Not just any beach but a pretty one with blue water and white sand.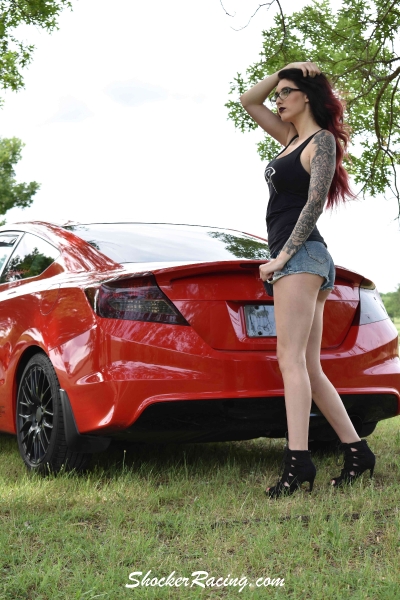 SR: What is your Favorite fast and furious movie?
Miracle: Definitely Fast and Furious 4. It's the one where Dom has to get back with Brian to track down the culprit of a murder of their loved one. Instead of taking Dom in Brian shows his loyalty by helping him more.
SR: Paul Walker or Vin Diesel?
Miracle: I love Paul Walker and I'm definitely all for Paul Walker. But I have to side with Vin Diesel about the car. American muscle cars definitely have my heart.
SR: Do you have a favorite Shocker Racing model?
Miracle: If I have to pick my favorite Shockerracing girl so far I'd have to say Bex. I really don't know any of them. But I'd love for that to change. Bex is gorgeous. She is so inspiring to me. I love the photos she does and her page is so great! She truly inspires me to try harder in my modeling pictures.
SR: What's would an ex say is your best asset?
Miracle: An ex would probably all agree that it's my boobs.
SR: What's your biggest pet peeve?
Miracle: When people get easily offended. Not everything should be taken so hard.
SR: Do you have any nicknames?
Miracle: I only have one nickname that I grew up with. My whole family called me Doodle or Doodle Bug my whole life.
SR: What's your favorite food?
Miracle: My favorite food is Mexican. Honestly I could probably live on chips and salsa and queso.
SR: How do you like your pizza?
Miracle: I eat pepperoni on my pizza."
SR: Give us two things fans don't know already know about you.
Miracle: I am covered in tattoos. I have 6 and a sleeve. The one that has a real meaning to me is on my right wrist. It's a semi Colon and a half heart for suicide awareness. My childhood bestfriend committed suicide before she got into high school. I have a tattoo for faith, hope, and love on my right collar bone. I have a heart on my left breast, and a cross on my left shoulder blade. My right hip is covered in roses. And then my sleeve is floral with the all seeing eye inside of a mandala.
A lot of people assume that I'm from the city from the way I dress and all my tattoos and the car I drive, but I am a country girl. I live in the country, I was raised in the country. I show longhorns and was in rodeo in high school. Another fun fact some people don't know about me is that I was in the military. I was in the U.S. Army and I was medically discharged for injuries I received during my training.
SR: Do you have a favorite quote?
Miracle: "She is clothed in strength and dignity and laughs without fear of the future."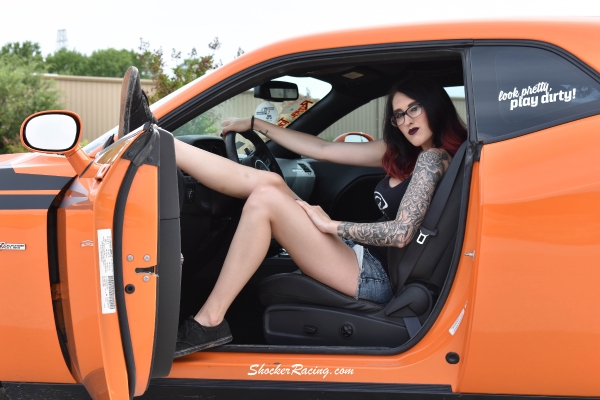 We loved getting to know Miracle and hope our fans did too. You can find Miracle at her next and favorite event, TMS Friday night drags. If you are interested in becoming a Shocker Racing model please email James at shockerracinggirls@gmail.com and tell us why you could be of value to our team.
Follow the team here:
Model - Miracle Petree
Photographer - Mike Parker
Follow ShockerRacing on our Social Media: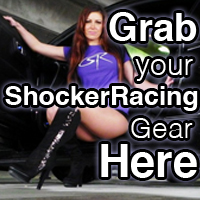 Instagram: @ShockerRacing
Twitter: @ShockerRacing1
Facebook: Facebook.com/ShockerRacing
YouTube: YouTube.com/ShockerRacing
Snapchat: @ShockerRacing
Check out Miracle's full photo gallery here
Check out Miracle's full photo gallery here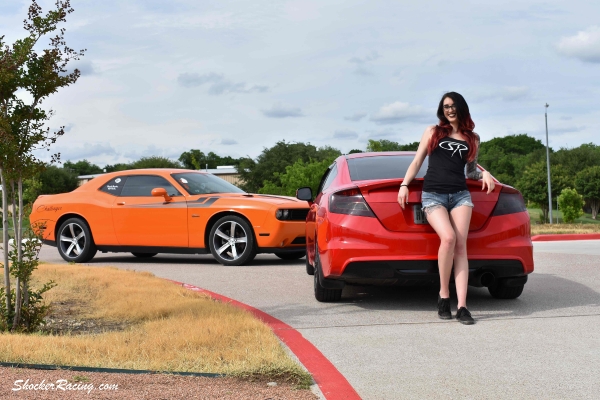 Check out Miracle's full photo gallery here
Check out Miracle's full photo gallery here
Check out Miracle's full photo gallery here
DON'T MISS - Race Sen-Cityy - Click Below: