Hayley Perkinson Joins the ShockerRacing GIrls
Written by James Tuesday, 09 April 2019 19:50
Hayley Perkinson is originally from Fredericksburg, VA where she was friends with Bex Russ and first became a fan of ShockerRacing and our models.  Fast forward a few years, Hayley has since moved to Dallas, TX.  A couple months back she was out at a photo shoot in the Dallas area where she ran into another one of our ShockerRacing Girls, Miracle, who was doing her own photo shoot with Mike Parker.  Miracle introduced herself and convinced her to do some shots together.  Shortly after, Hayley decided it was finally time to join the team! It was a miracle that Hayley met Miracle!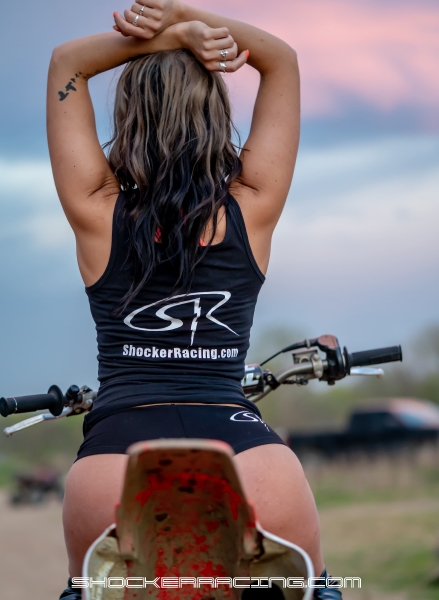 The 26 year is currently an apartment leasing agent in Texas, where she moved to be with her family and try out a new start in a big city.  She enjoys modeling in her free time, so if you are looking for a model to shoot with near Dallas be sure to message her on Instagram: @hperkinson_2010
Hayley tells us her first car was a 1998 Chevy Blazer, but she currently drives a Kia Rio.  We asked her what she would choose if we offered to pay for any one mod to her Kia, and she responded that she would love to have the bubbled rear window tints replaced.  Ms. Perkinson first got involved in the car scene back in Virginia when she shot for the Action Window Tinting Calendar.
For Hayley's intro to ShockerRacing, she chose to work with Alex from @PaceMadeProductions.  Alex owns the dirt bike in the photo shoot as well.  "I know Alex through Harley Davidson, because he photographs them too," Hayley explained, "my favorite part of the shoot was seeing the old man's jaw drop that works the Shady Grove Motocross lands.  When I showed off the boyshorts, he asked for a pic of my booty!"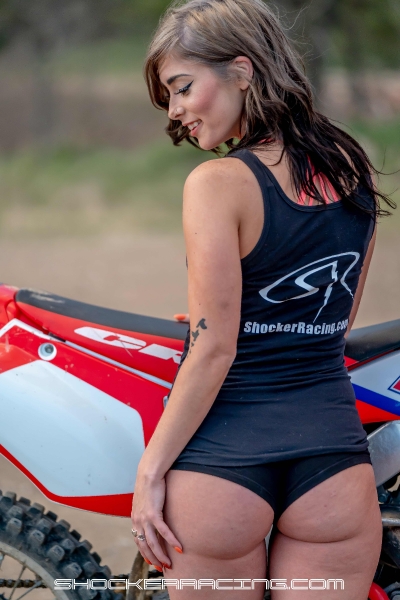 Keep reading for the rest of Hayley's interview:
SR: How tall are you?
Hayley: I am 5 foot 6.
SR: What is your dream car?
Hayley: I would love a Bugatti!
SR: If you could travel anywhere in the world with your Bugatti, where would you go?
Hayley: I would definitely go to Australia and cruise the Bugatti all over!
SR: Do you have much previous modeling experience?
Hayley: I have been modeling for years.  I have worked promotional modeling and events for Harley Davidson and Action Window Tinting.  I am a freelance model and have been published three times in different online magazines.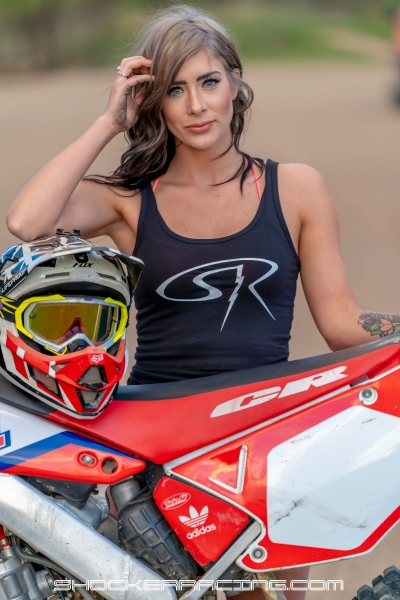 SR: Who is your favorite ShockerRacing Girl, and why?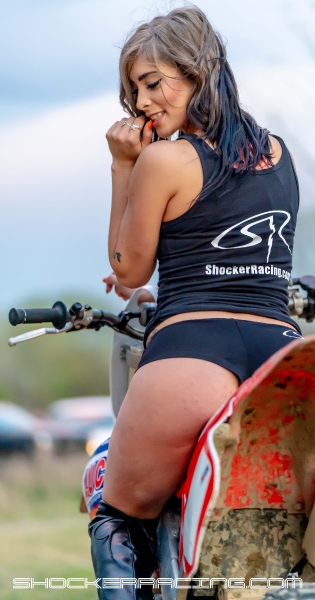 Hayley: Bex Russ is my favorite SR Girl hands down... what's not to love? She is funny, goofy, and realistic.
SR: What would an ex say is your best asset?
Hayley: They would probably say mine is my ass or my eyes!
SR: Do you have any pet peeves?
Hayley: I have a few... tardiness, ignorance, racism, and bad teeth or breath!
SR: What is your favorite food?
Hayley: Cheese! Of all varieties.
SR: What is your favorite pizza topping?
Hayley: Mushrooms and bacon!
SR: Do you have any tattoos?
Hayley: I have five tattoos.  My rib cage is my family initials and my favorite quote, on my foot I have a Coy fish dedicated to my grandfather, my forearm is a cover up of a bad Friday the 13th tattoo, behind my ear I have a compass with arrows, and my last tattoo is a dick in my mouth... it makes for great visits to the family dentist, lol!
SR: What is your favorite quote?
Hayley: "Be so strong that nothing can destroy your peace of mind and know that the biggest risk in life is the one you don't take, so live your life like there is no tomorrow."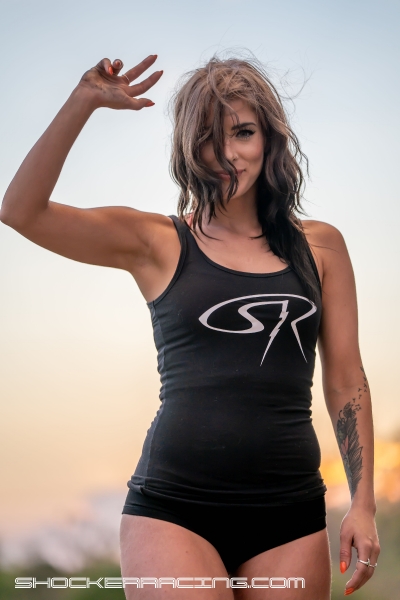 Follow Hayley on Instagram - @hperkinson_2010
Follow Alex the photographer and bike owner on Instagram - @PaceMadeProductions
Follow ShockerRacing on our Social Media: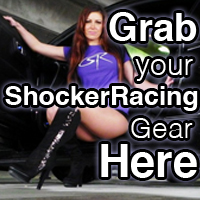 Instagram: @ShockerRacing
Twitter: @ShockerRacing1
Facebook: Facebook.com/ShockerRacing
YouTube: YouTube.com/ShockerRacing
Snapchat: @ShockerRacing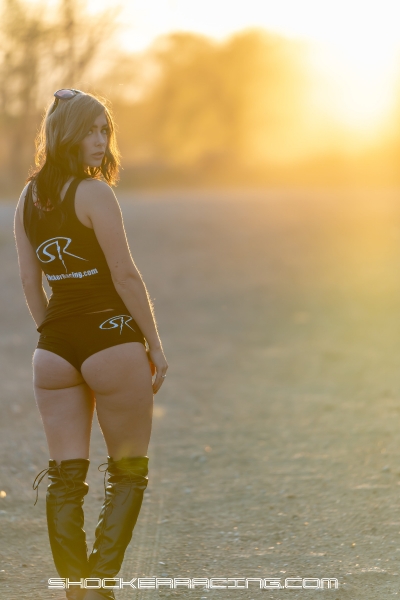 View Hayley's full photo gallery here
View Hayley's full photo gallery here
DON'T MISS - MACIE WATKINS JOINS THE SHOCKERRACING GIRLS: