Kristen Carey Joins the ShockerRacing Girls
Written by James Monday, 13 May 2019 19:38
Kristen Carey drives some pretty serious rides.  It begins with her 2019 Race Red Ford Raptor; then she has her race car... an Orange Fury Ford Mustang GT350 with white racing stripes.  Her third vehicle is my personal favorite and the one you see here in her photo shoot.  Kristen's 2017 Jeep Wrangler Rubicon came in Xtreme Purple and was fitted with a proper manual transmission.  She picked it up about a year ago as a bone stock two door with a soft top, but she had a vision for her build from day one.  She knew it would not stay stock long.  Hit the link to find out about her build and see the rest of the shoot: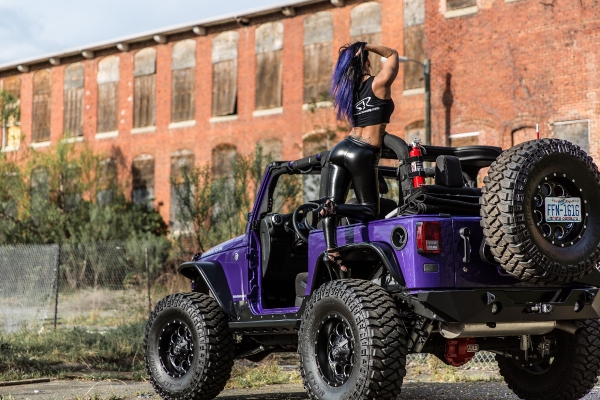 The 5 foot tall, 34 year old grew up in Massachusetts but has found herself living in Charlotte, NC since 2008.  She spends her days working in Public Relations, but her true passions are cars and extreme sports like Snowboarding and Surfing.  She even has a mash-up tattoo depicting the two sports as well as many other tattoos.  "I have way too many tattoos to count.  My new favorite piece is a Day of the Dead Girl." Kristen told us.
Getting back to Kristen's Jeep, she went with a 3.5" lift kit and a set of 37" Tires to give it a badass stance.  She upgraded the control arms, tie rod, and track bars to go along with the lift kit.  Then she chose Poison Spyder front and rear bumpers along with a set of Poison Spyder rock sliders.  Kristen went with a Warn Synthetic Winch, Rigid Industries Lighting, and added an ARB Twin Compressor.  She recently spent some time wheeling at the Uwharrie National Forest.  Some of the trails she hit were; Rocky Mountain Loop, Saw Mill, Wolf Den, Dutch John, and Dickey Bell.  She tells us, "I dropped a lot of F-bombs on Dickey Bell!"  Kristen tells us it was so nice being able to use the on-board air compressor to air up the tires for the first time.  Besides wheeling, Kristen also enjoys hitting up some Jeep Jamborees.  She was recently out at the Myrtle Beach Jeep Jam in South Carolina.
Kristen's first car was a 1989 Golf GTI Convertible, and clearly, she has stepped her game up from there, but she tells us her dream car is a Lamborghini Huracan Performante in purple of course! She would love to take one for a few laps around the Nurburgring, and her other dream location is to take a Jeep out to Moab.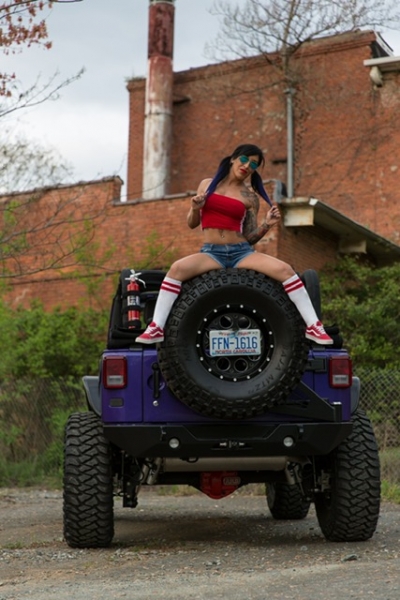 If you would like to see more from Kristen Carey, be sure to check her out on her Instagram page - @fitmomof2whojeeps
And don't forget to check out her photographer from this shoot - @jdriscollphoto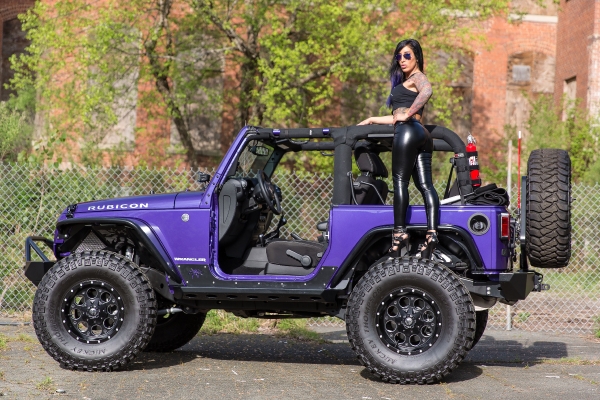 Follow ShockerRacing on our Social Media: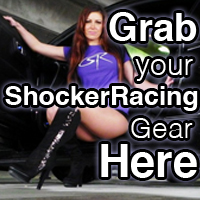 Instagram: @ShockerRacing
Twitter: @ShockerRacing1
Facebook: Facebook.com/ShockerRacing
YouTube: YouTube.com/ShockerRacing
Snapchat: @ShockerRacing
View Kristen's full photo gallery here
View Kristen's full photo gallery here
NEW PHOTOS ADDED 5/21/19
DON'T MISS - Savannah Byrd joins the ShockerRacing Girls