Larissa Lynne
Written by James Tuesday, 21 May 2019 15:17
21 year old, Larissa Lynne comes to us from Staten Island, NY.  The five-foot-tall cashier tells us what she loves most about ShockerRacing is the diverse group of women that we work with.  "I love that it's not just one particular look, its beautiful women. Most sites I noticed want the girls to look one way but SR girls come in all shapes and colors, and I love that. It recognizes all beautiful women whether they are just models who enjoy the looks of cars and like to have fun or lady driven and built," Larissa explained.  She currently drives a convertible Volkswagen Bug but plans to buy either a Camaro or a Mustang someday.  Which do you think she should go with?
Larissa's uncle had a classic Camaro when she was growing up and would take her to all of the local car shows.  That's where her love for cars began, and more recently was taken to the next level when she met her boyfriend.  He introduced her to his car club, and she met more car friends through the group.  That's where she began spending weekends taking photos with cars.  "Being around the camera and standing next to these amazing looking cars is the best feeling," Larissa exclaimed. For this shoot, Larissa chose to shoot with her boyfriend, Anthony's Purple Dodge Challenger.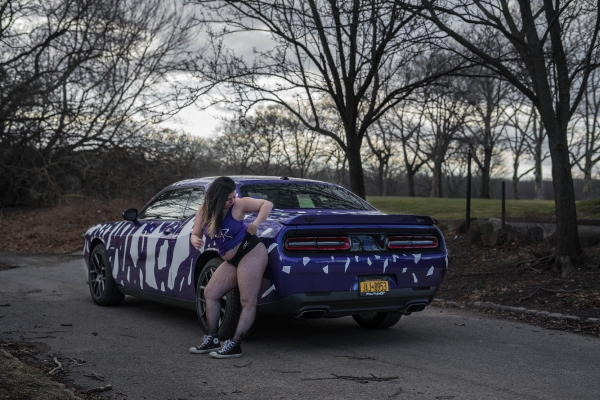 We tried to get Larissa to tell us who her favorite ShockerRacing Girl is, but her response was, " Honestly, I couldn't choose.  I think all of the ladies in SR are so gorgeous and unique.  I couldn't pick just one."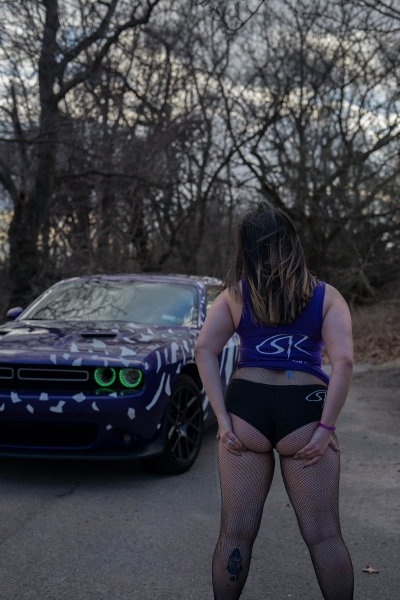 Ms. Lynne tells us her first car was a VW Cabrio and even though she plans to one day get a Camaro or Mustang, her true dream car is a 1967 Chevy Impala.  If she could travel anywhere in the world with her dream Impala, she would love to visit Hawaii.  She told us, " I haven't been able to travel much, but I hope one day I can visit Hawaii."
Larissa and Anthony chose to shoot near their home in Staten Island.  She said, "We were actually gonna do the shoot at a ratchet Friday event, but it got canceled.  I already had my outfit on so we just drove around and found this little spot.  We pulled over and got the shots before it down poured!"
Follow Larissa on Instagram - @vampirequeen816
Follow Anthony on Instagram - @alapreta.photos & @grimace_rt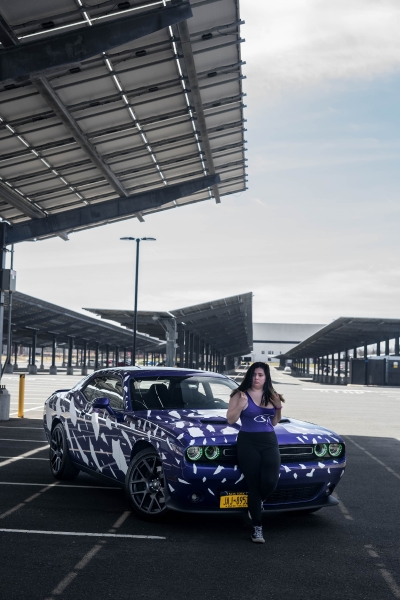 Follow ShockerRacing on our Social Media: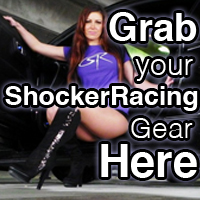 Instagram: @ShockerRacing
Twitter: @ShockerRacing1
Facebook: Facebook.com/ShockerRacing
YouTube: YouTube.com/ShockerRacing
Snapchat: @ShockerRacing
View the full photo shoot here
View the full photo shoot here
View the full photo shoot here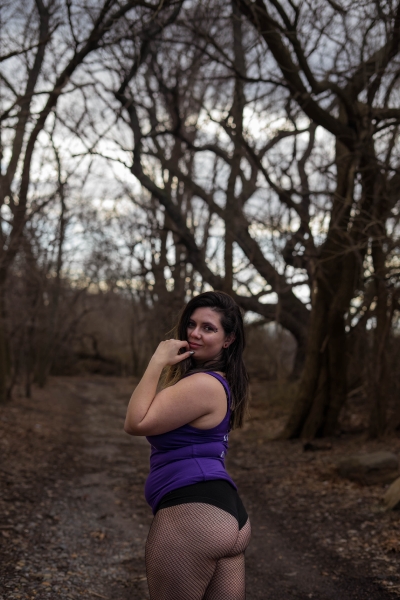 View the full photo shoot here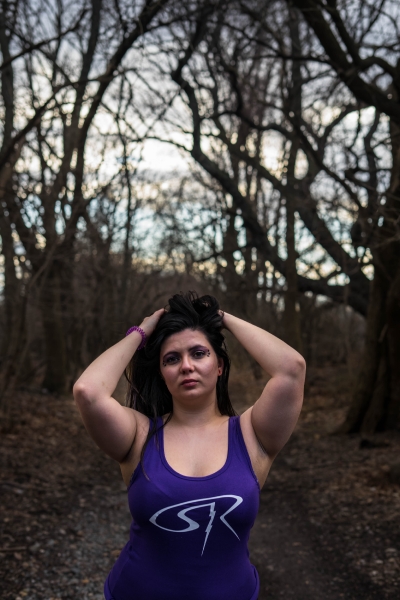 View the full photo shoot here
DON'T MISS - KRISTEN JOINS THE SHOCKERRACING GIRLS: