4th of July with Miracle Petree
Written by James Sunday, 30 June 2019 08:06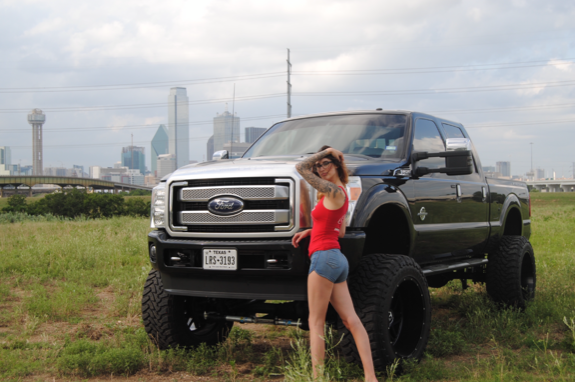 Miracle Petree is back with a new 4th of July themed photoshoot.  She rocked her ShockerRacing American Flag Boyshorts with a red Tank Top, and shot with a pair of American made trucks.  They headed to the Fabrication Yards in Dallas, a highly popular location for photoshoots in the DFW area.  After nailing some shots there, they headed to a newly built disc golf course that offers amazing views of the Dallas skyline.  Miracle had seen this location in the past and had planned to return to do a photoshoot, so this photo shoot was the perfect excuse to head back!
The black Dodge Ram belongs to Breanna Hancock, who was also the photographer for the shoot.  The Ram is a 2014 Dodge 1500 pickup.  It features a 7" Suspension with a 1.5" body lift kit.  The wheels are 20x12" wheels on 35" tires.  Breanna also added an RBP Grille and a set of Hionlumens Headlights.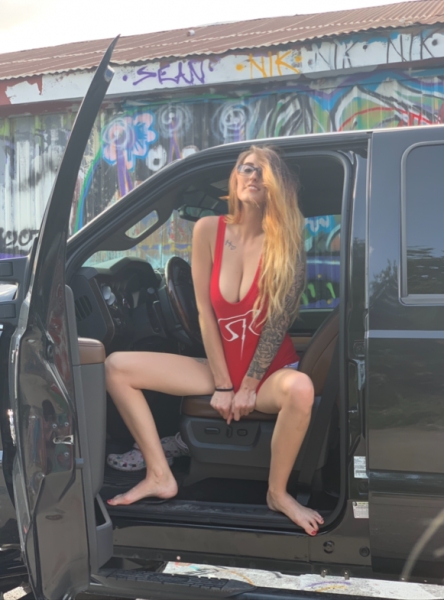 The second truck Miracle shot with is a 2014 Ford F250 Platinum owned by Cody Carr.  Miracle had met Cody at a truck meet in Wichita Falls not too long ago.  Cody's F250 is has an 8" Superlift suspension with an add a leaf in the rear.  It's rolling on a set of 24x14" Hostile Wheels with 40" Toyo Tires.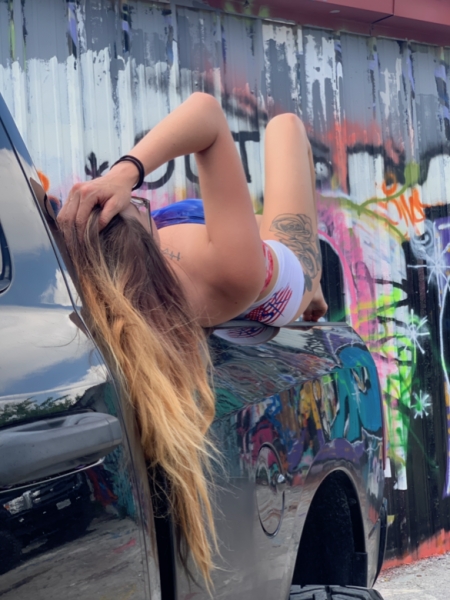 Miracle tells us, "While we were shooting in the Fabrication Yard. we got stopped by the Dallas police... only because they wanted to pet our dog!"  Ms. Petree loves doing automotive photo shoots and would love to make it out to SEMA for her dream shoot with some of the amazing rides.  You can catch Miracle out at the Heatwave car show in Austin on July 26-27th, so if you are at the event be sure to find her and say hello!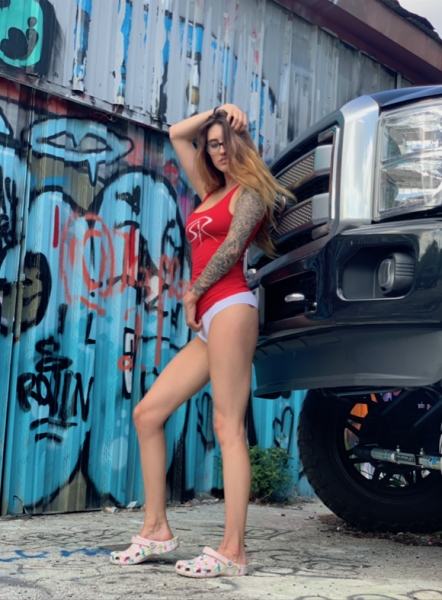 Catch Miracle and the crew on their social media: