Alexa Ciriano Joins The ShockerRacing Girls
Written by James Monday, 22 July 2019 13:43
How many ladies can say that their very first vehicle was a 1989 Nissan 300ZX Coupe?  Alexa Ciriano can, even though her 300ZX is from a completely different century than her!  The 18-year-old, Staten Island girl loves imports and more specifically Datsun's.  Ms. Ciriano tells us, "My Nissan is stock, for now, but I plan to do a motor swap soon!"  We asked her what mod she would choose if we offered to pay and she quickly chose a 2JZ Engine. That would certainly take her naturally aspirated Nissan to a whole new level.
More surprisingly than Alexa's love for automobiles that are two decades older than her, is her love of snakes!  Her IG name is @M6dusa aka Medusa stemming from her snake infatuation.  "I currently own one Python, but have had 4 throughout my life." Alexa explained.  She also tells us she loves to sew, "I am a great seamstress, I plan on making custom interiors for both my Nissan and my 1991 Chevy K1500."  Besides playing with snakes and sewing, Alexa spends her time working for Harley Davidson as a Motorclothes Girl.
Alexa is new to the automotive modeling scene as she has just recently begun freelance modeling with her car and her friends cars, but she is excited to branch out and get some more experience.  For her first ShockerRacing Girls feature, she chose to wear out Heart Logo Tank Top and Shorts to go with her red Nissan.
Be sure to follow Alexa and her photographer on Instagram:
Follow ShockerRacing on our Social Media: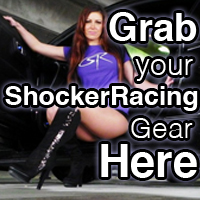 Instagram: @ShockerRacing
Twitter: @ShockerRacing1
Facebook: Facebook.com/ShockerRacing
YouTube: YouTube.com/ShockerRacing
Snapchat: @ShockerRacing
VIEW ALEXA'S FULL PHOTO GALLERY HERE
VIEW ALEXA'S FULL PHOTO GALLERY HERE