Sen.Cityy Takes on the Neon Gladiator
Written by James Monday, 07 October 2019 14:05
When Sarah, aka @Sen.Cityy announced her plans to head to Chicago for the Tuner Evolution car show, there was no doubt we needed to officially meet her and have her shoot with one of our Jeeps!  We had recently picked up our 2020 Jeep Gladiator JT (aka @NeonGladiatorJT) and had gone to work on making it one of the most unique Jeep Gladiators in the country.  Our goal was to get as much of this build completed within five weeks before Sarah made her appearance in Chicago.  We were scrambling to order the parts and plan time to install them all while planning details with our photographer Jonathan Salmi.  Hit the link to see all of the photos from the shoot as well as our video from shoot day!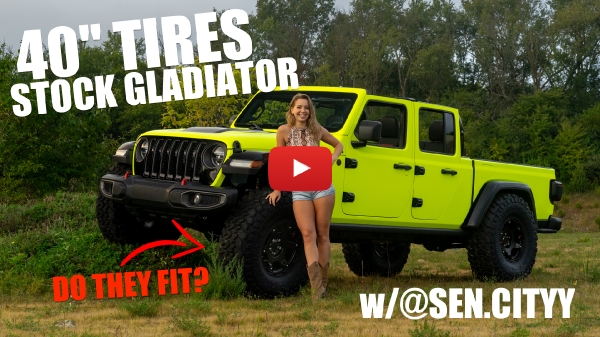 Our first goal was to complete the custom Neon Yellow Vinyl Wrap on the Gladiator.  This was a huge challenge for us as we have never wrapped an entire vehicle before, and a major part of this was also figuring out how to completely dismantle the brand new Jeep JT.  We spent a few nights with our friends, Corey and Will, completely stripping the truck down.  Then with the help of our friends James and Jon, we spent over 20 hours completing the wrap job.  Considering we are all new to this, the wrap turned out phenomenal.  The wrap alone set this Gladiator apart from the crowd, but we didn't want to stop there!
Next on the list was a quality set of wheels and tires.  This had to be a unique setup to further take the Neon Gladiator to the next level.  Teraflex had recently released their Nomad Wheels featuring  a rapid air down valve and rash ring to protect the lip of the wheels when wheeling.  This setup really grabbed our attention as the beautiful designed paired nicely with the unique functionality.  To top off the 17" wheels we chose a massive set of Nitto Trail Grapplers that measure 40" in diameter  I had hoped to get the lift kit installed before the shoot but it was on back order and delayed.  So I had to choose between shooting with the stock wheels or attempting to put 40" tires on a stock height Gladiator.  Of course I chose to try putting them on, and to my surprise they fit better than expected.  It was good enough to make them drivable, at least to make it a few miles to the photoshoot.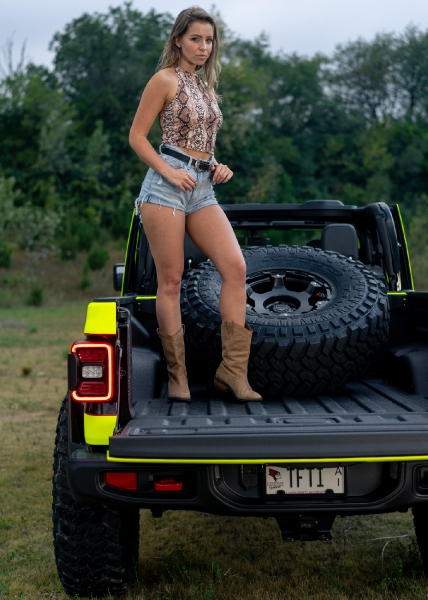 Sarah had scheduled us for a sunset time slot in hopes of catching a beautiful backdrop for the shoot, but the weather did not cooperate.  We ended up shooting in a nearby field where we could at least give the appearance of being "off road" because it was overcast and threatening to rain.  We were able to get some killer shots in before moving inside of our shop for some additional photos.
Make sure to check out our YouTube Channel for more Jeep Gladiator JT & Jeep Wrangler JL Content! www.youtube.com/shockerracing
Follow the crew: