Veronica Curiel Joins the ShockerRacing Girls
Written by James Friday, 18 October 2019 09:24
Meet Mrs. Veronica Curiel, 22, of Globe, AZ our newest ShockerRacing Model. She met up with popular Arizona photographer, Ricky Throttle and car owner Justin 'Dragon' for her first shoot and feature with SR. Veronica nailed some of our favorite car modeling poses with Justin's 2019 Velocity Blue Ford Mustang GT.  She chose one of our Grey Crop Tank Tops and paired it with some jean shorts to complete the look. We are so pumped to share these pics with you. Hit the link to see her full photoshoot and learn more about Mrs. Curiel: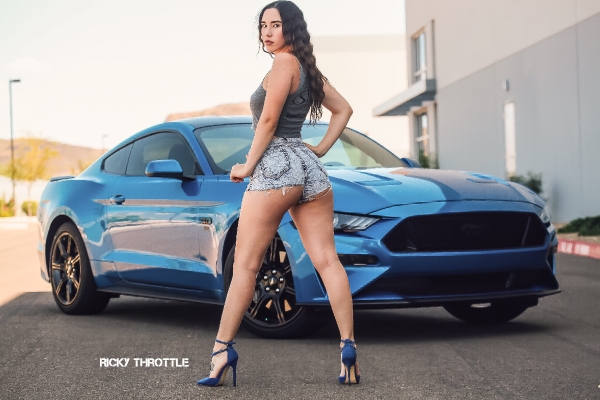 Veronica reached out to Ricky about working together for ShockerRacing. The two planned to meet at a loading dock in Phoenix, AZ to get some epic shots of Justin's S550 Mustang. Veronica told us that she was so excited to be able to create content in her ShockerRacing apparel! She said, "I also loved how professional Shocker Racing is, and the comfortable environment the team provides." We were so thankful to hear that, since we strive for professionalism around here.
As we got to know Veronica we learned she is not originally from Globe, AZ. She grew up in a small town called Sunizona, AZ. She moved after the passing of her father. Most of Veronica's modeling experience has been outside of the car scene and not our every day car enthusiast. She drives a reliable Chevy Malibu. However, she was not afraid to admit her dream car would be nothing other than a Lamborghini Aventador. We asked her where she would go if she could take her dream Lambo anywhere, and she tells us  "Rome, Spain, Paris, and a few other places in Europe". We don't blame her!
Veronica tells us she attended a few car meets with friends and loved it. She wanted to know what she could do to get into the scene some more. With tons of modeling experience like monthly photoshoots, runway projects, and even a music video. She reached out to Shocker Racing and we were happy to have her come aboard.

Get to know more about Veronica here:
SR: What got you interested in ShockerRacing?
V: I became interested in ShockerRacing when I first started modeling cars and came across the page, I love the atmosphere!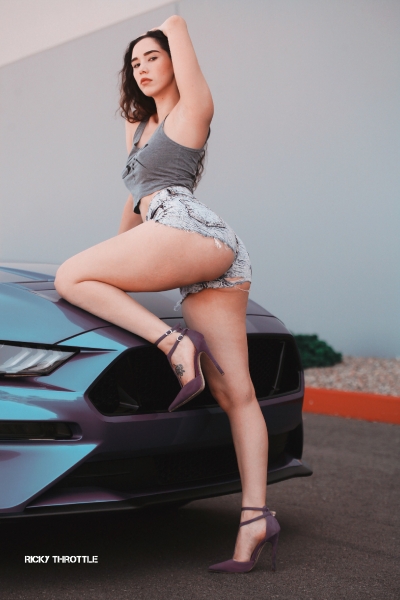 SR: Are you single?
V: I just got married September 7, 2019!

SR: What would an ex say is your best asset?
V: My personality!

SR: What is your biggest pet peeve?
V: People who don't have manners

SR: What nicknames do you have?
V: Boo, Vero, Ronnie

SR: What's your favorite food?
V: I loooooove chicken strips with ranch!

SR: What's your favorite Pizza topping?
V: Pepperoni and olives!

SR: Do you have any tattoos?
V: I have 6 tattoos, one is my dad's Initials PV for Pancho Villa on my right arm, he had his initials on his arm as well, I have an alien that I got with my brother on my wrist, a black cat with one orange eye and one green eye with flowers on my hip for my two cats that were siblings that I had for a long time and loved very much, I have a unalome and lotus on my sternum, a turtle with "sisters" on my foot that 5 out of 6 of my sisters got with me, and Cheshire the cat with "we're all mad here" on my left shoulder, because Alice in Wonderland is my all time favorite movie!

SR: Any fun facts about you that people don't already know?
V: I graduated with high honors from Le Cordon Bleu and have a degree in Culinary Arts! I also love snakes!

SR: Which of the Fast and Furious movies is your Fave?
V: Tokyo drift

SR: Are you a Paul Walker or a Vin Diesel kind of girl?
V: Vin Diesel

Follow The Team:
Model: Instagram- @Veronicaa_951
Photographer: Instagram- @rickythrottle
Car Owner: Instagram- @dragon_5.0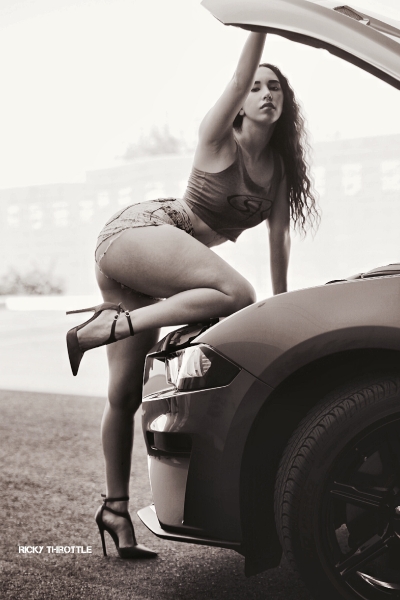 Follow ShockerRacing on our Social Media: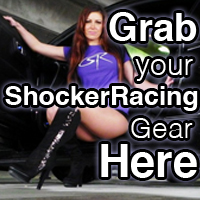 Instagram: @ShockerRacing
Twitter: @ShockerRacing1
Facebook: Facebook.com/ShockerRacing
YouTube: YouTube.com/ShockerRacing
Snapchat: @ShockerRacing
View Veronica's Full Photo Gallery Here