Cars and Coffee with Princess Angie
Written by Bex Russ Thursday, 24 October 2019 09:16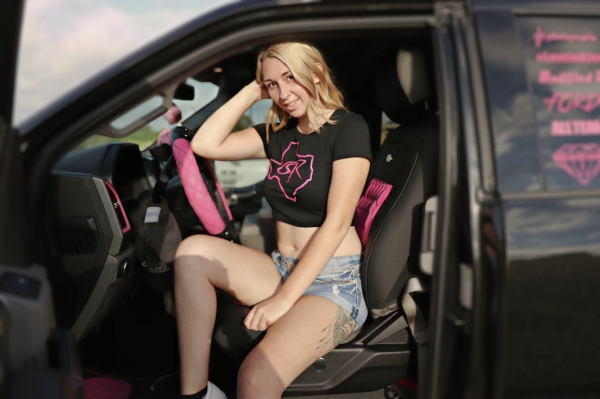 If you are a true ShockerRacing fan you know Angie is no stranger to our website or social media pages. Angie always has some killer images for us to share. She loves showing off her black 2015 F150 that features unique custom pink accents or sometimes other incredible truck builds from the big state of Texas!  This time she stuck with shooting her own truck during a local Cars & Coffee event!
Hit the link to see the full photo shoot: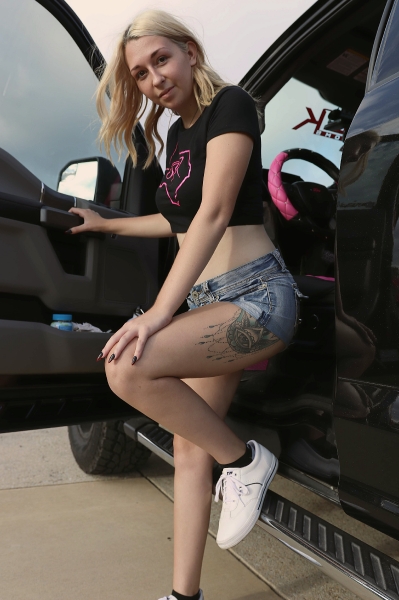 Recently Angie represented Shocker Racing at 'Cars and Coffee, Southlake'. Showing off her custom Texas State Shocker Racing Crop Top with her beast of a truck. Check out the recent modifications she had Xclusive Truck Customs do to her beauty.
Mods List:
4.5" Fiberwerx Fenders

35x12.5 Toyo Open Country ATs

18x9 Toxic Offroad Wheels
2" leveling kit

Go Rhino bullbar

CJ Pony Parts grille with custom pink crown from Main Event Emblems

Zone offroad shocks
Angie tells us, "My favorite part of my truck is my fenders and bumper. The wide body with the bumper pull it all together and really make the front end aggressive." We couldn't agree more!
Angie worked with friend and photographer Cas known as @dark_392 on Instagram. Angie has known Cas since 2017. When they met in a car club. Cas owns a 392 Dodge charger and he was one of Angie's first car shoots ever!
Cas had a brand new lens to test for the event. We are so excited he got these awesome shots of Angie during the event. Angie told us they walked around checking out the amazing vehicles at the event and took some candid shots for us to share. We love them!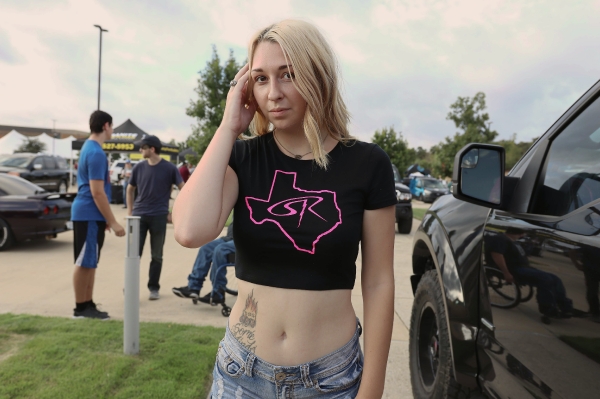 If you are a car enthusiast you know a thing or two about Cars and Coffee. Typically C&C meets are held monthly by various towns. This Cars and Coffee is a monthly meet held in Southlake, Texas at 8am-10am . Angie told us she used an ap called Park Up Front (@parkupfront) to find meets for car enthusiasts locally to her. "You download the app and literally create a garage. It's super neat! Then you can plug in your location and find meets near you. I go every month and get to park up next to my other truck friends. We roll out to meets almost every weekend." Angie tells us, "Afterwards we always grab a bite to eat and have a good time." We love to hear that!
Catch Angie at her next event Import Face Off in Ennis, TX on November 3rd. Which, if you know Angie, this is her favorite event of the year. She's won a few awards there like 2017 Best Domestic Truck and 2019 Best Female Build. We are excited to what she brings home this year.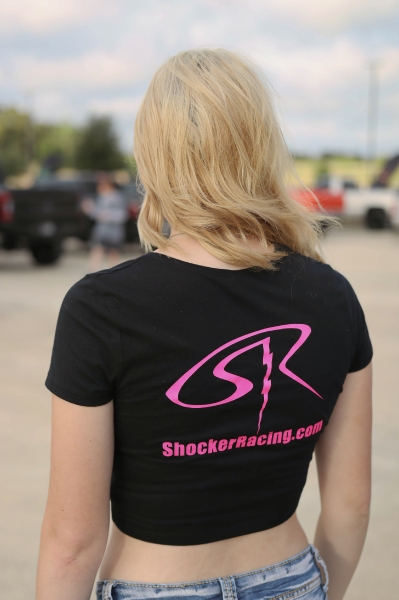 If you would like more information on how to become a Shocker Racing model. Please email us why you should be apart of the team at  This e-mail address is being protected from spambots. You need JavaScript enabled to view it .
Follow the Crew
Model: Instagram- @iammtheprincess
Photographer: Instagram- @dark_392
Event: Instagram- @carsandcoffeesouthlake
Ap Mentioned: Instagram- @parkupfront
DON'T MISS ANGIE'S FULL PHOTO GALLERY HERE