Mackenzie Funk Joins the ShockerRacing Girls
Written by James Tuesday, 05 November 2019 10:16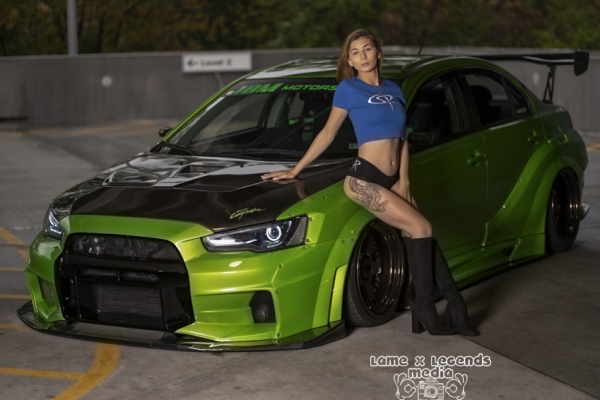 At age 20 Mrs. Mackenzie Funk from Norfolk, VA jumps into car modeling for the first time. We are excited she wanted to work with us because this young lady is reaching for the stars. As a US Navy Operation Specialist Mackenzie holds the discipline to handle the hard and difficult road of the car modeling industry. Keep reading to learn more about our newest model and see her full photo shoot: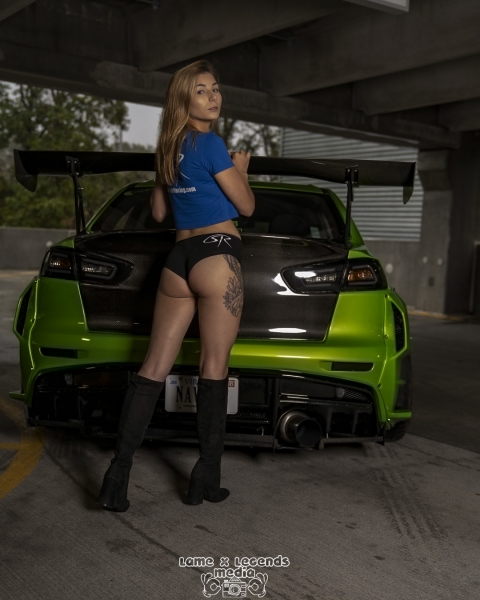 Originally from Bremen, Georgia, Mackenzie moved to Norfolk for the military. She became fascinated by the car scene with her husband. "My husband actually has a 1991 Nissan Skyline GTS-T and it's a beauty," Mackenzie tells us. The pair attend events together and Mackenzie emerged herself into the car scene. When her husband had an opportunity to have his car photographed he encouraged Mackenzie to bring a few outfits and pose with his car. We are grateful for her husbands support, Mackenzie is quickly becoming a great model!
Mackenzie met popular car photographer EJ from Hampton, VA for her first ShockerRacing Shoot. She meet him through JBM Motorsports Car Group, as well as the car owner, Olman Navarro from Virginia Beach. Mackenzie tells us, "I love Evos and his car caught my eye. I absolutely had to shoot with it." Mackenzie posed with the car at a parking garage in Norfolk. You can see her personality in her work and does her best in front of the camera. We asked Mackenzie what her favorite part of the shoot was and she told us "The excitement of finally being able to shoot in the famous ShockerRacing Gear. As well as, Nava's car for the time ever!" We share the excitement here with Mackenzie and look forward to her next shoot!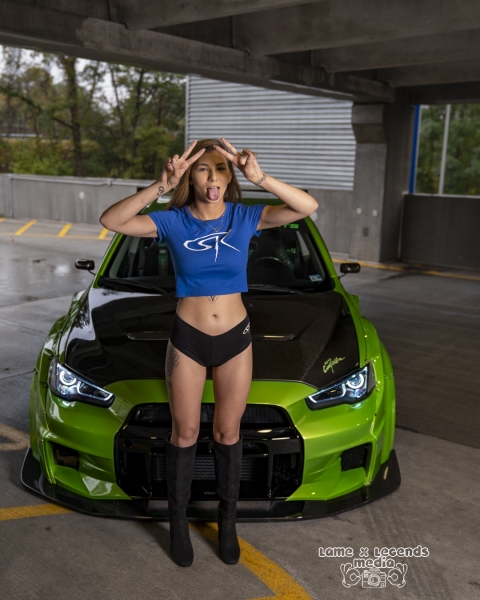 For those of you eager to know the interesting modifications done to the car. We have the modification list here:
Varis V3 Widebody Kit, ETS Upper Intercooler pipe powder coat in line green,  APR GTC 300 (67 inch) wing, Carbon Fiber trunk duckbill Custom funk setup, Airlift suspension 3P, Lower arm controls, Vland audio style headlights upgrade with G5-R Bixenon Projectors and color changing demon eyes, Seibon carbon fiber hood, Tomikas exhaust including test pipe, Varis smoked black LED tail lights, APR formula 3 carbon fiber mirrors, Work wheels Meister 3 piece,NRG harness bar, Takata Drift III Harness - INJECTORS 1200, Cams, ETS downpipes, and a carbon fiber steering wheel.
Get to know more about Mackenzie here:
SR: What got you interested in ShockerRacing??
MF: The positivity and community for the car scene and models is amazing!
SR: Who is your favorite previous ShockerRacing Girl, and why??
MF: Sarah aka @Sen.cityy! She is one of my biggest inspirations and always spreads positivity and happiness to her followers.  I want to be able to go from event to event like her and meet fans and sell merch.
SR: What do you drive??
MF: 2018 Nissan Sentra S Midnight Edition
SR: If ShockerRacing was going to pay for any mod to your car, what should you choose?
MF: I don't plan to mod out my car, but if I did I would put tint and bags or coil-overs.
SR: What was your first car??
MF: 2003 Mitsubishi Eclipse
SR: What is your dream car??
MF: Porsche 911
SR: If you could travel with your dream car anywhere in the world, where would you go?
MF: I would go to Japan for sure!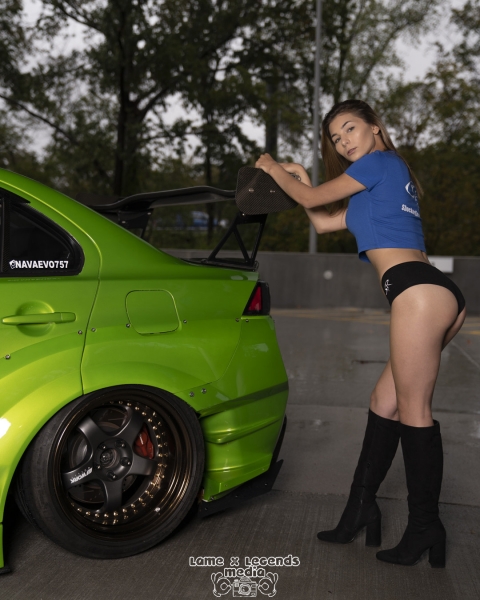 SR: Which Fast and Furious film is your fave?
MF: Tokyo Drift of course!
SR: Are you a Paul Walker or a Vin Diesel kind of girl??
MF: Honestly Vin Diesel!
SR: What is your favorite automotive event of the year??
MF: TunerEvo!
SR: What would an ex say is your best asset?
MF: My bottom?
SR: What is your biggest pet peeve?
MF: When people smack their food.
SR: What nicknames do you have?
MF: KandyKenz, Kenzie, Mack, Big Mack, Turtle.
SR: What's your favorite food?
MF: I love crab.
SR: What's your favorite Pizza topping?
MF: Cheese, cheese and more cheese!
SR: Do you have any tattoos? If so, please tell us about them.
MF: Yes, I have 4! There is a hear on my right wrist that is a family tattoo that the females on my dads side all have.  We got it for my Aunt Gena who passed away on her motorcycle. It means "I have your heart and you have mine." I also have the word "Ohana" on my left wrist and it's from the movie Lilo and Stitch. It's my favorite childhood movie and it means "Family and family means no one gets left behind or forgotten."  Being in the military this means a lot to me because no matter how far away I am I know I will always have my family by my side. I have another tat on my stomach area that I drew when I was 13.  It's a rose with a diamond around it, I put it in the middle of my body because I love art, drawing, painting, singing, dancing, and it's my core so it is in the middle of my body.  The last one is a dragon piece on my right hip, this dragon resembles everything I have been through and overcame.  I may be young been I have been through a lot, my dad always called me his little dragon and said it was because I was fierce, brave, and can overcome anything life throws at me.
Follow The Crew…
Model Mackenzie: IG - @kandy.kenz FB - Mackenzie Funk Twitter- @kandy_kenz
Photographer: IG - @lame_legend_md
Car Owner: IG - @navaevo757
JBM Motorsports: IG - @jbm_motor_sports
Follow ShockerRacing on our Social Media: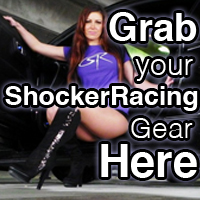 Instagram: @ShockerRacing
Twitter: @ShockerRacing1
Facebook: Facebook.com/ShockerRacing
YouTube: YouTube.com/ShockerRacing
Snapchat: @ShockerRacing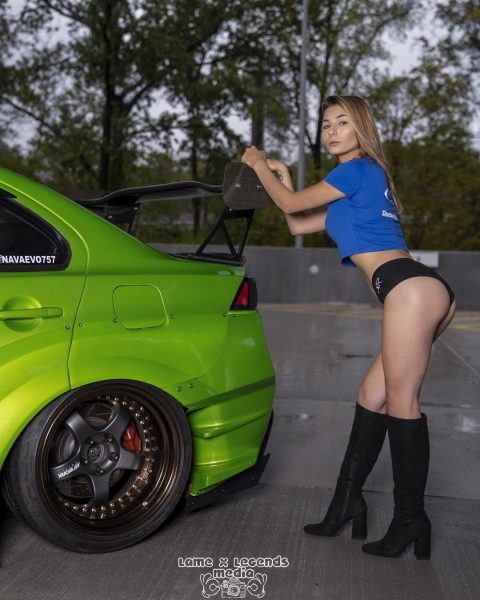 SEE MACKENZIE'S FULL PHOTO GALLERY HERE