Alexandra Stone Is Back with a Salute to our Veterans
Written by James Monday, 11 November 2019 13:15
Alexandra Stone is back with a new photo shoot and this time she is celebrating and saluting our troops! This time Alex ordered up a custom pair of camouflage ShockerRacing Boyshorts to match her custom wrapped Mustang.  You will notice that the wrap on her Stang is military themed and is a salute to the Lutz Live To Tell Foundation that supports military and first responders.  The organizations mission is to improve the lives of these military and first responders with supportive services, access to local resources, and building community.  Check out their website for more details, and in the meantime hit the link to see the rest of Alex's photo shoot:
Here at ShockerRacing we are proud to be from America, and support our troops 100 percent!  Today and everyday we want to give thanks to everyone who has served or is serving our country to keep America free.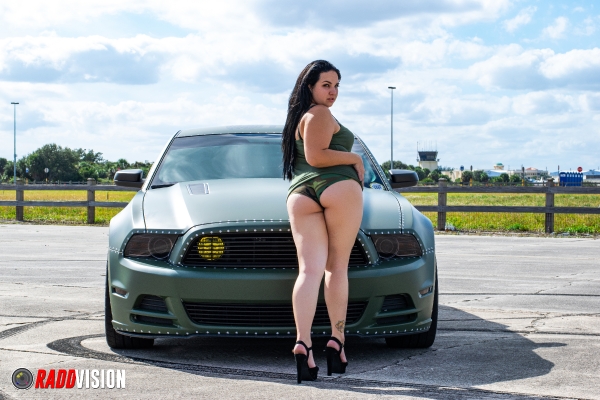 Besides the amazing wrap, Alex's 2013 Ford Mustang GT 5.0 features the following mods; MGW race spec short throw shifter, Boss 302 intake, BBK 85mm throttle body, JLT cold air intake, BBK long tube headers, BBK X-pipe, Roush exhaust, JLT oil catch can, H&R lowering springs.  She added a Modern billet black retro grill.  The front wheels are 20x9.5 and Rears are 20x10 which she swaps for Rohanna RC22 staggered set with Mickey Thomson street comp tires.  The fronts tires are 275/35/20 and rears are 305/35/20. Tuning is done with an SCT X4 tuner and uses a Palm beach dyno performance tune and made 440rwhp and 400rwtq.
Alex tells us her dream photo and something she has never done is to shoot in the snow.  She says, "I would love to do something with a frozen twist." We would imagine there aren't many opportunities to shoot in the snow down in southern Florida!
You can find Alexandra and her Mustang out at the Cars and Coffee Palm Beach events each month at the Palm Beach Outlets.
Follow Alexandra on Instagram - @DoYouEvenCam
Follow her photographer on Instagram - @RaddVision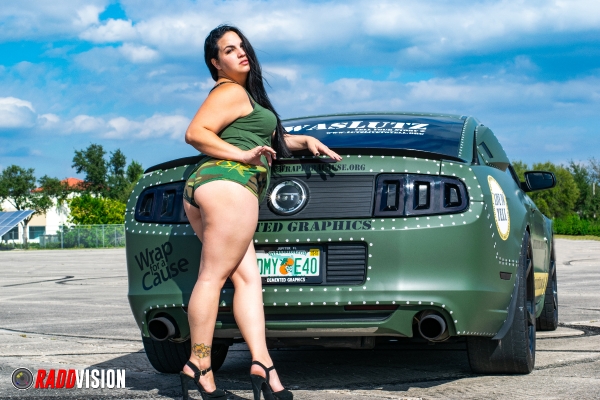 VIEW ALEXANDRA'S FULL PHOTO GALLERY HERE