Atriana Joins the ShockerRacing Girls
Written by James Thursday, 14 November 2019 10:42
If your father races Ferrari's while you are growing up, there is a very high likelihood that you will have an appreciation for automobiles later in life.  For Atriana, this has proven true as she was always around amazing cars during her childhood while her father was racing them!  They spent time racing at Road Atlanta and Gingerman Racetrack in Michigan.  The five-foot-two, 20 year old college student was born in Michigan but moved around while she was growing up.  Atriana is currently attending school at Oklahoma State University where she is double majoring in Marketing and Management.  For her ShockerRacing debut, Atriana shot with Breanna aka @Q.Bee15's 2015 Bagged Ecoboost Mustang.  Hit the link to see Atriana's full photo shoot:
Atriana has a custom Matte Army Green wrapped Ecoboost Mustang of her own, but decided to shoot with her friend Breanna's Mustang this time.  Atriana's Stang currently features an intake, straight pipe, and tune but she will be installing an intercooler and catless downpipes in December. She tells us, "If ShockerRacing was going to pay for any one mod to my Mustang, I would definitely want air suspension!" The poor car was recently hit by a bus that ran a red light, but she wasted no time getting the damage fixed back up. It is just waiting on having the wrap replaced on the section of the car that was damaged.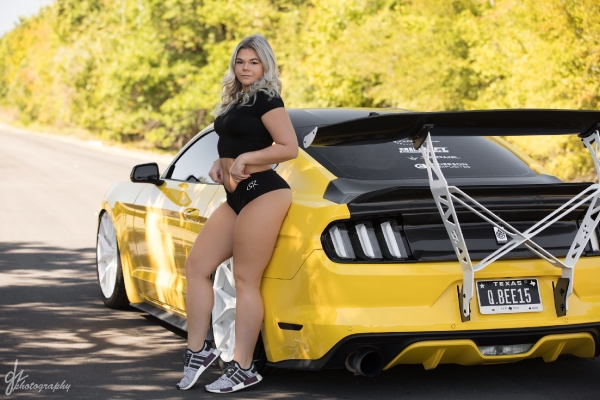 A few years back, Atriana moved to Texas and got more involved in the Dallas car scene.  This is where she met Breanna and the photographer Dylan aka @dgzphotography.  For her shoot she chose to wear a pair of our famous ShockerRacing Boyshorts to match perfectly with with the yellow and black theme of Breanna's Stang.  The three of them found a random park on Lake Grapevine in Texas to use as the backdrop for the shoot.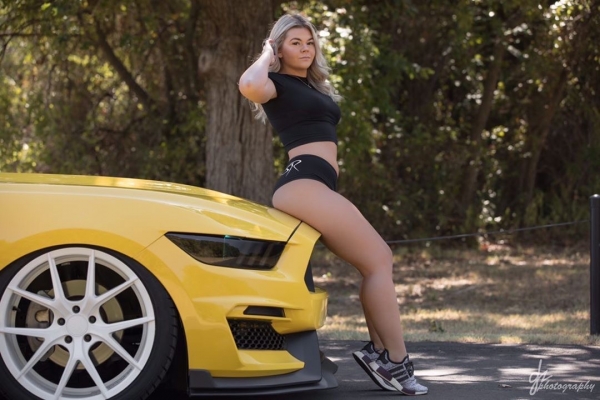 Keep reading for the rest of Atriana's interview: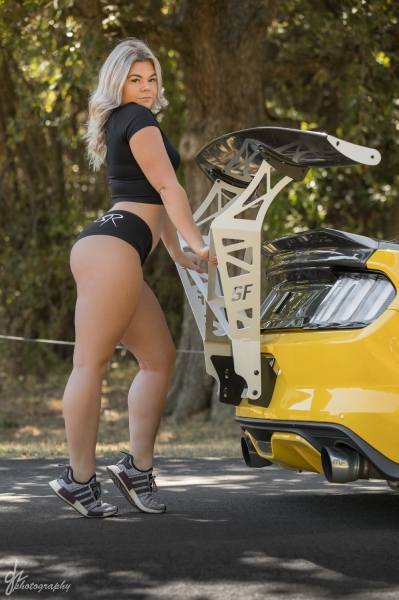 SR: What was your first car?
A: It was a dark blue 2002 Chevy Tahoe
SR: What is your dream car?
A: My dream car is a Ferrari LaFerrari!
SR: If you could travel with your dream LaFerrari, where would you go?
A: I would go to Monaco, Italy and go to the Circuit De Monaco.
SR: What is your favorite automotive event of the year?
A: I love TX2K in Houston.
SR: What modeling experience do you have?
A: I have been modeling with car for about 3 years now.  It all started back when I got my Mustang.
SR: Who is your favorite ShockerRacing Girl?
A: My favorite SR Girl has to be Sarah(@sen.cityy).  She is naturally pretty and genuine to her followers.  She also supports other car models on instagram, including me.  I think we need more girls in the car scene who support each other like Sarah does.
SR: What would an ex say is your best asset?
A: They would probably say that I am goofy and love to make people laugh.
SR: Do you have any tattoos?
A: I have one on my rib cage.  It is in honor of my mom who recently passed away from brain and lung cancer.  The tattoo is her favorite flower, the Bird of Paradise.  The tattoo also has the song lyrics from a song she picked for me when I was born, "may you never take one single breath for granted," in her handwriting.
SR: Leave us with two fun facts about yourself.
A: I have broken over 12 bones in my body because I am clumsy, and I plan to move to South Beach in Miami after college.
Follow the crew on social media:
Model - IG: @Trini_2.3
Photographer - IG: @dgzphotography
Car Owner - IG: @q.bee15
Follow ShockerRacing on our Social Media: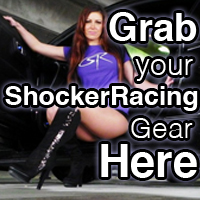 Instagram: @ShockerRacing
Twitter: @ShockerRacing1
Facebook: Facebook.com/ShockerRacing
YouTube: YouTube.com/ShockerRacing
Snapchat: @ShockerRacing
DON'T MISS - RACHEL WILLIAMS JOINS THE SR GIRLS - CLICK BELOW: