Saturday Shorty with Lana Evseeva
Written by James Wednesday, 27 November 2019 13:21
It's been a few months since Lana first graced our website with a photo shoot. We are super excited to see her back and again with her own Mustang! ShockerRacing appreciates models who keep up with their status as an Official SR Model. The support goes a long way, and doesn't go unnoticed. Some of those lucky supportive ladies find their way in our famous calendar. We wouldn't be surprised if Lana finds her way to the top of that calendar voting list with her amazing support and drive to work with ShockerRacing.

Lana's recent shoot was a double hitter. Where she showed off her Grey Mustang. With Vis Racing Carbon Fiber Terminator hood, Carbon Fiber interior, Borla ATAk catback exhaust, Pypes Exhaust Xpipe,  Raxiom s550 style headlights, SR performance lowering springs 1.5" , Maximum Motorsport Camber Plates,  BBK cold air intake, MMD design rear window louver. She also shot with her Photographer Austin Akins' Red Mustang. His Stang features a Mac Axle back exhaust, Cervinis Cobra R Hood, Shelby KR suspension, Agent 47 Mirrors, American Muscle GT40 wheels on NItto 555 G2 tires, Ford Racing strut bar, Moroso polished coolant overflow and power steering reservoirs, CDC chin spoiler, Raxiom tinted taillights.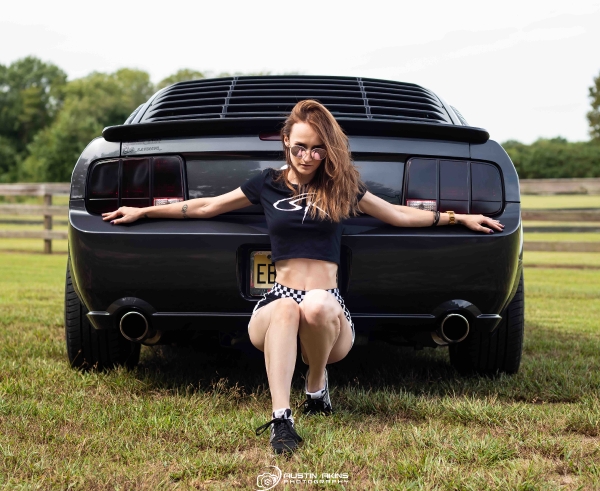 Lana met Austin at a tattoo car show in her home town. The two have been attending events together ever since. They wanted to show off their 'Twin Mustangs' with a significant shoot for ShockerRacing. So, Lana with her signature Shocker Racing Crop Top and Booty Shorts shot with Austin at the Assunpink Wildlife Reserve. Lana tells us, "Originally it supposed to be in a more industrial area, but just because it was middle of the week, it was packed so we had to choose what was available. This area is quiet so it allowed us to work at our own pace. Not hurrying anywhere which helped us to create new awesome shots." We couldn't agree more.
Lana told us she had a blast shooting with Austin. We can tell, these images are fire! "We always have fun while shooting. We always laugh, joke around and I always make silly faces when I think Austin is done taking pics. So, we always have silly candid photos," Lana exclaimed. We are excited to share some too for our new features on Saturday called 'Smile Saturdays'. Maybe Lana will give us more at her dream shoot location in Death Valley?

Catch Lana at her next event in New Jersey at the Elite Tuner season closer at Atco Dagway, NJ in November. If you would like more information on how to become a Shocker Racing model. Please email us why you should be apart of the team at   This e-mail address is being protected from spambots. You need JavaScript enabled to view it .

Follow The Crew: