Mopar Model aka Nicole Lynn
Written by James Thursday, 02 January 2020 15:26
"I'll pose with any car, but I smile my prettiest smile for a Mopar," is the description on Nicole Lynn's Instagram page.  The five-foot-eight inch tall blonde is obsessed with Mopars so it's not surprising that her Insta name is @MoparModel.  For her introduction to ShockerRacing Nicole knew she needing an epic car to shoot with and of course it needed to be a Mopar.  She paired up with "Mopar Jim" who provided the beautiful "Black Magic" Dodge Charger for the shoot.
Hit the link to see the full shoot and get to know Nicole Lynn: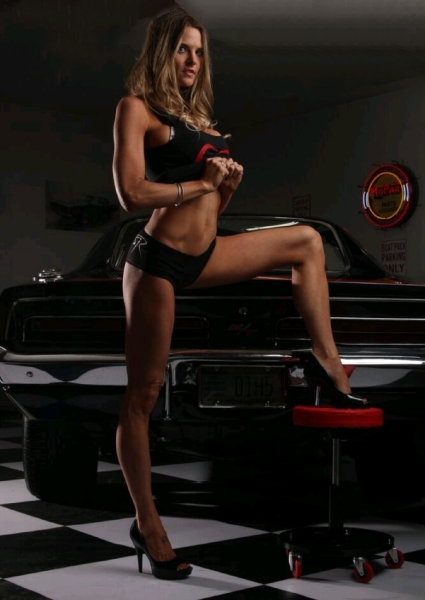 Nicole currently drives her dream vehicle; a 2015 Jeep Wrangler JK Unlimited.  She picked up Scarlet about a year ago, and it was love at first sight.  She was up late one night, searching for Jeeps on Craigslist and found this red lift JKU.  The next morning she drove to the dealership and took her home as her birthday present! Since purchasing it, she has added a set of Fuel Assault wheels to top off the already amazing build.  "I love practicing Yoga on Scarlet's awesome winch bar, and we have done numerous sexy shoots together! I don't know who is hottest sometimes," Nicole tells us, "we definitely get lots of compliments when we are out and about together."
"I think ShockerRacing is a great platform to get car models out there in the spotlight, I love how SR supports the ladies," Nicole was excited to explain about ShockerRacing. "I was excited to order my SR apparel, and was super happy when the material was soft, comfy, and fit me perfectly."
We asked Nicole what mod she would most like for her Jeep and she informed us that her Jeep doesn't have a garage so that would be her #1 choice but otherwise she would love to get a soft top for her JK.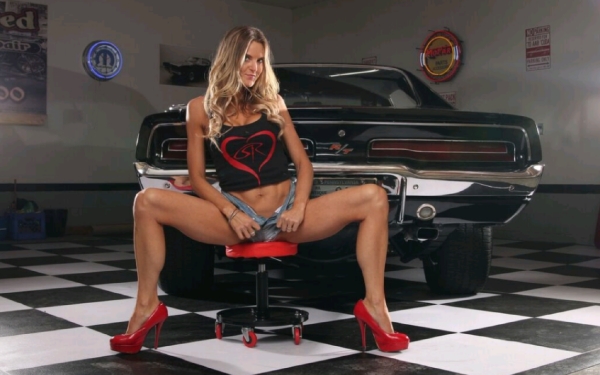 Nicole has an interesting story about how she got involved in automotive modeling...  It started a little while back when she was sad about not being able to attend the Daisy Duke contest at the Carlisle Chrysler Nationals.  She decided to contact Raymond Kohn, a stuntman for the Northeast Ohio Dukes, and confidently explained, "I can rock a pair of Daisy Dukes like no other, can I please pose with your General Lee?" From there they created hotness at her Day With The Dukes photoshoot.  This was Nicole's dream shoot as The Dukes of Hazzard was her favorite show growing up and Daisy Duke is her alter ego.
Being a dancer and a performer, Nicole has plenty of experience in front of a camera.  She is very natural, loves to try different poses, and bring in a bit of her dance moves to her shoots.  Nicole has a costume shop closet full of hot car modeling outfits, and loves to incorporate them in different ways.  "My goal is to pose with as many hot Mopars as I possibly can," Nicole exclaimed.
Check out Nicole Lynn's interview below:
SR: What other modeling experience or features have you had?
Nicole: I was on the cover of Gauge Magazine in April.  It was a bucket list thing for me to be a cover model.  It was a very long drive to get to the car and the photographer, and then back home in one day and I was so cold by the end of the shoot, but it was all worth it when the feature was released!
SR: What would an ex say is your best asset?
Nicole: An ex would say my legs, and the booty that's attached to them! LEGendary!
SR: What is your biggest pet peeve?
Nicole: Don't try talking to me while I'm lifting at the gym! I will engage in conversation anytime... but not when my earbuds are in and I'm playing my booty playlist while working on my fitness!
SR: What is your favorite food?
Nicole: Anything Mexican, especially Jalepenos!
SR: What is your favorite pizza topping?
Nicole: I rarely eat pizza, as I eat pretty clean to maintain the perfect body, but this girls does love her veggies... even on pizza!
SR: If you could take your Jeep anywhere in the world, where would you go?
Nicole: I would take Scarlet out west. It would be perfect for some awesome photoshoots with some amazing rocks and backdrops.  I have never been, but would love to!  We would also hit the beach since I don't have any beachy pics with Scarlet.
SR: Do you have any tattoos?
Nicole: I have 3 small tats.  A lucky ladybug on my back, a dance symbol on my foot, and a bike tatoo on my ribs.
SR: How do you know your photographer?
Nicole: Biff and I connected on Model Mayhem.  We did a couple of studio shoots togeter this fall... socks and smoke to name a few sets.  I knew Biff was THE photographer to ask to photograph me for the 3 Mopar shoot.  The cars were amazing, my outfits were perfectly planned, I just needed and equally amazing photographer!
SR: Leave us with your favorite quote.
Nicole: "Life isn't about waiting for the storm to pass, it's about learning to dance in the rain."
Check out Nicole Lynn on her Instagram page - @MoparModel and message her to set up a shoot at one of her upcoming events she will be attending. She will also be selling calendars and posters at each event:
Slamology Indianapolis - June 13-14
Chrysler Nationals Carlisle - July 10-12
Mopar Nationals Columbus - August 9-11
Woodward Dream Cruise - August 15-16
Follow ShockerRacing on our Social Media: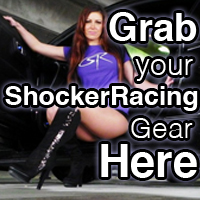 Instagram: @ShockerRacing
Twitter: @ShockerRacing1
Facebook: Facebook.com/ShockerRacing
YouTube: YouTube.com/ShockerRacing
Snapchat: @ShockerRacing
SEE NICOLE'S FULL PHOTO GALLERY HERE
SEE NICOLE'S FULL PHOTO GALLERY HERE
NEW PICS BY HUBBY SHOT IT - ADDED 1/7/20:
SEE NICOLE'S FULL PHOTO GALLERY HERE
SEE NICOLE'S FULL PHOTO GALLERY HERE
SEE NICOLE'S FULL PHOTO GALLERY HERE
SEE NICOLE'S FULL PHOTO GALLERY HERE
SEE NICOLE'S FULL PHOTO GALLERY HERE
SEE NICOLE'S FULL PHOTO GALLERY HERE
SEE NICOLE'S FULL PHOTO GALLERY HERE
DON'T MISS - KAILEY JOINS THE SHOCKERRACING GIRLS: