Porscha Peterson Joins the ShockerRacing Girls
Written by James Saturday, 01 February 2020 09:33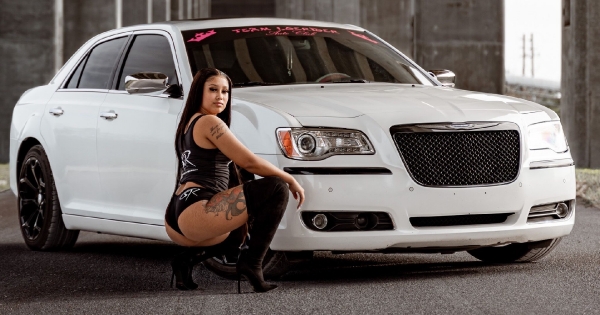 This week happens to mark the 19th birthday for our latest ShockerRacing Girl, and we are lucky enough to introduce Porscha Peterson to the SR fam in celebration.  Porscha was born and raised in Jacksonville, Florida where she currently works at two daycares.  Ms. Peterson currently drives a 2013 Chrysler 300C with the 5.7 Hemi that she calls Jasmine.  "I got involved in the car scene because my whole family is OBSESSED with cars," Porscha explained, "They add all types of mods to them and since then I fell in love."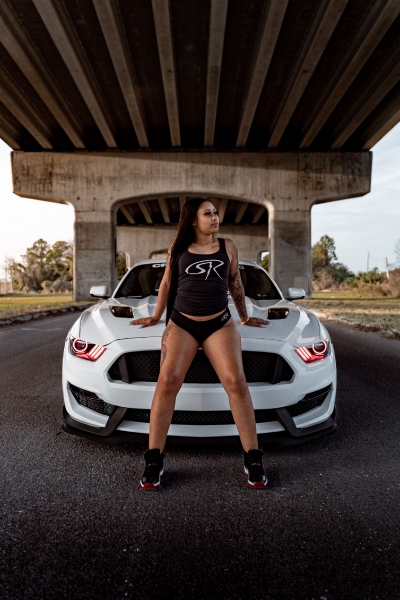 For her introduction to ShockerRacing, Porscha wanted to shoot with her own ride but she also took the opportunity to get some pics with a handful of other amazing cars.  This included a Dodge Challenger, Infinity, and a Ford Mustang. Porsche tells us she would really like a set of coilovers for her 300C, that would be her mod of choice if we were buying!
"The first time I heard of ShockerRacing, I knew I had to be a ShockerRacing Girl," Porscha exclaimed, "They are all very beautiful, and damn good models." We asked her who her favorite SR Girl is and told us she just couldn't choose!  Porscha's favorite automotive event of the year is called "Girl Power".  "I really don't see many female driven cars that are modded, so it's nice going to a show where there's only girl cars," Porscha tells us.
Porscha explained that this shoot was done under the Dames Point Bridge, and her favorite part of the shoot was the bloopers.  "I was doing crazy poses and everybody was laughing and having a good time!"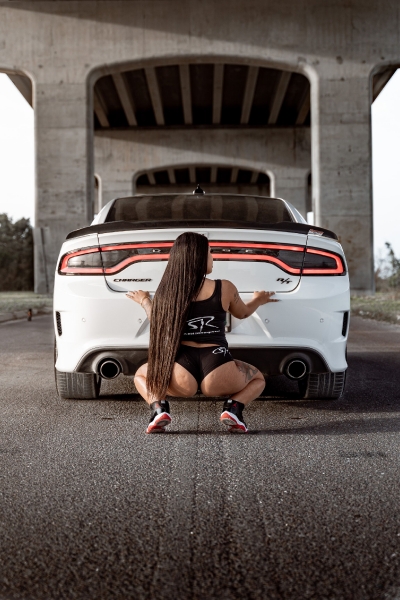 Don't miss the rest of Porscha's Interview below:
SR: What was your first car?
Porscha: I had a Dodge Avenger.
SR: What is your dream car?
Porscha: A Porsche of course!
SR: If you could take your dream Porsche and travel anywhere in the world, where would you go?
Porscha: I would love to go to Paris.
SR: Do you have any previous modeling experience?
Porscha: This was my first time ever!
SR: What would an ex say is you best asset?
Porscha: My ex would say my heart, I care alot... I am a very loving person and I'll always be there for anybody that needs me.
SR: What is your biggest pet peeve?
Porscha: Someone who lies, especially when I already know the truth.
SR: Do you have any nicknames?
Porscha: I go by Mook or P.
SR: What is your favorite food?
Porscha: Seafood especially Oysters.
SR: What is your favorite pizza topping?
Porscha: Pepperoni of course!
SR: Do have any tattoos?
Porscha: I actually have 7 tattoos; a rose on my foot, a heart on my hip, a mermaid on the side of my thigh, my moms name on my chest, the Lupus sign with my cousins name on my back because she passed away from Lupus, a quote for my other cousin that passed away, and I have a sleeve.
Follow the crew on social media:
Follow ShockerRacing on our Social Media: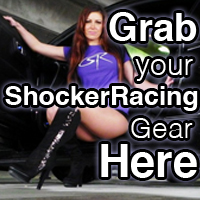 Instagram: @ShockerRacing
Twitter: @ShockerRacing1
Facebook: Facebook.com/ShockerRacing
YouTube: YouTube.com/ShockerRacing
Snapchat: @ShockerRacing
VIEW PORSCHA'S FULL PHOTO GALLERY HERE

VIEW PORSCHA'S FULL PHOTO GALLERY HERE
VIEW PORSCHA'S FULL PHOTO GALLERY HERE
VIEW PORSCHA'S FULL PHOTO GALLERY HERE
DON'T MISS - MEG JORDAN JOINS THE SHOCKERRACING GIRLS - CLICK BELOW: