Payton Conlon Joins the ShockerRacing Girls
Written by James Anderson Friday, 21 February 2020 08:25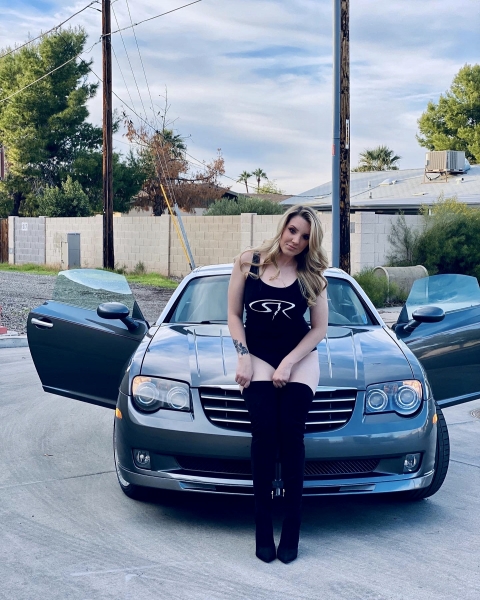 As we introduce Payton Conlon to the ShockerRacing family, another first to our site is happening. The 22 year old drives a 2005 Chrysler Crossfire SRT6 and wanted her first feature to include her baby. "I've wanted one since I was 8 years old! I am so grateful to be able to own my dream car now," Payton exclaimed when we asked her what her dream vehicle would be. We have never featured a Chrysler Crossfire, let alone an SRT6 version with the 330 horsepower blown V6 engine. I always had a thing for these Crossfires as my girlfriend at the time(the future Mrs. ShockerRacing) owned a Mercedes C230 Coupe. The Crossfire SRT6 seemed like the Steroid bound older brother to the C230 Coupe packing an additional 100 horspower in a very similiar package.
Hit the link to see Payton's full photoshoot and get to know more about her.
 
 
Ms. Conlon was born and raised in the Phoenix Arizona area. Her first car was actually a pickup truck she nicknamed Master Chief. It was a 2001 Chevy Silverado that was a white single cab truck. Payton told us, "Unfortunately, I was being deployed with the Army for a year and I couldn't have Master Chief sitting so I decided it would be best for someone else to take care of him." After she returned it was time to find her dream Crossfire. Once she found the SRT6 she nicknamed it Medusa. She recently added a set of dual K&N Intakes to Medusa to help it breathe better. "If ShockerRacing offered to buy me a mod for Medusa, I would love to change the exhaust system to one from NeedsWings Performance. It's $799 and it sounds naaaasty," Payton exclaimed.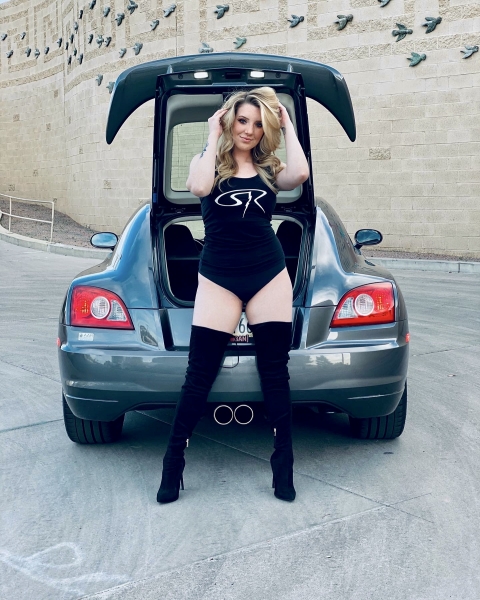 Since Payton was a little girl, she was always infatuated with cars. "At 4 years old I only played with hotwheels. Whenever my dad would take me to Frys he would let me pick out a new hotwheels car and it was the happiest day of my life," Payton told us, "My mom also was into cars, and was fearless in her 240 and 280Z's." Payton spent a lot of time with her dad in the garage growing up. Fast forward to now, and Payton is still playing with cars. Her and her boyfriend enjoy car meets or shows and if they aren't out at an event you will find them working on their rides.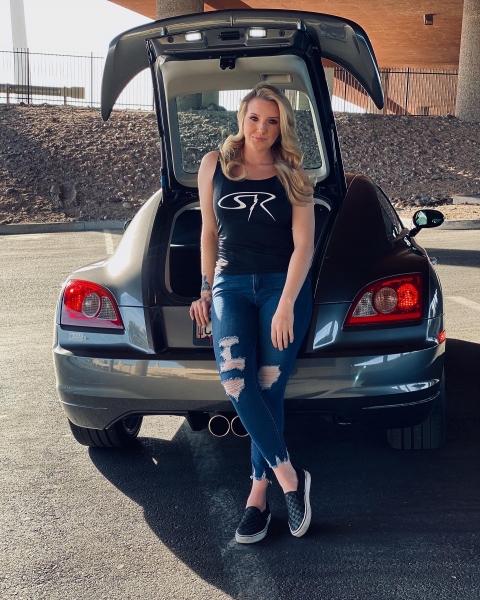 Payton has always wanted to get even more involved in the car scene and do some modeling. She tells us that when she found the ShockerRacing Instagram page she was astounded with the positive feedback from our followers. She said, "It just seemed like a great place to bond with other car fanatics without judgement." This was Payton's first official photoshoot but she tells us she has a BA Degree in selfies, lol! She has let friends take pics of her with various cars and trucks and she has been able to perfect her angles. "I honestly envy Bex, that girl is gorgeous and her photo shoots have motivated the hell out of me," Payton explained.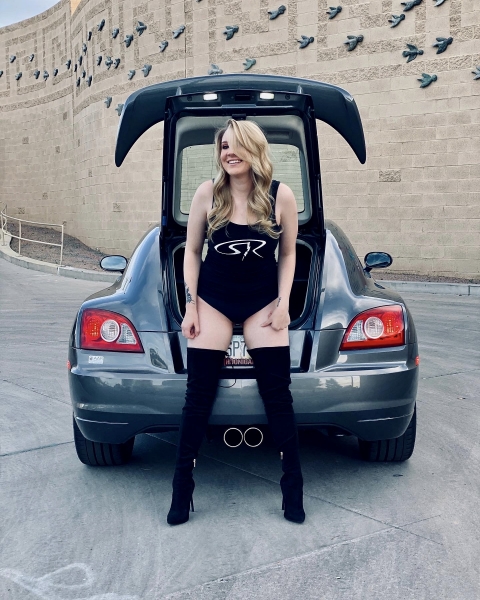 Keep reading for the rest of Payton's interview: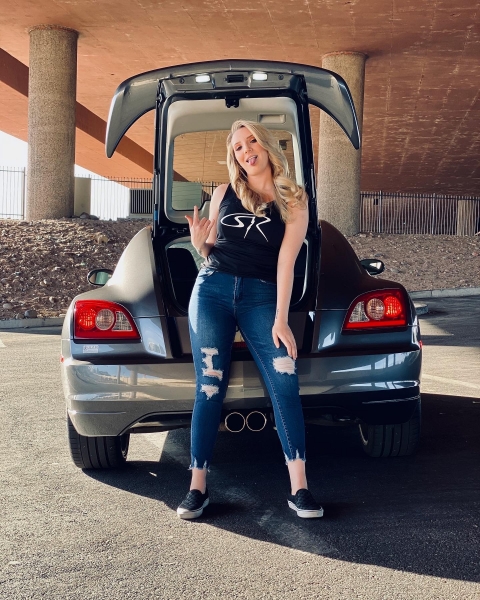 SR: What do you do for a living?
Payton: I am a cable systems installer for the Army and I am a data entry clerk in my civilian life.
SR: What is your favorite automotive event of the year?
Payton: Oh that's easy, Import Faceoff! I plan on finally running my baby down the drag strip and I cannot contain my excitement!
SR: If you could travel and take Medusa anywhere in the world, where would you go?
Payton: Greece! I would kill to take Medusa to the land of the Greek Gods and Goddesses.
SR: Are you single?
Payton: I a happily taken by my boyfriend Robert, we just celebrated our two year anniversary.
SR: What would an Ex say is your best asset?
Payton: My boobs ;)
SR: What is your biggest pet peeve?
Payton: People who don't use their damn blinkers!
SR: Do you have any nicknames?
Payton: Payton Satan!
SR: What is your favorite food?
Payton: Mac N Cheese.
SR: What is your favorite Pizza topping?
Payton: Pepperoni, I am super basic.
SR: Do you have any tattoos?
Payton: So I have six tattoos.... My first tattoo was, wait for it, "Stripping Bitches" in Chinese! I'm not lying, this is a true story... I had a group of friends in high school and we called ourselves the Stripping Bitches. I am not sure why we did but we did... So when I was 18 my best friend Olivia and I drank a bottle of gross ass vodka and decided to get it tatted! My sixth tattoo is my favorite because I chose to have my favorite scripture from the top of my neck down to my tail bone. Psalm 16:8 says, "I keep my eyes alwasy on the Lord, with him at my right hand I will not be shaken." I suffered from depression from a young age after dealing with emotional abuse that led to a downward spiral. At one point I couldn't handle it anymore and attempted suicide. After recovery and therapy I came across this scripture and fell in love. It helped me in so many ways you couldn't even imagine. I am blessed to be alive here today.
SR: Thank you for sharing that with us, and we are glad you have survived and moved on from that time in your life. Can you tell us two fun facts about you that people probably don't already know?
Payton: I am a certified Scuba Diver, I got my certification at 13 and was the youngest in my class. I have also never broken a single bone in my body.
Make sure you give Payton a follow on her social media: