Shocker Racing Models Promote Social Distancing during COVID-19
Written by Bex Russ Thursday, 09 April 2020 11:08
During these "unprecedented times" we know many car shows, meets, and activities have been cancelled or postponed due to COVID-19. We also know, a lot of fans are missing some of our favorite models because it's hard for them to bring us new shoots. To brighten up your day, and hopefully entertain fans in these difficult times, the Shocker Racing Calendar models worked together for a "C19-themed shoot". Keep reading to learn how the girls "practiced social distancing" and hilariously bring light to the hardship the country is undergoing.
Hit the link to see all of the fun:
If anyone has been successfully avoiding the media, the current pandemic called COVID-19 is causing chaos all over the world.  COVID-19, better known as Coronavirus has been the topic of much discussion and debate across the United States in recent weeks. The disease causes respiratory illness (like the flu) with symptoms such as a cough, fever, and in more severe cases, difficulty breathing. Our calendar models creatively took pictures practicing the popular phrase "social distancing". Because the disease spreads primarily through contact with an infected person when they cough or sneeze. It also spreads when a person touches a surface or object that has the virus on it, then touches their eyes, nose, or mouth. Thus making the entire country undergo quarantine to avoid potential contact with the illness. The quarantine is making people like Zelanna long for the days they can just get out and cruise their car or bikes:
Since everyone is in hibernation, most are going a little stir crazy. This is leaving the creatives time to come up with entertaining distractions. Elite model Bex Russ came up with the concept of this themed shoot. "I talk to most of the models with SR daily. This time of year we are typically promoting our spring contest 'Squad Goals' or preparing for upcoming shows and events. I thought this shoot would be a clever way to promote the tasks at hand while also bringing comedy to our fan's day," Bex quickly messaged the calendar ladies to band together and make this shoot a reality.
Our calendar girls this year are the most amazing group we've ever worked with, they are quick to support each other and work as a team to promote or assist ShockerRacing! Bex knew these ladies would love a fun challenge and be there for the SR fans. She thought it would be hilarious for the models to pose with toy cars and bikes or their personal cars and including disinfecting products or masks. If any of the ladies had difficulty obtaining these objects, Bex sent them creative ideas to still be part of the fun.
Courtney has taken the time staying home to tinker in the garage with her Subie:
"There is a shortage of toilet paper, hand sanitizer, and face masks. There is an uproar of how to properly wash your hands. We are told to keep 6-feet apart. We're being entertained by a hillbilly and a tiger on Netflix. I sent each girl a different CDC task/rule with a silly twist. I absolutely love how everyone got creative and worked together on this project!" Bex tells us. And we think so too! The CDC recommends you wash your hands regularly for 20 seconds, with soap and water or alcohol-based hand rub. Kim, aka Mrs ShockerRacing, took the time at home to properly sanitize her nephews Muscle Machines Cars: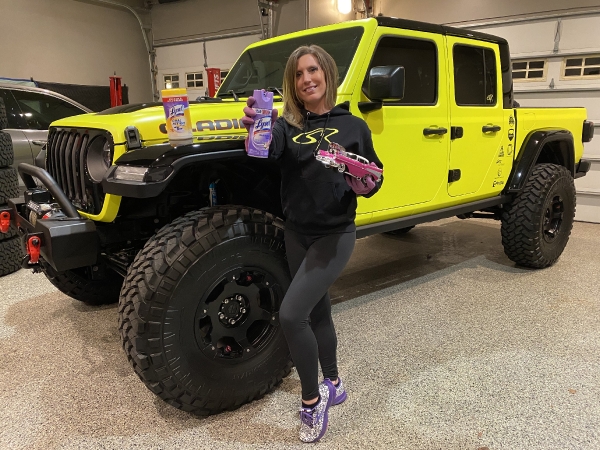 You should cover your nose and mouth with a disposable tissue or flexed elbow when you cough or sneeze. Many are wearing masks and keep a good distance. Like popular model Kailey:

We are all recommended to stay home and self-isolate from others in the household if you feel unwell. This is suggested to help 'lower the curve'. As Bex shows us in her photo:
SR owner, James even got in on the fun and expertly demonstrated a popular past time at home activity "I'd like a Corona... hold the Virus":
We can't forget our true hero's at this time! Nurses, first responders, post carriers and food delivery services. These brave human beings working over time to help stop the spread. Sacrificing their health in the battle to combat COVID-19. Like Nurse/Model Alexandra Stone:
Shocker Racing seriously hopes that every one of our fans are safe and well during these times. We know this is a serious issue the country is dealing with. We know many are dealing with hardships. We hope this article brings a little joy to your quarantine day. Please support our ladies and give them a follow. If you are interested in joining the SR team, email is at This e-mail address is being protected from spambots. You need JavaScript enabled to view it .
Lainey Freeman longing for the days she can go out and play with Mustangs instead of her toy cars: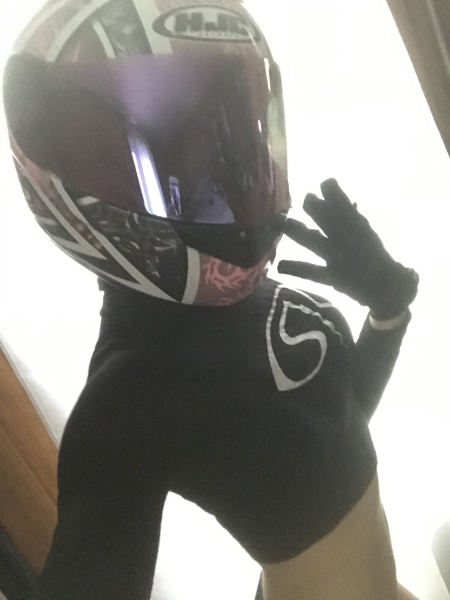 Follow the team on social media here: