Mopar Model is Back With Her 2nd Photo Shoot
Written by James Anderson Saturday, 11 April 2020 14:54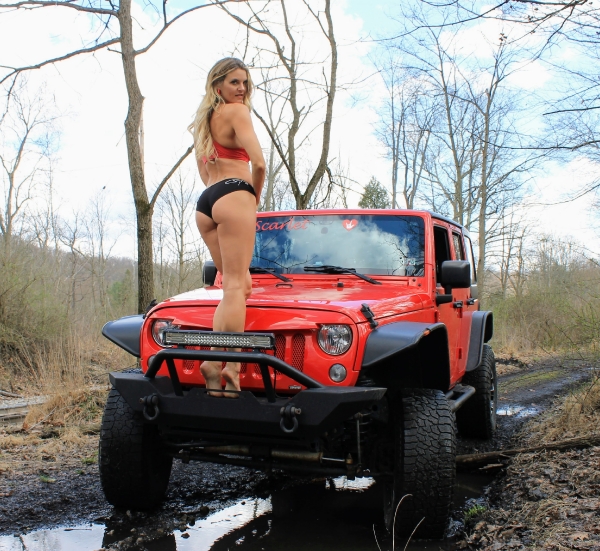 Nicole the Mopar Model is back for her second feature with ShockerRacing and this time she was excited to feature her own Jeep.  The Jeep, a 2015 JK Unlimited, is named Scarlett.  "This shoot was super spur of the moment.  It was a beautiful Sunday afternoon, and we've never taken Scarlett out on the trails around our house.  We thought it would be cool to take it out for some pics and Scarlett did awesome," Nicole explained, "It was nice to not freeze during the shoot like I've been doing all winter."
Hit the link for the full photo shoot:
Nicole's husband was the photographer for this set.  "I know I can rely on him to get good images and I get them immediately.  I can edit the photos immediately and his specialty is getting my action shots!" Nicole tells us.  This time Nicole brought her ShockerRacing Heart Logo Tank Top and of course her black Booty Shorts.  "These shorts are great for Yoga type poses, which I like to feature in every car shoot," Nicole explained, "I also worked my black thigh high boots, red high heels, and red bra into the pics."
This shoot took place during week 2 of the COVID-19 lockdown and Nicole had been spending time cleaning out her costume shop aka her closet.  "I found my ShockerRacing Tank and Short that I had been missing for months!" Nicole exclaimed, "The black and red goes so well with the colors of my Jeep so I knew it would be perfect." So she told her husband they were going out for a shoot as soon as she curled her hair, and to be ready in ten minutes!
Nicole tells us her favorite part about her Jeep is the Fuel Assault Wheels she had fantasized about for a year before finally getting them.  We asked her which of the shots was her favorite from this shoot, "The one where I am topless and leaning over the windshield.  I call that pic, how much would you pay to be in the passenger seat?"  Our readers will have to head to her full photo gallery or to Nicole's Instagram to see that shot as we try to keep our articles a little more PG-13!  One of the best parts about owning a Jeep is being able to climb all over it for pics, and Nicole definitely made use of the whole Jeep!
Nicole's next car show's have been put on hold due to Coronavirus, so keep an eye on her Instagram page for her plans when this all blows over.  She tells us this was supposed to be a big year for her with events and photo shoots, but they have all been put on hold.  In the meantime, feel free to reach out to her on IG to set up a shoot near Pennsylvania. Nicole's Instagram: @moparmodel
Check out Nicole's full photo gallery here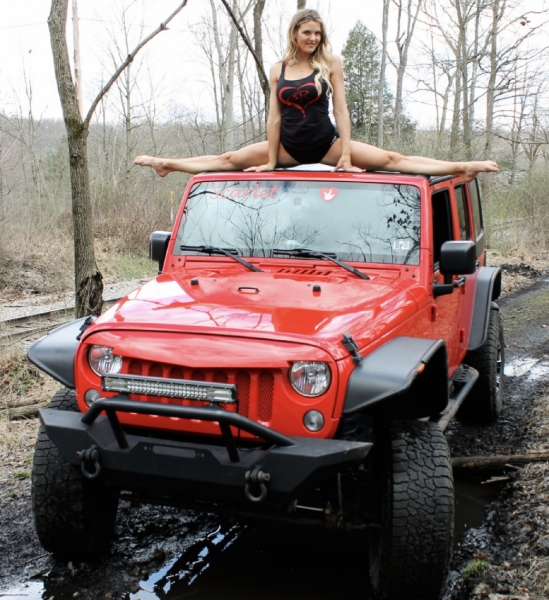 Check out Nicole's full photo gallery here
Check out Nicole's full photo gallery here
Check out Nicole's full photo gallery here
Check out Nicole's full photo gallery here
Check out Nicole's full photo gallery here